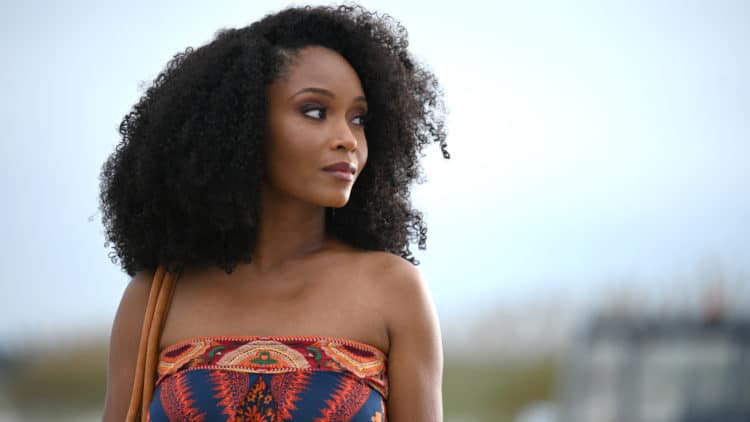 In Episode 6, of Our Kind Of People, Teddy tries to develop a relationship with Angela and Nikki. However, his intentions aren't exactly pure. Alex reveals to Raymond that she left him because his mother threatened to have her family deported. Meanwhile, Tyrique discovers a horrible secret surrounding his father's death.
Is Teddy Ok?
The whole family is gathered at the hospital in the wake of Teddy's health crisis. The tension is so thick that you can cut it with a knife because Nikki has just found out the news about her father's imprisonment. She's also upset because Angela and Patricia never told her that he existed. The drama surrounding Nikki's father nearly overshadows Teddy's health crisis, which is fine if you ask me. It's hard to feel bad for Teddy, he's manipulative and scheming. The doctors come and talk to Leah and update her on Teddy's condition. Angela lets it be known that she's Teddy's daughter too. Leah is slightly annoyed by Angela but she doesn't put a fight. Teddy had a heart attack from over-medicating on his Parkinson's medication to hide his symptoms. He's now in a coma.
Finding Out The Truth
Tyrique isn't buying Teddy's suicide story and he's determined to find out the truth about his father's death. Tyrique goes to talk to the Raymond's head of house staff, Jackie, who has worked for the family for years. Jackie claims that she doesn't know much, but points him to Patricia, Angela's aunt who she says knows everybody's secrets. Meanwhile, Alex is becoming a problem and interfering too much in the Dupont's business. Leah lies about her father's health condition at a press conference. However, things get ugly when Alex brings up Nate's criminal past which angers Angela because she didn't want Nikki to find out the way she did. Ales also bribed a worker a the hospital and found out about Teddy's current health state. Raymond tells Leah, why Alex has been so vengeful lately, but she senses that there is more to the story. Leah vows to find out why she's really in town and put an end to all the nonsense.
Caught Red- Handed
Raymond meets up with Alex and reprimands her for going too far and doing too much. Alex reminds Raymond that Leah and her father are on in the same. It's obvious that she still has feelings for Raymond because she kisses him. Guess what? Angela happens to see their whole interaction. Angela confronts Leah and Raymond for conspiring with Alex in the elevator at the hospital. Angela pulls a Solange and attacks Raymond in the elevator. Leah doesn't know what she's talking about. Angela tells Leah that Alex and Raymond talking in Alex's car and that Raymond and Alex shared a kiss. Raymond tells Leah that he's playing Alex and things aren't exactly what they see, but Leah doesn't have the energy to discuss things right now and instead wants to focus on going to see her father.
"I didn't need protection. I needed my father"
Nikki is still dealing with the hurt of being lied to about her father for years. Angela tells Nikki that she lied to protect her. " I didn't need protection. I needed my father, " Nikki says. Nikki has a small yet profound bonding scene with Lauren. Lauren is devastated by her grandfather's condition and thankfully her Raymond is helping her get through it. Lauren reveals to Nikki just how much she cherishes and depends on her own dad. Lauren helps her cousin see how important it is to develop a relationship with Nate while she still can. There's hope for Lauren's and Nikki's relationship after all! Nikki finds out the real reason Nate was in jail and Angela encourages her to give him a chance. Nate and Nikki take a walk on the beach to get to know each other.
Reunited
Teddy is still in a coma. While in a coma he has an emotionally intense reunion with his father Louis. The reunion starts off peaceful until Louis starts to remind Teddy of the things he has done and his secrets. Louis pushes Teddy to take accountability for his actions. When Teddy wakes up Leah and Angela are by his side. Angela tries to give Leah and Teddy some private time, but both Teddy and Leah want her to stay. Leah grabs Angela's hand and reveals that she always wanted a sister while growing up. Angela's support and presence during Teddy's health crisis Although Teddy is fully conscious, he is still being plagued by Louis. Louis is challenging his brother to change his ways. Hopefully, after such a major health scare, Teddy will be a better father to both of his daughters and take the appropriate steps to right his wrongs.
Tell us what's wrong with this post? How could we improve it? :)
Let us improve this post!