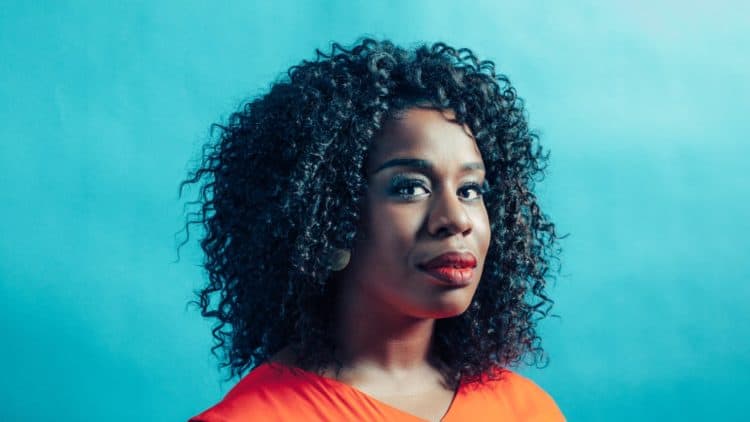 Born to Nigerian parents, Uzo Aduba was born and raised in Massachusetts. Growing up, Uzo, whose full name is Uzoamaka (the road is good), did not like her name. Her small-town upbringing did not include so many Nigerian-American children, thereby rendering her a misfit of some sort. Speaking at a Glamour event, Aduba revealed that teachers and neighbors alike found it difficult to pronounce her name. One day she came home from school and her mom happened to be in the kitchen, cooking. " Mommy, can I ask you a question?" Aduba asked. "Ehh," her mom replied. " Can you call me Zoe?" Uzo requested. Her mom stopped in her tracks and gave her a stern look. " Why?" She asked, still giving the look that only a mother can give. " Because no one can say Uzoamaka." Uzo said. Still shooting the look her way, Uzo's mum said: " If they can learn to say, Tchaikovsky and Michelangelo, then they can learn to say Uzo Amaka."
Uzo did keep her name. Wherever she is, she is probably glad as there's only one of her, and she's been through a journey as an actress that has slowly but surely made her a familiar face. Aduba's entry into the craft was through theatre, and some of her performances at the time included Translations of Xhosa, Godspell, and Coram Boy. In 2012, she made her debut on television by playing the role of a nurse in an episode of Blue Bloods. Aduba would go on to play an acting teacher in the television film How to Live Like a Lady before she landed the role that took her career to a whole new level and made her the star we know today; that of Crazy Eyes on Orange Is the New Black.
Starring On 'Orange Is The New Black'
Orange Is the New Black premiered on Netflix in July of 2013. The show told the story of Piper Chapman, a role brought to life spectacularly by Taylor Schilling, a woman who was caught up in a drug-smuggling web that resulted in her incarceration. Through the series, we were introduced to characters such as Alex Vause ( Laura Prepon), Nicky Nichols ( Natasha Lyonne), Galina 'Red' Reznikov (Kate Mulgrew), and Poussey Washington (Samira Wiley). Most notable was Aduba's character, Suzanne 'Crazy Eyes' Warren. Aduba, in conversation with Sam Jones, talked about her character, Suzanne. " I just love her so much, she is so real to me. " Aduba said. " She has aspects of me. I have used parts of myself to understand her struggle. When it comes to the issues of love and things like that, I have known what it feels like to love that deeply."
Suzanne 'Crazy Eyes' Warren was intriguing at best, and at her very worst, too spine-chilling for how her emotions often took center stage. One such time that Suzanne did get the audience to think was when she was asked what the meaning of love was. "It's like you become more you. Which normally is like… [Explosion noise]. But now it's okay, because the person, like, whoever…they chose to take all that on. All that weird stuff, whatever's wrong or bad or hiding in you. Suddenly, it's all right. You don't feel like such a freak anymore." Suzanne's definition of love is profound and does resonate with many around the globe. While it was simply a line off of a script, in real life, Uzo Aduba was working on finding someone of her own, who'd take her for all that she was…you know…someone who'd 'take all that on.' And find him she did.
A Secret Wedding And A Surprising Reveal
If we thought Issa Rae was the queen of privacy, having pulled the biggest surprise on us when she wed on the South of France in July, then Uzo Aduba, by virtue of her latest reveal, is a master at keeping secrets. Through her Instagram, the actress, who voiced Anansi on Miraculous: Tales of Ladybug & Cat Noir, revealed that she married Robert Sweeting back in 2020. "When you realize you want to spend the rest of your life with somebody, you want the rest of your life to start as soon as possible." —When Harry Met Sally. For some of us, it can feel like we spend our whole lives waiting for our special someone. My heart, my love — I'm so happy my life started last year with you. You're the best thing that ever happened to me," Aduba wrote. Sweeting, on the other hand, also shared a touching message on Instagram, indicating that the pair were celebrating their first anniversary. " One year ago I married this gorgeous, talented and incredible woman. This past year has made me appreciate the fragile nature of life and the importance of living it. At a time where the world is upside down, we learned to find joy and peace in each other. You are the greatest person I've ever known, and I'm proud to be your husband. "He wrote. Both Aduba and Sweeting's messages were met with adoration from fans and celebrities, who did not hesitate to congratulate the couple. Having kept it secret for a year, there's no doubt that it's worth the while and warm wishes keep pouring:
Live! And live some more! Congrats mama! (@yvonneorji)
Aaaah! Awesome! Mazeltov! Congratulations!!! God's blessing on your life! Sending an abundance of love. (@violadavis)
Congratulations Uzo Aduba. Many blessings to you on your union and journey. (@naomi)
Bless you, both!!! Wonderful. (@ava)
Uzo!! I'm so happy for you. Wishing you and your love an eternity of happiness. Can we still have a bachelorette party? (@lolaogunlaike)
Congrats! I Just love love love Uzo Aduba. She is an amazing actress and I wish her a blessed life in all her future endeavors and her marriage. Congratulations Uzo! (@classytouch1)
Happy Anniversary my brother and many more to come. (@swanmann)
Happy 1 year. Happy for you guy. (@fionaharvey1)
It's all of this and both of y'all for me. Happy anniversary. Keep loving and living beautifully. (@deejsh2705)
May God Bless and keep you both today and always. Happy Anniversary. (@onmymat3)