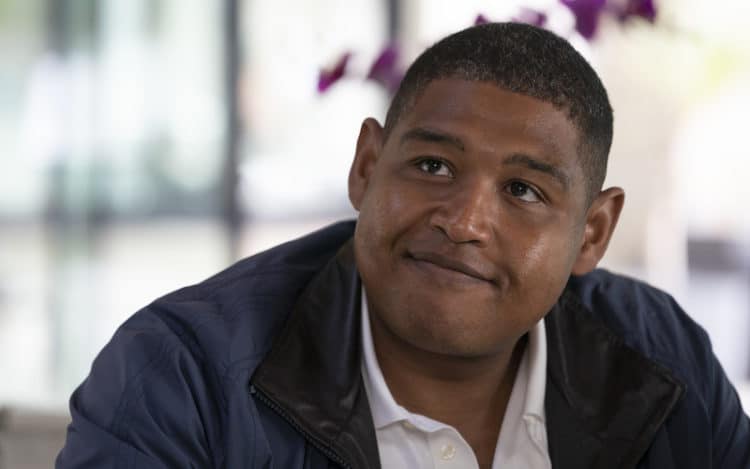 For a long time, Omar Benson Miller has been mistaken to be related to Forest Whitaker due to the striking resemblance. However, they are not relatives. Omar has made his mark in the industry with his impressive performance and has been lucky to be cast alongside famous actors like Susan Sarandon, Richard Gere, and Dwayne Johnson. His weight may have prevented the 41-year-old from getting some roles, but now, he is at the prime of his career doing three series simultaneously. Get to learn more about Omar through these facts.
1. He believes in working smart, not hard
Omar knows that everyone is already working hard, so only those who are working smart will get results, especially in this age of technology. He advises people to get out of their comfort zone and aim for greatness. Omar opines that people should not get comfortable with how things are; hence, we must seek ways to upgrade and overcome challenges you anticipate. He cites that being persistent is the surest way to get to where you wish to be.
2. He is a huge Yankees fan
It is almost mandatory for men to like sports, and Omar is not left behind with his love for baseball. The actor was a baseball and basketball player throughout his school years but got distracted in college. Omar was an excellent shooter; had he not become an actor, he would have loved to play first base for the Yankees.
3. His best sports movie of all-time
When ESPN asked Omar about the best sports movie he has ever watched, "Wildcats" immediately sprang to mind. The film was released in 1986, and it served as the debut for Wesley Snipes. Omar especially liked it because of how well Goldie Hawn performed. However, critics did not share his enthusiasm with some saying that Goldie had been reduced to an adorable but goofy independent woman, and her playing football coach for a boys' team was not interesting. Omar also thinks that "Bull Durham" is a fascinating film, although it is was more than just a sports movie; it also incorporated comedy and romance.
4. He grew a goatee and mustache for his role in "The Unicorn."
Omar admitted that he gets his youthful looks from his mother, Gloria Miller. Therefore, for him to play Ben, Omar had to look the part by growing a goatee and mustache that helped him to look older. Besides the great genes, Omar also hydrates to maintain his youth. It is, therefore, hard to believe that he is 41 since he mainly gets roles for characters in their late twenties or early thirties. The fact that he is lively also helps him book the roles of much younger characters.
5. He is at the point he dreamed of getting to as an actor
Booking one role is no mean feat for any actor now that the industry has loads of new talents that are rendering some actors redundant. Omar has maintained his relevance; besides booking the role of Ben in "The Unicorn," he simultaneously is filming "Ballers," where he is Charles Green and is the voice of Raphael on "Teenage Mutant Ninja Turtles." To Omar, he has reached the goal he was aiming for since he began acting so now he has to set new targets.
6. He used to sing the theme song for "Teenage Mutant Ninja Turtles" on his way to school
Sometimes, we do things for fun, which eventually pave the way for our destiny. It happened to Omar; never in his wildest dreams did he ever imagine being cast in his favorite cartoon. Still, life has a few surprises. As a child, Omar used to sing along to the "Teenage Mutant Ninja Turtles" theme song as he went to school.
7. He had to lose weight to be on "Train."
People have always been pushed to think that being slim is what sells; thus, it took a long time before plus-size models walked the runway. In the film industry, although Omar said he managed to get a few roles, he still had to lose weight for him to be cast in "Train." Therefore Omar lost about 60 pounds, and the minute he did, he agrees that it opened more opportunities for him as an actor. However, his weight has never bothered him since his mother instilled in him a high confidence level. Still, as published on Liverampup, Omar experienced discrimination due to his size.
8. He feels that charity should be done privately
About charity, any Christian will preach about the verse that says, "When you give, then your right hand should not know what your left hand is doing." Omar seems to abide by this verse, and although he disclosed the organization he partners with to facilitate his philanthropic efforts, he does not like making it a public affair. Therefore even when no cameras are flashing, Omar will do anything to lend a helping hand since he is not after fame.
9. He considers himself a techie
Although Omar admits that keeping up with the latest technology is a challenge, he still thinks he is a techie. To prove just how much he loves technology, he disclosed that he is the proud owner of a Samsung 75-inch Q-series coupled with a Sonos system. Omar owns a robot vacuum cleaner, and by July 2019 was thinking about getting a Nest system to ensure coming home to a cool atmosphere when the temperatures in Los Angeles become too hot to bear. He also boasts of a smart oven and HD security system.
10. He is philanthropic
Omar describes himself as a blessed man, and he is, therefore, ready to bless others whenever he can. He created the Omar Miller Foundation to ensure that leftover food from movie and television sets does not go to waste. Instead, it is collected to feed people, not just the homeless. He also is involved in raising funds for children with cancer through the Fight Night for Children charity event that occurs once a year.
Tell us what's wrong with this post? How could we improve it? :)
Let us improve this post!