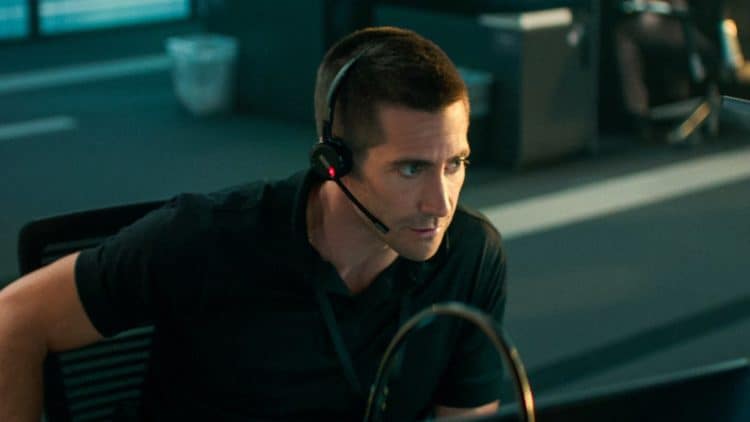 If you've ever seen the movie Prisoners than you know that this isn't the first time Jake Gyllenhaal plays a detective with a troubled past. In The Guilty, Jake plays detective Joe Baylor that has been demoted to a 911 dispatcher after being involved in an incident that resulted in someone's death. Joe Baylor is filled with so much anger, grief and pain. We're forced to go through these range of emotions with Baylor as he takes a stressful call that takes a bunch of unexpected twists and turns throughout the film. Unfortunately, in this thriller you won't see any gut-wrenching scenes featuring fancy stunts or fights. However, you'll still be on the edge of your seat as you watch the story unfold. In this film, Jake is no hero. Clutching an asthma inhaler, yelling at his colleagues left and right and getting into with fellow dispatchers who thinks that he has lost his mind, Baylor is a man that's on the edge and rightly so since he's separated from his wife who seems as if she doesn't want anything to do. We forgot to mention that he has court the next day and he can very well lose it all.
Despite the fact that his life is falling apart, Joe is forced to pull it all together when he gets a call from a woman in a car claiming to have been kidnapped and Riley Keough plays Emily the faceless woman on the phone and she delivers an epic performance. When Joe gets her call it doesn't take a brain surgeon to tell that she is in distress. Joe immediately goes into cop mode and he's determined to help this woman even though the odds of finding a woman in a white van in a crowded city with no real details such as a license plate or an exact location. From the moment Emily calls we know it's going to be a wild ride because she doesn't exactly disclose why she's in trouble but Joe leads her on a series of yes and no questions and he weaves together a narrative. Joe assumes that Emily was kidnapped by her ex husband who has a record and he finds out that her young children were left at home alone. Although he's met with some resistance while trying to get help for the kids, Joe manages to get two officers sent to Emily's home to ensure the safety of the kids. When the officers arrive at the apartment they find an horrific scene; Emily's youngest child a small baby is badly injured and may very well be dead.
What we do find peculiar it's how he's able to manage to have these phone conversations with the alleged victim. At one point, Joe even gets the ex husband on his cellphone and tells him what a piece of trash he is and how he will rot in jail for years. The movie completely shifts when Joe discovers that Emily is the one that injured her child. For a minute, Joe wrestles with his morality. How could someone hurt a child? When Joe gets on the phone with the ex husband and lets him know that he knows that Emily was the one that hurt the baby. The ex-husband fills in all the loopholes to Emily story. The truth is, Emily suffers from mental health issues and she hasn't been taking her medicine. Her ex husband is desperately trying to save her from herself which is why he's taking her away from the kids.
The plot thickens when Emily contemplates jumping off a bridge. She doesn't understand the gravity of what she's done but Joe quickly decides that she doesn't deserve to die and tries to help save her life. He reveals that he did something bad as well. He tells Emily that he killed a man. Together they work through their range of emotions and at the end of the film Joe decides to do the right thing. He calls up at his former partner and tells him to tell the truth in court and not to cover for him even though it means he will go to jail. Now we fully understand why Detective Joe Baylor was so on edge. He was carrying a horrible secret and he was worried about how it would play out in court the next day. Despite his sins, Detective Joe Baylor seems like one of the good guys that likes to save people. This terrifying 911 call is exactly what he needed to remind him of that.