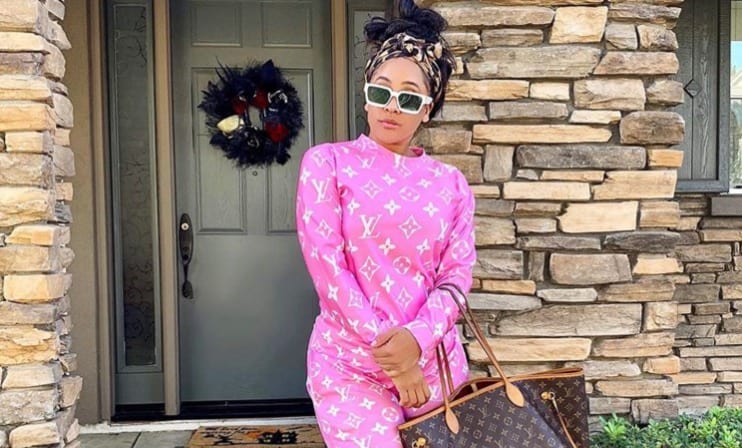 Reality TV has made it incredibly easy for people to become famous for all the wrong reasons. Natalie Nunn is a prime example. Nunn became popular in 2009 when she appeared on the fourth season of the show Bad Girls Club. She quickly became known for her angry outbursts and violent behavior. In the years since the show, Natalie's bad girl reputation has continued to follow her. When her name appears in headlines, it usually isn't for something positive. But is there more to the former reality TV star than meets the eye? The answer is yes. Keep reading for 10 things you didn't know about Natalie Nunn.
1. Allegedly Cheated On Her Husband
In 2012, Natalie Nunn married professional football player, Jacob Payne. Unfortunately, though, their marriage hasn't been smooth sailing. Fairly early on in the marriage, Payne expressed anger about the kinds of photos that Nunn posted on Instagram. In 2015, the couple appeared on Marriage Boot Camp to work on their issues. However, in 2018 reports began to circulate that Nunn had cheated on her husband during a threesome with British TV personality, Dan Osborne . The stories were never confirmed, but they appear to have done serious damage to the couple's relationship. Reports have indicated that the couple has split and may even be heading towards divorce.
2. Competed In The Junior Olympics
Natalie Nunn may not seem like the athletic type, but that couldn't be further from the truth. She grew up playing sports and was even a part of the track team in high school. She was so talented that she was able to compete in the Junior Olympics in 2002. In addition to track, Natalie was also a soccer player and was a member of the women's team during her time at the University of Southern California.
3. Wanted To Be An Actress
Natalie had dreams of becoming an actress and she actually dropped out of college to pursue her dream. Although landing a spot on a reality TV show doesn't really classify as an acting gig, she was at least able to make a name for herself by being in front of a camera. Fortunately for her, her initially appearance on the Bad Girls Club spawned into several other TV appearances.
4. Was A Bridesmaid In Tanisha Thomas' Wedding
In addition to appearing in season four of the Bad Girls Club, she also appeared in spin offs and other shows on the Oxygen. During her time working with the network, Nunn formed a friendship with fellow bad girl, Tanisha Thomas. The two became so close that Nunn was a bridesmaid in Thomas' televised wedding.
5. She's An Entrepreneur
Thanks to the Internet and social media, reality TV stars can not extend their 15 minutes of fame indefinitely. Natalie Nunn has definitely taken advantage of these platforms to start and sustain her own businesses. She currently has a lash and cosmetics business and she's also a brand ambassador for the Flat Tummy Co.
6. She's A Mother
Natalie Nunn's journey to motherhood hasn't been the easiest. In 2014, she and her husband, Jacob Payne announced they were expecting their first child. However, shortly after, the couple shared that they had suffered a miscarriage. After the miscarriage, Nunn struggled with depression and weight gain. The couple tried again in 2016 and in 2017, Nunn gave birth to her first child, Journey Ruth Payne.
7. Dated Some High-Profile Celebrities
Reality TV stars may not be on the same level of stardom as actors and musicians, but they do tend to cross paths. Natalie Nunn has rubbed elbows with quite a few a-listers and her love life is linked to celebs such as Wiz Khalifa and Chris Brown. While Natalie claims that her and Chris Brown had a relationship at some point, Brown has denied ever knowing Natalie.
8. She's An Author
Natalie Nunn may not seem like your stereotypical author, but that definitely didn't stop her from writing and releasing three books. In 2013, she released two books: Straight Like That and Turn Down for What both books are autobiographical and detail events in Nunn's life. In 2014, she released another book titled, From Bad Girl to Grown Woman. Is it just me, or is everyone writing a book these days?
9. Had Plastic Surgery
Mommy makeovers are becoming more and more common. The term refers to surgical procedures done for new moms in order to speed up their 'snap back' process. While some women like to keep these kinds of makeovers on the low, Natalie Nunn has no shame in her game. After undergoing her mommy makeover, she took to Instagram to show her new body to her followers. There are also plenty of rumors floating around that Natalie also got plastic surgery to reduce the size of her chin, but this hasn't been 'officially' confirmed.
10. Had Beef With Amber Rose
In the entertainment industry, beef is just part of the business. It's not uncommon to hear about two stars who suddenly don't like each other for no apparent reason. With that being said, many people weren't too surprised when beef between Natalie Nunn and Amber Rose began circulating the Internet around 2011. The beef, which many believed was rooted in the fact that both women had dated Wiz Khalifa, escalated to the point where Nunn was calling Rose out in interviews. During an interview in 2011, Nunn said that the beef had absolutely nothing to do with Khalifa and called Rose out for allegedly not having enough money to pay her assistant.