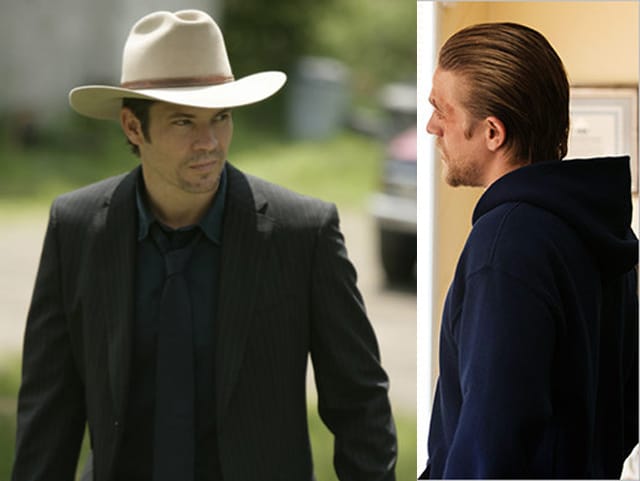 Two of FX's best dramas, and really two of TV's best dramas, are going off the air soon. That would be Justified, which has one more season to go, and Sons of Anarchy, which is almost midway through its final season already. Both have been staples on FX for years, and have created some of TV's most memorable characters, both in terms of heroes and villains.
With the show's conclusions both imminent, it's gotten me thinking about what might have been if the two had decided to do a crossover episode, or series of episodes, as the two universes seem like they could easily fit in with one another. Sure Justified may be a little less self-serious while Sons of Anarchy is a little more gritty, but it's easy to see how it could have worked.
Unfortunately, crossovers are usually reserved for shows that are DIRECTLY related to one another. As in, we'll see plenty of The Flash/Arrow or The Originals/Vampire Diaries crossovers considering that one was spun out of the other and very clearly shares the same universe as part of its core philosophy. That also is the case with all the various CSIs and Law and Orders which can swap detective or prosecutors for a day with one another every so often. Given two different creators with Sons and Justified, this union would be much harder, but still, it would have been worthwhile.
Right now, the only thing the shows share is an actor, Walton Goggins. He plays Raylan Givens' lead foil Boyd Crowder on Justified, and sometimes guest stars as a likable transvestite on Sons of Anarchy with a "special" relationship with Tig. As fun as that is, it could have been taken much further.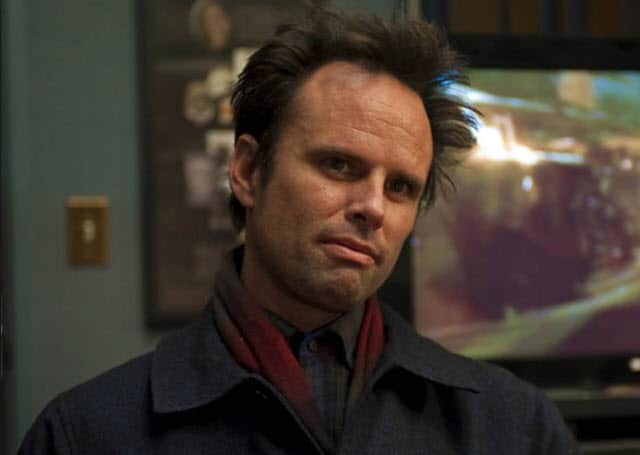 Imagine a season or at least a miniseries where Raylan tracks down a gang who is bringing guns into Kentucky by way of a biker club out west. His travels take him all the way to California where he meets the Sons and all their various gang friends and enemies.
At first the show would have Raylan squaring off against Jax and the gang, but considering a union of these two shows probably shouldn't end with the leads of one or the other show dying, I have to imagine there would be a turn where Raylan finds himself having to work in conjunction with the Sons to help take down on the Latino, black or neo-Nazi gangs that mean to do them harm. And naturally, Boyd Crowder would show up and somehow be involved with the opposition.
Raylan is a quick draw but hardly the master manipulator Jax is, so I can see the club using Raylan to inadvertently do their dirty work while they acquire more power from the other gangs and leaders he takes down. Crowder would be a wildcard, as he always is, but manage to escape unscathed before racing back to his more familiar home turf of Kentucky.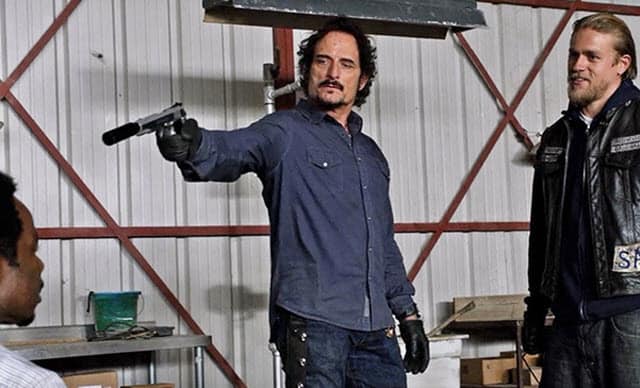 As you can see, I don't have the entire plotline mapped out, but a Sons vs. Raylan story would be great, as would a Sons and Raylan team-up which is what it would inevitably turn into. Granted all of this is just fantasy, considering both shows probably have very specific ideas about how they want to end, but given that both shows ran for six, seven years, I'm surprised this was never discussed or executed. Even a two or three episode arc that brought the two shows together would have been a lot of fun, and I think it's a missed opportunity that no one thought to combine these two shows at any point in their lifespans. Or maybe they did and it was just too difficult logistically and creatively, but it's too bad all the same.
Do you think this could have worked? You've heard my own loose speculation, but I'd love to hear your more detailed thoughts on what a Sons of Anarchy/Justified crossover may have looked like, if it ever did come to pass. I think we're too far gone to ever hope this could be a reality, and this isn't the UK so we won't have a Christmas specials where something like this might be pulled off. Sons and Justified will both ride off into the sunset, forever separate.
[Photos via FX]
Tell us what's wrong with this post? How could we improve it? :)
Let us improve this post!