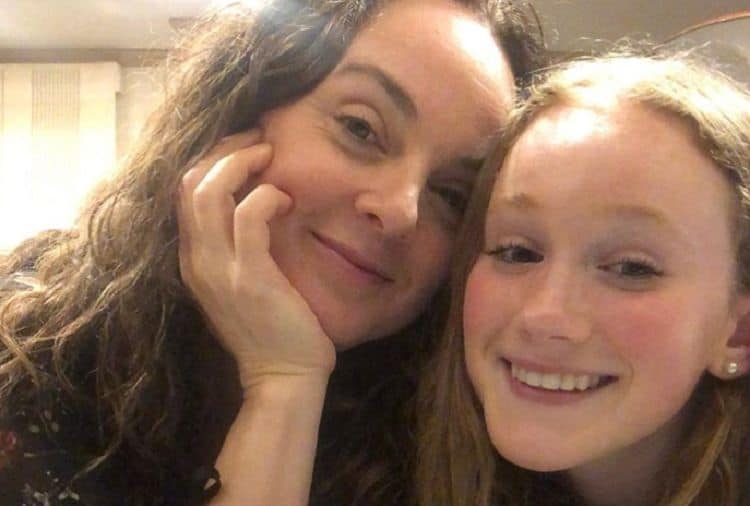 Broadway singer and Billions actress Melissa Errico recently hit the headlines after reports emerged of how she'd helped save a man's life after he fell on the New York City subway tracks. 49-year-old Errico was leaving her vocal coach's studio when she suddenly heard cries for help emerging from the 14th Street F train station. When she approached, she saw two men trying to lift another man up from the tracks. Aware that he was too heavy for them to manage, the actress rushed over to help, and between them, they managed to pull the man (who'd suffered a broken foot and cuts to his arms during his fall, to safety) just moments before the oncoming train pulled in. Errico has dismissed claims calling her a hero, telling People "I'm a mom. Who better to save a life than a mom? I had the energy and jumped in to help this guy. I completed the chain. People do bigger things than that every day." Still, it's not every day an actress (or indeed, anybody else) saves a life, so who better to learn a little more about than the talented Errico?
1. She comes from a creative family
Given her family's creative leanings, it was perhaps inevitable that Errico would eschew a life in business for one in the arts. Although her father worked full time as an orthopedic surgeon, he balanced his medical life with a second job as a concert pianist. Her mother, meanwhile, is a former teacher turned sculpturer, while her grandmother was a famed opera singer.
2. She began working at 12
Errico has been working since puberty; at 12 years old, she began her professional career after landing a part in the syndicated children's TV series The Great Space Coaster. Although she continued her studies, she never stopped dreaming of making it in entertainment. During her first year at Yale, she landed the role of Cosette in production of Les Misérables, and subsequently took a leave of absence from the university to take part in the national tour. After the tour finished, she returned to Yale to graduate with an honors degree in art history and philosophy.
3. She's an award winner
Errico's many stage performances have come with rewards… lots of them. In 2002, she was nominated for a Helen Hayes Award for Leading Actress in a Musical for her performance as Dot/Marie in Sunday In The Park With George. In subsequent years, her work has been recognized with a Tony Award nomination for Best Leading Actress in a Musical and a Lucille Lortel Award for Outstanding Lead Actress in One Touch of Venus.
4. She's starred in several films
Although best known for her work on Broadway, Errico has bulked out her resume with roles in various films. Some of her most notable credits include Mockingbird Don't Sing, Frequency, and Life or Something Like It. Her work in the medium hasn't been limited to acting roles: in 2013, she performed the theme song for Max Rose, "Hurry Home". In 2019, she revised the song again when she curated a film festival for French Institute Alliance Française dedicated to the works of Hurry Home's composer, Michel Legrand.
5. She's released 6 solo albums
In addition to her prolific stage work, Errico has spent the past 2 decades building up a significant portfolio as a recording artist. Her first solo album, Blue Like That, was released by EMI in 2003. Since then, she released 5 more works, including Legacies and Wildflowers (2008), Legrand Affair (2011), More Lullabies and Wildflowers (2015), What About Today (2015), and Sondheim Sublime (2018).
6. She's starred in a one-woman show
Few performers have the chops to pull off a one-person act, but Errico clearly has talent to spare. In November 2015, she stunned the audiences of Joe's Pub, New York, with her one-woman show co-written by her frequent collaborator, Adam Gopnik. It wasn't the first (or last) time Errico would put on a show: in 2001, she performed as Venus at City Center Encores! Broadway Bash!, while her tour with conductor Marvin Hamlisch cemented her reputation as one of the most talented stage performers of her generation. As her IMDB profile notes, she's also opened in a show for pianist Lee Musiker, and had a month-long run at The Oak Room performing a mix of re-workings of classic standards from the likes of James Taylor, Billy Joel and Van Morrison, and original compositions by her brother, singer-songwriter Mike Errico.
7. She's John McEnroe's sister-in-law
You'd pay to be a fly on the wall at Errico family gatherings… when Errico married her childhood sweetheart, former tennis pro and ESPN sports commentator Patrick McEnroe, in 1998, she became sister-in-law to one of the most legendary (and tempestuous) tennis players of all time, Patrick's brother John McEnroe, and his equally legendary wife, singer-songwriter Pattie Smyth. The couple currently resides in New York with their three children.
8. She's a columnist for the New York Times
Errico's Yale education was clearly not in vain: for the past few years, she's published several well-received columns in the New York Times that have focused on, amongst other things, her return to playing the ingenue in later life, gender politics, and her passion for the works of late composer Michel Legrand, who she had the privilege of enjoying a close collaborative relationship.
9. She's got multiple works in progress
2019 is set to be a big year for Errico. When she's not saving lives, she can be found working on four new tracks to the upcoming re-release of her 2011 album, Legrand Affair Deluxe Edition. Other than that, she's busy practicing for her performance of the National Anthem at the U.S. Open Tennis Tournament (where coincidently enough, her husband Patrick McEnroe will be commentating).
10. She founded her own charity
In 2005, Errico founded Bowery Babes, a charity focused on providing support to expectant mothers near the Bowery Mission. Errico continues to be passionate about the charity to this day and is an active member of its board of directors.