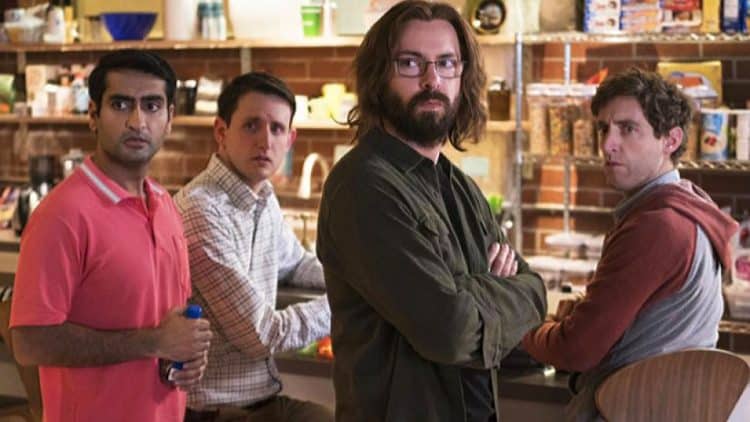 After 5 hugely successful seasons, this season will be Silicon Valley's last. Before you get out the tissues, take heart in the fact we still have an entire season of razor-sharp, engaging comedy to go before the show shuts up shop for good (and even then, there's always re-runs…). With some of the biggest TV shows of the last decade ending on somewhat disappointing notes this year (and yes, we do mean Game of Thrones) we're keeping our fingers crossed Silicon Valley doesn't go the same way. Whether it does or it doesn't, we'll need to wait and see. What we won't need to wait on is details of who's set to star. Without further ado, here's the lowdown on the cast of Silicon Valley season 6.
Thomas Middleditch as Richard Hendricks
Starring once again as Pied Piper creator and CEO, Richard Hendricks, is Thomas Middleditch. The Canadian actor began his career with a series of commercials before making his professional TV debut in The Rebound in 2009. From there, he appeared in shows such as Splinterheads (2010), Certainty (2011), and The Brass Teapot (2012) before landing his big break with Silicon Valley in 2013. The show has earned him numerous accolades and plaudits, including four Satellite Awards nominations, three Critics' Choice Television Award nominations and a Primetime Emmy Award nomination for Outstanding Lead Actor in a Comedy Series. Middleditch married his girlfriend, costume designer Mollie Gates, in 2015, but has since revealed the pair share an unusual setup, telling Playboy they have an open relationship and that "swinging has saved our marriage."
Josh Brener as Nelson "Big Head" Bighetti
Josh Brener stars as Richard's best friend, Nelson "Big Head" Bighetti. After graduating from Harvard University in 2007 as the president of the Hasty Pudding Theatrical, Brener moved to LA to pursue his dreams of becoming an actor. Since landing his first acting role as an unnamed "college guy" on The Condom Killer (2009), he's guest-starred on Workaholics, House of Lies and enjoyed a recurring role on The Big Bang Theory. Other credits include The Internship (2013), The Belko Experiment (2016), and Where's the Money (2017). He's also widely known for his voice-over work, having featured in the likes of Love, Death & Robots (2019), 101 Dalmatian Street (2019), and Star Wars Resistance (2018-present).
Martin Starr as Bertram Gilfoyle
Reprising his role as the ever-sardonic Bertram Gilfoyle is Martin Starr. Starr first came to the public's attention as the lovable nerd Bill Haverchuck in the NBC sitcom Freaks and Geeks. He's since built a career as one of TV's most in-demand comedy actors, appearing in the likes of Ed, Mysterious Ways, Providence, King of the Hill, Normal, Ohio, Party Down, Parks and Recreation, and New Girl. His film career has been just as successful, with some of his most notable performances including those in Knocked Up (2007), Superbad (2007), and Spider-Man: Homecoming (2017).
Kumail Nanjiani as Dinesh Chugtai
Kumail Nanjiani is back as Gilfoyle's sparring partner, Dinesh Chugtai. The stand-up comedian, actor, podcast host, and writer isn't short of talent, having spent the past couple of decades racking up some seriously impressive accolades, including a Kanbar Award for Storytelling and an Independent Spirit Award for Best First Screenplay for The Big Sick (2017), the Auteur Award at the San Diego International Film Festival for Self (2017) and a place on Time's "100 Most Influential People In The World" in 2018.
Reprising the character of Monica Hall, the former associate partner of Raviga Capital and the new CFO of Pied Piper, is Amanda Crew. The 33-year-old actress began working in commercials as a child, before honing her talents further at the American Academy of Dramatic Arts in New York City. Her first professional acting job came in 2005 with the role of Polly Brewer in the ABC teen drama Life as We Know It. The following year, she made her film debut in the horror film Final Destination 3. She's worked consistently ever since, with some of her most notable performances including those as Felicia Alpine in Sex Drive (2008), Tess Carroll in Charlie St. Cloud (2010), and Carrie Miller in Whistler (2006-2008).
Zach Woods as Donald "Jared" Dunn
Back as Donald "Jared" Dunn is Zach Woods. The 35-year-old actor is best known as series regular Gabe Lewis on three seasons of the NBC sitcom The Office. Other notable roles include Awkward Boy (the lead character in the YouTube video series The Most Awkward Boy in the World), Ed Webster on Veep, Zach Harper in Playing House, Jeff Dellinger in The Good Wife, and Mike Murray in Mascots. He can next be seen in the upcoming comedy-drama, Downhill.
Matt Ross as Gavin Belson
Reprising his character of Gavin Belson is Matt Ross. Actor, director, and screenwriter Ross has several notable acting credits to his name, including Eddie Scott in Good Night, and Good Luck (a role which earned him a nomination for a Screen Actors Guild Award for Outstanding Performance by a Cast in a Motion Picture), Ron Hewitt in Pushing Tin (1999), and Glenn Odekirk in The Aviator (2004). In recent years, he's concentrated primarily on directing, with some of his most notable work including the feature film Captain Fantastic, which bagged him a Un Certain Regard at the 2016 Cannes Film Festival.
Suzanne Cryer as Laurie Bream
The socially inept, highly intelligent Laurie Bream is played by Suzanne Cryer. After graduating with a master's degree from the Yale School of Drama, Cryer began her career on stage, appearing at Hartford Stage in The Rivals, the Baltimore Center Stage in Don Juan, and the Ahmanson Theater in Neil Simon's Proposals. After making several minor appearances on TV, she got her big break in 1999 when she joined the ABC sitcom Two Guys and a Girl as a series regular. She's since appeared on any number of TV shows, with some of her most notable work including Dexter, CSI: Miami, Shark, Bones, Grey's Anatomy and Desperate Housewives.
Jimmy O. Yang as Jian-Yang
Jimmy O. Yang is back as the morally questionable Jian-Yang. After graduating from the University of California, San Diego, Yang worked in the financial services sector before making the transition to entertainment. Since making his TV debut on 2 Broke Girls, he's appeared on numerous shows including New Girl (2014), It's Always Sunny in Philadelphia (2013), and Fresh Off the Boat (2018).
Tell us what's wrong with this post? How could we improve it? :)
Let us improve this post!