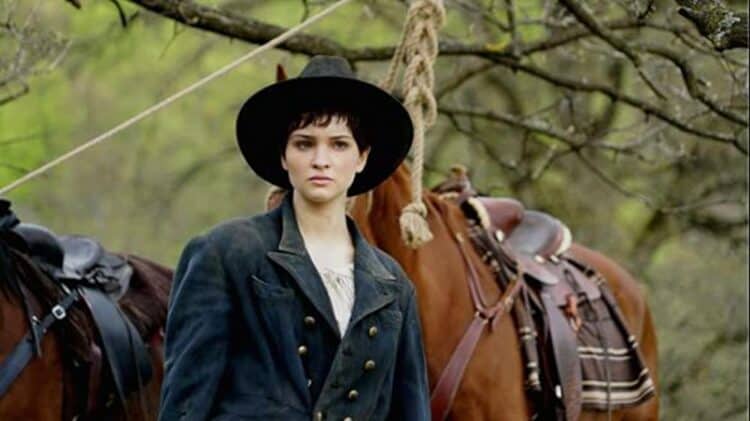 Sky and Canal+ will be releasing an upcoming television series titled Django, which is based on the 1966 movie of the same name. The show is created by Leonardo Fasoli and Maddalena Ravagli and written by Fasoli and Ravagli, alongside Max Hurwitz. Django will be directed by Francesca Comencini, who previously worked on Italy-based projects like Un Giorno Speciale and Gomorra – La serie. The series' plot is as follows, according to Deadline: "The story is set in the Wild West in the 1860s and 1870s. Sarah and John have founded New Babylon, a city of outcasts, full of men and women of all backgrounds, races and creeds, that welcomes everyone with open arms. Haunted by the murder of his family eight years earlier, Django is still looking for his daughter, believing she may have survived the killing. He is shocked to find her in New Babylon, about to marry John. But Sarah, now a grown woman, wants Django to leave, as she fears he will put New Babylon in jeopardy if he stays. However, Django, believing the city is in danger, is adamant that he will not lose his daughter twice." Django is set to feature an impressive list of international performers. If you want to learn more about the actors appearing in this series, look no further. Here are the cast members of the upcoming TV series Django.
Matthias Schoenaerts
Matthias Schoenaerts will be playing the titular character in the upcoming TV series Django. Schoenaerts is a Belgian actor who made his film debut in the movie Daens, which received a nomination in 1992 for Academy Award for Best Foreign Language Film. He also starred in the movie Bullhead, which earned him multiple accolades, including a Magritte Award for Best Actor. Schoenaerts' more recent film work include A Hidden Life, The Laundromat, The Old Guard, and Brothers by Blood. He is set to appear in two upcoming movies, Amsterdam and The Way of the Wind, both of which are currently in post-production. On TV, he appeared in 13 episodes of the series Los zand. He also performed in single episodes of De Biker Bous, Duts, and Lockdown.
Noomi Rapace
Swedish actress Noomi Rapace has also been tapped to join the cast of Django, portraying the character of Elizabeth. Most people would recognize her for playing Lisbeth Salander in The Girl with the Dragon Tattoo, The Girl Who Played with Fire, and The Girl Who Kicked the Hornet's Nest. Her other notable projects Daisy Diamon, Beyond, The Monitor, Sherlock Holmes: A Game of Shadows, Prometheus, Dead Man Down, The Drop, Child 44, and What Happened to Monday. Her more recent movie appearances include Lamb, You Won't Be Alone, Black Crab, and The Price, which is currently in post-production. On TV, she appeared in Labyrint as well as 2019's Jack Ryan. Rapace is known for going above and beyond for the roles she takes on. In an interview with Antonia Nessen, she was asked what the most extreme thing she's done for a part, to which she responded: "Actually, I think I've gone further mentally than physically. But when I played Lisbeth I changed my body to look more boyish. In the books she isn't quite right and seems almost like a cartoon. Very thin and petite, but still extremely strong and she can take down a gang of bikers. Sometimes that seems hard to believe. So instead of turning anorexic I wanted to become stronger, but still loose some weight. I spent seven months before we started shooting training kickboxing and Thai boxing." She was also asked about pushing boundaries in preparing for the part, to which she answered: "Presumably – the project has been postponed – I'm going to play the Swedish 60s singer Anita Lindblom. She is my complete opposite. She has blond hair, blue eyes, and bigger breasts. Since I look nothing like her, I asked people a hypothetical question about whether it would be possible to get breast implants for the movie and then take them out. They thought I was completely nuts. But where do you draw the line?"
Nicholas Pinnock
Nicholas Pinnock will be portraying John Ellis in the upcoming series Django. The British actor is most notably known for his starring role as Aaron Wallace in the American legal drama series For Life. He also played Leon in the Channel 4 TV drama Top Boy. Pinnock most recently appeared in the movie The Last Tree and Dark Encounter. On TV, he's appeared in episodes of Counterpart, Criminal: UK, and Barbarians Rising. Despite being a talented actor, Pinnock experiences impostor syndrome from time to time. He shared his insights on the matter with Backstage: "I may be able to do this role. Will I be able to do the next one? It's a constant [thought]. That's one of the things that has kept me pushing and growing and striving to be better and bring more nuance to what I do as an actor. I think you get to a point where your best happened, and it's a matter of then reshaping what that looks like. I think there's always still things to learn about yourself, about your approach to your craft and the industry. I don't think I've gotten to that point yet. I've still got a way to go for me, personally. But a lot of actors get to a point where you've just reached this pinnacle and you can't go beyond that. It's how you shape that and redefine it and reimagine it and reinvent it to then approach the next role. It's about recrafting the best you can deliver because it's been delivered already."
Lysa Vicari
German actress Lysa Vicari has also been tapped to star in Django, where she portrays Sarah, Django's long-lost daughter. The young actress worked on movies like Isi & Ossi, Hannes, and Das Haus. She also appeared in TV shows like Tatort, SOKO Munchen, and Dark, where she portrayed a lead character named Martha Nielsen.
Jyuddah James
Jyuddah James will also be starring in Django as Eric Kole. He had previously appeared in Criminal: UK, Sanditon, and Brassic.
Tom Austen
Tom Austen is set to appear in Django in a yet unnamed role. The English actor appeared in The Royals and Grantchester. More recently, he's known for starring in Helstrom, portraying the character of Daimon Helstrom.
Abigail Thorn
Abigail Thorn will also be starring in the upcoming series Django. She is best known for hosting the YouTube channel Philosophy Tube, where she talks about philosophy. An impressive fact about Thorn is that she has two master's degrees: one in philosophy from the University of St. Andrews and another in acting from the East 15 Acting School.
Tell us what's wrong with this post? How could we improve it? :)
Let us improve this post!