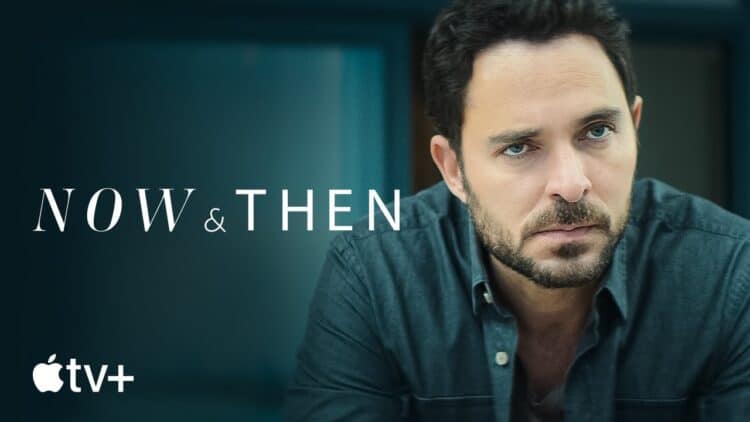 Apple TV+ is set to release a drama TV streaming series on May 20. Titled Now & Then, here is an official synopsis from the Apple TV+ website: "Now & Then" is a multi-layered thriller that explores the differences between youthful aspirations and the reality of adulthood, when the lives of a group of college best friends are forever changed after a celebratory weekend ends up with one of them dead. Now, 20 years later, the remaining five are reluctantly reunited by a threat that puts their seemingly perfect worlds at risk." The show is created and written by Gema R. Neira and Ramon Campos. Neira previously worked on High Seas, Cocaine Coast, and Jaguar, while Ramon Campos is best known for his work on Gran Hotel and Bajo sospecha. He and Neira were both involved in High Seas. Now & Then features an interesting list of cast members. If you want to learn more about the actors appearing in this show, read ahead. Here are the cast members of the upcoming Apple TV+ series Now & Then.
Marina de Tavira
Marina de Tavira stars in the upcoming Apple TV+ series Now & Then as Ana, who had to put her political career on hold to support her husband. She is best known for her appearance in the multi-award-winning movie Roma, for which she garnered international acclaim. She also received a nomination for Best Supporting Actress for her role in the movie. A popular actress in Mexico, she's appeared in projects like Ana and Bruno, Complices, Niebla de Culpa, and This Is Not Berlin. In an interview with The Wrap, de Tavira talked about being the only trained actress in the cast of Roma, which mostly consisted of first-time performers. "I think I was the only trained actress in the cast," de Tavira said. "All the actors I worked with were acting for the first time, and what was something Alfonso and I had to work on a lot. At the beginning, it was more difficult for me than it was for them."
Rosie Perez
Rosie Perez will play Flora, a detective, in the upcoming Apple TV+ series Now & Then. A popular actress, Perez first came into prominence for her role as Tina in the movie Do The Right Thing in 1989. Since then, she's worked on movies like White Men Can't Jump and Fearless, for which she earned a nomination for the Academy Award for Best Supporting Actress. More recently, Perez appeared in movies like Birds of Prey, The Last Thing He Wanted, and the heartwarming children's movie Clifford the Big Red Dog. On TV, she's best known for her starring role in The Flight Attendant and Bounty Hunters. She's also appeared in shows like Elena of Avalor, Rise, She's Gotta Have It, and With/In. She's provided voice talent to Maya and the Three and Human Resources.
Jose Maria Yazpik
Jose Maria Yazpik will be playing Pedro, Ana's husband and a politician, in Now & Then. A Mexican actor, he has mostly appeared in Mexican productions, including Everybody Loves Somebody, The Obscure Spring, Fighting for Freedom, I'm So Excited, and El Santos vs. La Tetona Mendoza. For American audiences, he is best known for his role as Amado Carrillo Fuentes in the hit series Narcos and its spinoff, Narcos: Mexico.
Maribel Verdu
Maribel Verdu plays Sofia, a lawyer, in Apple TV+'s upcoming series Now & Then. The actress is best known for her appearance in Y tu mama tambien, Pan's Labyrinth, The Blind Sunflowers, and Snow White. In 2023, she is set to appear in The Flash, playing the role of Nora Allen. This effectively makes her a part of the DC family.
Manolo Cardona
Manolo Cardona will play Marcos, a surgeon. Cardona, a Colombian actor, is best known for appearing the Rubirosa film series and TV show, playing the character of Porfirio Rubirosa. Previously, he had played roles in Macho, El cuaderno de Sara, Corazon de Leon, and Love Film Festival. Previous starring roles include Maria Magdalena and La Hermandad. He also has a recurring role in Narcos, where he played Eduardo Sandoval.
Soledad Villamil
Soledad Villamil plays Daniela, an artist who struggles to overcome a past traumatic experience. Villamil is an Argentine actress who has earned multiple accolades throughout her career. She has won two Carlos Gardel Awards and a Goya Award for Best New Actress. On the big screen, she's worked on La vida segun Muriel, Un Muro de Silencio, and more recently, Todos tenemos un plan and A Twelve-Year Night.
Zeljko Ivanek
Zeljko Ivanek plays Sullivan, a detective who is partnered up with Flora, in Now & Then. The actor is most notably known for his role as Ray Fiske on Damages. For his role in the show, he won a Primetime Emmy Award. He has appeared on shows like Suits, The Americans, and 12 Monkeys. On Madam Secretary, he played Russell Jackson, appearing on the show for 102 episodes. Ivanek is also very active on the big screen. He's played roles on movies like Seven Psychopaths, The Words, Three Billboards Outside Ebbing, Missouri, The Courier, and The Last Duel. Prior to his career in front of the camera, Ivanek had been active on stage. In an interview with AV Club, he was asked whether he had actively made the transition from stage to screen, to which he answered: "I thought I'd be doing theater, really. That's all I had experience with growing up. I mean, I saw movies and television, but I don't think I really connected at a young age that that was acting, that that was part of the profession. What made more of an initial impression on me was the theater we saw when we moved back to the States [from Slovenia]. We lived in the Bay Area and went to ACT—American Conservatory Theater—in San Francisco, and that's what I thought of as… like, "That's acting, people doing plays." And that's obviously what I did in high school and college. So I didn't really see any avenues beyond that, and it's mostly what I did the first few years out of drama school. So the TV and film stuff kind of trickled in later, and then took over."