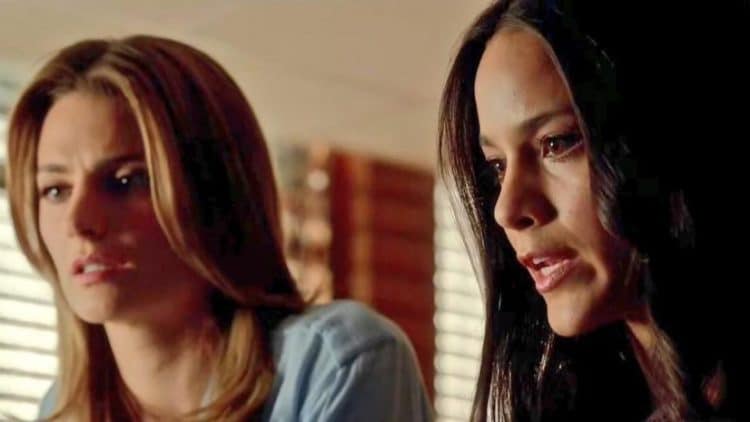 Even if you don't know Maya Stojan by name, you've probably seen her face. The talented Swiss actress has made dozens of on screen appearances since her debut in 2009. Whether you like drama, suspense, or even a little bit of comedy, there's a good chance she's worked on something in your favorite genre. Many people will recognize her best from her role as Kara Lynn Palamas in Agents of S.H.I.E.L.D and her role as Tory Ellis in Castle. Recently, she also had a role in the new Netflix film, Fatal Affair. With her diverse talent, there's no doubt that Maya's star will only continue to rise in the years to come. Keep reading for 10 things you didn't know abut Maya Stojan.
1. She Loves Yoga
Being an actor may seem like a fun and easy job, but most actors would probably disagree with the easy aspect. There is a lot that goes into preparing for and playing a role, and it can get pretty stressful. One of Maya's favorite ways to relax and decompress is to practice yoga on a regular basis.
2. She Has A Diverse Background
Maya Stojan has a very diverse ethnic background. She was born and raised in Switzerland to a father from the Czech Republic and a Sri Lankan mother. Maya is fluent in both English and French. She relocated to the United States in the 2000s and still lives there today.
3. She Was In An Episode Of Grey's Anatomy
In its 15 years on the air, Grey's Anatomy given countless actors the opportunity for guest appearances. In 2016, Maya got her chance to be on an episode of the show. However, many fans probably didn't recognize her because her character had some facial injuries that required Maya to wear prosthetics.
4. She Loves To Be Outside
Maya is the kind of person who loves to enjoy all of the natural beauty that life has to offer. When she has time off from work, one of her favorite things to do is spend time outdoors. She is an avid golfer and also likes to do things like go swimming, hiking, and exploring.
5. Her Dream Is To Have More Big Roles
Almost every actor would agree that having a starring role is one of their goals. After all, being a series regular is the most job security you can ask for in the entertainment world. She told Nice Girls TV, "One of my dreams is to be a series regular on a hit TV show that I love and admire." She would also love the opportunity to star in a movie.
6. She Supports Several Causes
Maya is famous for acting, but as a celebrity, people often look to her for more than her acting skills. Maya is proud to be able to use her platform to support the causes and ideas she believes in. She has supported several charities throughout her career including Midnight Mission and Boo2Bullying.
7. She Loves Traveling
Traveling is one thing most people would agree they wish they could do more of. Unfortunately, not everyone is in a position to travel far or often. Luckily for Maya, her lifestyle has given her the opportunity to do both. She has been able to visits lots of cool places including Australia and Zimbabwe.
8. She Played Golf In College
For many actors, formal training is a key ingredient to making the most of their natural talent. Maya attended the University of Hartford where she earned a bachelor's of arts. Hartt School of Theatre and Music. During her time at UHART, she was also a member of the school's golf team.
9. She Has A Boyfriend
Maya's good looks have gotten her a lot of attention over the years. She's probably been on people's Woman Crush Wednesday list more times than she can count. However, she isn't on the market. She started dating rugby player, Todd Clever, earlier this year. Although their relationship is still relatively new, they seem to be on the same page about taking things seriously.
10. She's A Big Believer In Practicing Gratitude
When you work in the entertainment industry it can be really easy to get out of touch with reality and lose focus of what's important. Maya has made it a point to make sure she doesn't fall into this trap. Practicing gratitude is something she does on a regular basis. She believes that gratitude is one of the keys to success. Maya is mindful not to take any of her opportunities for granted and she encourages others to do the same.