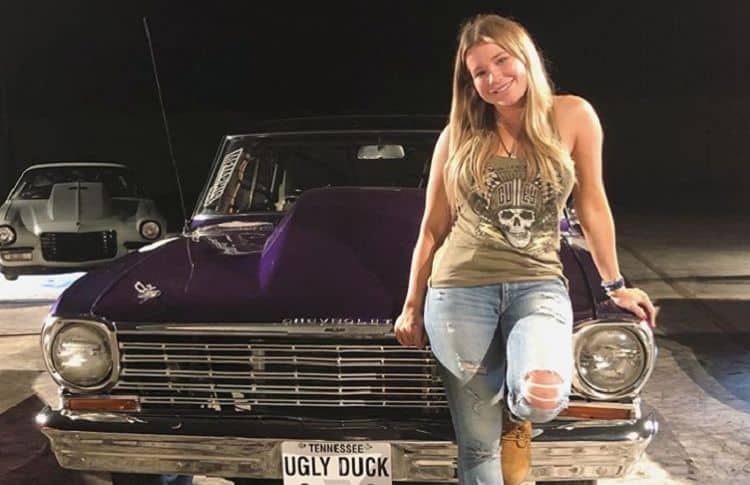 Mallory Gulley is best known as "money girl" in the reality spinoff "Street Outlaws Memphis." She shows everyone what a petite little girl can do behind the wheel of a drag racer. She appears on the Discovery Channel series. If you're not familiar with her, she's a good example of how far self-confidence mixed with talent and determination can get you in life. She's living the dream and here are 10 things you probably didn't know about Mallory Gulley.
1. Mallory is the daughter of Kenneth Gulley
He owns Gulley Garage. If you've watched "Street Outlaws: Memphis," then you've no doubt seen the garage featured on the show. She's taken a leaf from her father's book and at the age of 22, she is following in her dad's footsteps as a race car driver.
2. She's making money on her races
Mallory may be racing for the love of the sport but she also makes a decent living at it. In October of last year, she won a check for $10,000 for winning a race. For street racing, this isn't bad at all. Gulley is a skilled racecar driver and she knows what she's doing in competition.
3. Mallory is well educated
Education comes in a lot of different forms. Gulley has a few different levels when it comes to her knowledge base. First is her knowledge of the principles of racing which takes an understanding of physics at an instinctual level. She knows when to give it the horses and when to hold back which is something you can't just learn out of a book. The second type of education that she hs is on the academic front. Both she and her sister Natalie Gulley studied at Arkansas State University.
4. Mallory Gulley also has a day job
Gulley's day job is closely related to the automotive industry. She holds down a day job at Gulley Bail Bonds and KEG towing. Her father has several irons in the fire when it comes to his business ventures. She works throughout the week to help make the family business a success, but on the weekends she is out on the road taking on the competition in street racing events for which she is nicely compensated when she takes first place. She leads a busy and fulfilling life.
5. Mallory is still single
Ms. Gullyhas made it extremely clear that she is not currently in a relationship. She is focusing on her career and honing her racing skills. She has a lot going on with the family business and contributing to this during the week. Her free time is rare as she is also racing and making appearances on "Street Outlaws: Memphis."
6. She is doing well financially
When it comes to her personal wealth, Mallory Gulley is doing very well. At the age of 22, she has a full-time job at her parents' business and she makes approximately $45,000 per year. Included in her estimated net wealth of $200,000, is her white Chevrolet Corvette Z06 with an estimated value of $79,000. Although her father is doing very well for himself, Mallory works to earn her own way and she doesn't rely on her parents for her support. She is a very responsible young woman who knows the value of a dollar and she has a very strong work ethic. She works hard but we can tell from her track record in street racing that she plays even harder in her passion as a race car driver.
7. She is a native of Arkansas
Mallory was born in Jonesboro, Arkansas. She was almost a New Years' baby as she was born on December 31, 1996. Her parents are Kenneth Gulley, a race car driver and entrepreneur, and her mother Cari Gulley. She grew up in Jonesboro and was raised with her sister Natalie by their parents. She had a normal childhood attending local schools, and graduating from her high school, then moving on to college.
8. Mallory has some big influences in her life
Mallory Gulley took an interest in street racing because her father is a race car driver. She and Kenneth used to go to the track to watch the street races. JJ DA Boss of "Street Outlaws," and this is when she became acquainted with him. Her passion for racing is influenced by JJ as well as by her father Kenneth. Both supported her in her early racing career and gave her tips and pointers about how to improve her skills in competition. She has two very big influences in her life although she and JJ are not related as some have speculated. They're just friends.
9. She is also a bit of an entrepreneur
Mallory Gulley is following in her father's footsteps in her business sense just as much as with her racing. She has a shop where you can find her brand name merchandise. You can access the site on her Instagram page to find all kinds of cool stuff.
10. She has an Instagram page for fans
If you're a big fan of Mallory Gulley, then we have an excellent resource for you. Mallory has set up an Instagram page and she has made some really great posts on the site. Here is the place to find a lot of amazing photos of her. It's a great way to keep up on what's trending with the emerging young race car driver and to see what she's been up to lately. Mallory has 525 posts on the page and she is gaining quite a huge following of fans. So far there are 38.5 thousand followers who are keeping up with her on the site. There are also some great photos of The Ugly Duck, the name of the purple '64 Chevy that she races.