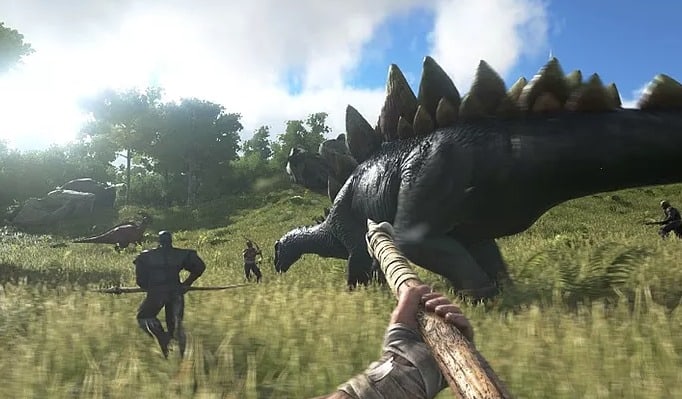 The popular interactive video game Ark: Survival Evolved was released by Studio Wildcard in August 2017. The PlayStation, XBox One and Microsoft Windows compatible game strands users on a mysterious island surrounded by ocean waters. Players in this virtual world must survive while defending themselves from hostile people and animals. Players must establish a base to defend themselves. They also can tame wild prehistoric animals. In the virtual reality game, players must build shelters and bases while defending themselves with firearms and improvised weapons. Survivors move around by foot and on the backs of tamed prehistoric beasts. They also must grow and harvest crops and craft items to help them live. In the world of Ark: Survival Evolved, color plays a major role. Structures and items can be painted a variety of colors. Even animals and people can be painted with warpaint. Players must blend and cook their own dye with items in their inventory including water, charcoal, gunpowder, sparkpowder and different combinations of berries. There are 25 different dyes that can be created in Ark: Survival Evolved.
Here is how to make dye in Ark: Survival Evolved.
What you need
a full water jar, canteen or waterskin
2 charcoals, 1 gunpowder or 1 sparkpowder
berries (the amount and combinations depends on the color you are creating)
cooking pot or industrial cooker
How to add color to your virtual world
You will need water for each type of dye you make. Each dye requires either 2 charcoals, 1 gunpowder or 1 sparkpowder. Each dye requires different types of berries to create the chosen color of paint. Once ingredients are combined from your inventory, the mixture is cooked in a pot or industrial cooker for a certain amount of time. Each batch creates five dyes. Dyes can be used to color armor, weaponry, saddles, structures or as warpaint. When the dye is ready to apply, it can be found and highlighted in your inventory. Dye is applied with the paintbrush icon or a spray painter icon. "Dip" the paintbrush or spray painter in the dye and color the object. When using the spray painter on larger structures, you can left click on a PC or right click on the XBox One. To remove dye, use the soap icon.
Colors
Each dye requires water, either charcoal, gunpowder or sparkpowder, and a different combination of berries depending on the desired color. There are 25 possible dye colors in Ark: Survivor Evolved. Here are the ingredients for each type of dye.
Use with water and 2 charcoals:
Black – 15 Narcoberry
Blue – 15 Azulberry
Brown – 6 Amarberry + 3 Azulberry + 9 Tintoberry
Green – 9 Amarberry + 9 Azulberry
Orange – 9 Amarberry + 9 Tintoberry
Purple – 9 Azulberry + 9 Tintoberry
Red – 9 azulberry + 9 Tintoberry
White – 15 Stimberry
Yellow – 15 Amarberry
Use with water and 1 gunpowder:
Forest – 7 Amarberry + 7 Azulberry + 4 Narcoberry
Parchment – 12 Amarberry + 6 Stimberry
Pink – 12 Tintoberry + 6 Stimberry
Royalty = 7 Azulberry + 7 Tintoberry + 4 Narcoberry
Silver = 6 Narcoberry + 12 Stimberry
Sky – 12 Azulberry + 6 Stimberry
Tan – 4 Amarberry + 1 Azulberry + Tintoberry + 6 Stimberry
Tangerine – 7 Amarberry + 7 Tintoberry + 4 Narcoberry
Use with water and 1 sparkpowder:
Brick – 12 Tintoberry + 6 Narcoberry
Cantaloupe – 7 Amarberry + 7 Tintoberry + 4 Stimberry
Cyan – 6 Amarberry + 12 Azulberry
Magenta – 9 Azulberry + 9 Tintoberry
Mud – 4 Amarberry + 1 Azulberry + 7 Tintoberry
Navy – 12 Azulberry + 6 Narcoberry
Olive – 12 Amarberry + 6 Narcoberry
Slate = 12 Narcoberry + 6 Stimberry