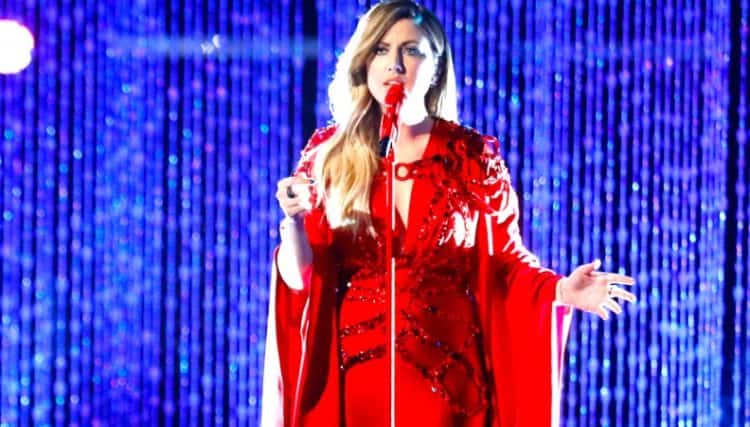 Maelyn Jarmon is one of the contestants on the current season of The Voice. So far, her performances have enabled her to build up a fair-sized fan-base. However, it remains to be seen whether Jarmon will be able to secure the position of winner for the season or not. Here are 10 things that you may or may not have known about Maelyn Jarmon:
1. Hometown Is Frisco, TX
Jarmon's hometown is Frisco, TX. In short, there are numerous places in the United States called Frisco. However, the one in the state of Texas is one of the communities that make up the Dallas-Fort Worth metroplex. As such, it can be considered something of a commuter town for people who work elsewhere in the metroplex.
2. Lives in New York City, NY
With that said, Jarmon's current city of residence isn't Frisco but rather New York City. Her chance of residence happened because she wanted to pursue a career that would enable her to indulge her love of music. Something that would be much easier in New York City than in Frisco because of New York City's status as a cultural center as well as an economic center rolled into one.
3. Used to Be Interested in Broadway
In particular, it is worth mentioning that Jarmon chose New York City rather than one of the other cultural centers of the United States because she wanted to see if she could make it as a performer on Broadway. That particular desire has since faded in preference for a career in original music, but it has nonetheless had a huge impact on Jarmon's life, as shown by the fact that her current city of residence is New York City rather than someplace else.
4. Her Family Is Pretty Supportive
Some of those who seek out a career in the entertainment industries do so by buckling the expectations placed upon them by their families. In contrast, others receive considerable support from their families when it comes to pursuing their artistic ambitions. Considering that Jarmon's family actually moved with her to New York City when she decided to see if she could make it on Broadway, it seems pretty safe to say that her family is very supportive of her endeavors in this regard.
5. Started Training When She Was Still Young
With that said, Jarmon's interest in the arts wasn't something that showed up all of a sudden. Instead, it was something that had interested her for years and years, as shown by the fact that she started taking voice lessons when she was at the age of 13. Considering that Jarmon used to be interested in Broadway rather than original music, it should come as no surprise to learn that she was very much involved in musical theatre as well before she made the fateful choice to attempt to turn her personal passion into a true career.
6. Has Serious Hearing Loss
Jarmon is 100 percent deaf, but she has nonetheless suffered serious hearing loss, which is one of the challenges that she has had to overcome in her attempt to seek a career in the entertainment industries. In short, what happened was that she had tubes inserted in her ears when she was a baby for the purpose of treating her ear infections. Unfortunately, what resulted was the complete loss of hearing in her right ear as well as the retention of about 80 percent of her hearing in her left ear.
7. Has Released Some Original Music
The modern era has made it easier than ever before for singers as well as other musicians to get their material out to interested individuals. As a result, it is perhaps unsurprising to learn that Jarmon has already released some original music of her own. One example would be a song called "Last Call," which is available via Spotify, while another example would be "Ayo," which is available via Apple Music. As such, for people who enjoyed listening to her performances on The Voice, it might be worthwhile for them to check out her original music as well.
8. Feels a Connection to "The Scientist"
On The Voice, Jarmon commented that she feels a connection to Coldplay's "The Scientist," which is one of the best-known songs from their second album. There are a number of things that are interesting about this particular song. For example, it was written by all of the members of Coldplay working together as a team. As for the meaning, Chris Martin has stated that it is about the feeling of helplessness when someone is in love, though as always, listeners have found their own meanings to it in the course of listening.
9. Has a Musical Boyfriend
Interestingly, Jarmon has a boyfriend named Johnny Murrell, who is a musician as well. Like her family, he seems to be pretty supportive of her efforts as well. One, his social media presence has been offering constant positivity for her on the competition, which includes him asking his fans to vote for her. Two, Murrell has been seen in the audience for The Voice as well, from where he can offer further support.
10. Has Performed "Stay"
On one of the more recent episodes, Jarmon performed the song "Stay," which originated on Rihanna's seventh album. Said song is another love song, seeing as how it is focused on the inability for people to resist true love. Reception-wise, it met with a fair amount of enthusiasm from both the critics and the consumers. For instance, most critics greeted it with praise, though of course, there were also those who were less fond of it. As for the consumers, the song peaked at number three on the Billboard Hot 100, which was notable because it meant that Rihanna had surpassed Whitney Houston's count with a 24th song counted in the top ten.