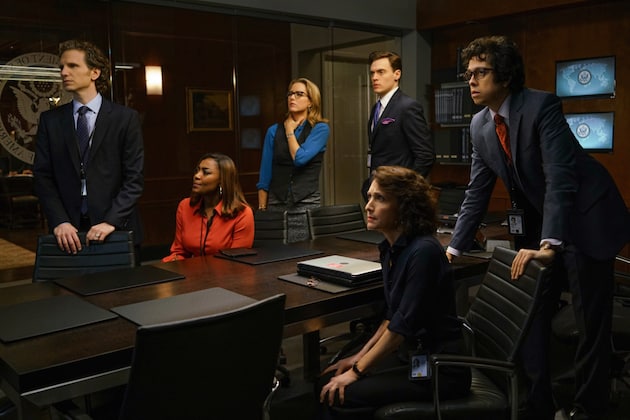 "Sometimes, making evil duck and find another hole is the best that we can do.". On tonight's episode of Madam Secretary, Elizabeth, and her staff attempt to stop human trafficking in Kyrgyzstan. It's a mission that hits too close to home. One that doesn't have that classic Hollywood ending.
The issue of human trafficking is an important one. I have seen situations like this either on the news or from other crime drama shows. Sometimes it ends well, but other times, it ends in tragedy. When the FBI's hostage extraction team found the truck that held the captive girls, my heart bled. In the back of my mind, I know that it's a work of fiction, but I can't help but think, what if that happened? Maybe it's already going on, and we are unaware of it. The scene where Nadine called Diane Cramer, the mother of Lara Cramer, to tell her the bad news, it made me shed a tear as I felt the heartbreak.
Tragic ending aside, this episode also shed light on the treatment of women. Thad, a boy at Alison's school, indirectly shamed her while in the bathroom with a friend. Jason overheard the conversation but said nothing. I half expected Jason to stand up for his sister like he does with his views of society. Imagine my surprise when the youngest McCord decided to go the silent route. I agreed with Alison when she told her brother that guys like Thad are everywhere and it's guys like Jason that they get away with it every day. At least he tried to make up for it by spraying what I assume is shaving cream onto Thad's car. Good thing Dean Ward gave him the benefit of the doubt. If he weren't, he would have to face dire consequences.
Meanwhile, Henry, as he recovers from his injuries that he sustained in the previous episode, finds the bomb that the religious cult is planning to use. The part where he drove the truck into the clearing, I was holding my breath, hoping that he would make it out alive. He did, of course, much to the relief of Elizabeth when she called him. Don't ever do that again, Dr. McCord!
On a side note, I understood Henry's reaction as he disabled Ian with one of his crutches, thinking that Ian drove the truck with the bomb to the mall on purpose. I also jumped to that conclusion after what occurred last time. I mean, Ian was being drugged and controlled like a puppet of sorts, so it's only logical that Henry (myself included) would reach such a conclusion. Sorry for doubting you, Ian! Though the fact that the cult is planning something big intrigues me. Would it be another bomb? Or will it be biological warfare?
Photo via CBS
Madam Secretary Season 3 Episode 18 Review: "Good Bones"
Summary
Elizabeth tries to convince the president of Kyrgyzstan to help stop human trafficking in his country. Henry finds the bomb that the cult is planning to use in this emotional episode of Madam Secretary.