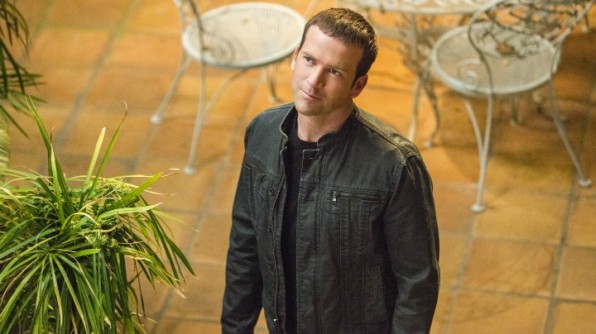 If you have ever seen NCIS: New Orleans, you likely know who Lucas Black is. He is the amazing actor who plays the role of Christopher LaSalle. Lucas' character grew up in Alabama and has a sister and an older brother who is bipolar. He was once a deputy sheriff on the vice squad and resigned so that he could join the NCIS team. If you want to know more about the man behind the character, read on. There are plenty of things that you may not know about him.
Born in Alabama
Like his character on NCIS: New Orleans, Lucas was also born in Alabama.He was born on November 29, 1982. He was born in Decatur, but he spends most of his time in a small town called Speake. Like his character, Lucas loves to flaunt his "Bama Pride." His mother, Jan Gillespie, is an office worker and his father, Larry Black, is a museum employee. He also has two older siblings. According to Lucas, his father was his primary role model.
He Played Football in High School
Before Lucas graduated from high school in May 2001, he played football for the Speake Bobcats. After high school, he had no dreams of becoming a college or professional football player. His first career choice wasn't even to become an actor. His first dream was to become a fisherman. His character loves fishing, but Lucas himself loves it more. He says that if he could have any other career besides acting, he would be a fisherman.
Lucas Loves to Play Golf
After he graduated from high school, he traded in his football for golf clubs. He has excelled greatly in the sport and he competes in golf tournaments all around the country. He admits that he has a secret dream of playing golf at the professional level. He has even shown off some of his golf skills in his films. He loves golf so much that one day he thought it would be a good idea to play a game in his house. Unfortunately, all he ended up with was a hole in his wall.
Lucas is a Married Man
Lucas Black is a married man, and if you ask him, he will tell you that he is a very happily married man. He married his longtime girlfriend, Maggie O'Brien. Maggie is a lawyer, so Lucas has someone to handle all of his contract negotiations. The couple also has two children. They have a daughter named Sophie Jo and they have a son named Augusta "Gus" York.
He Loves His Alabama Accent
Lucas loves his Alabama accent, and he would rather not drop it. He believes that so much of his persona is rolled up into his accent that he had trouble when a director wanted him to lose it. In the end, he decided that he wasn't going to drop his accent and he wasn't going to take the role.
He Has Been Recognized For His Excellent Acting
Lucas is an amazing actor and the critics and his peers have noticed. He was nominated for a Screen Actors Guild award for his role in Sling Blade. For the same role, he won a Young Artist Award and an Academy of Science Fiction, Fantasy & Horror Films award. He was also nominated for a Young Artist Award for his roles in American Gothic, Flash, Crazy in Alabama, All the Pretty Horses, and a Teen Choice Award for Male Breakout Star for his role in The Fast and the Furious:Tokyo Drift.
Lucas is a Fan of Country Music
Lucas is a country boy at heart. He loves Alabama, fishing, a good barbecue, and he loves country music. In his free time, he enjoys attending country music concerts. When he is fishing, you can be sure that the music on his iPod is all by his favorite country artists.
Lucas Has Had No Formal Acting Training
Lucas made his film debut when he was just 11 years old. He starred in the Kevin Costner film, The War. In 1996, he landed his award-winning role in the film Sling Blade. The same year, he landed a role in the film Flash. He also had a role in The X-Files film and a voice role in the film Our Friend, Martin. He starred in all of these films before he turned 18 years old. Over the two decades, he continued to star in film and television and he has been incredibly successful.
He Will Replace Paul Walker in the Upcoming Fast and Furious Installment
If you have seen any of the Fast and the Furious films, you would know that Lucas played Sean Boswell in Fast and the Furious: Tokyo Drift, where he won an award. He returned to the franchise to play Sean Boswell again in Furious 7 and Fast 8. Sadly, Paul Walker passed away after a serious car accident while he was filming Fast 8. Paul was featured in the film and his brothers were used as body doubles to film the scenes that still needed to be filmed when Paul passed away.
Many fans of the franchise have wondered and worried if the Fast and the Furious movies were going to be over since one of the main and pivotal characters had died. On April 16, 2016, it was announced that Lucas would reprise his role as Sean Boswell, but in a much bigger role this time. With Paul Walker gone, it leaves an empty place on Dominic Toretto's team and he will be short one best friend. There were reports that Paul Walker's brother, Cody, would take over his brother's role. That report has been debunked, and it has been reported that Lucas will star as Dominic's new best friend.
Lucas is a Religious Man
Lucas takes his faith very seriously. He was raised a Southern Baptist and he carried his faith with him into adulthood. If you follow Lucas on Twitter, you will see that he is an inspiration speaker, and often times, he will reference inspiring quotes which reference his faith. His children are also being brought up religious. Faith is very important to Lucas and his entire family.