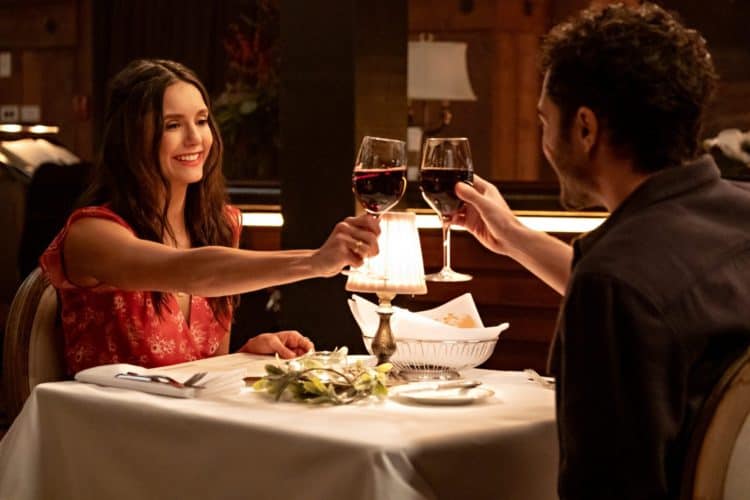 Living in the age of online dating is a double-edged sword. It may be easier to meet people, but harder to form real connections. Finding the right match for you takes more than a swipe to the right. All this is further justified in the Netflix film, Love Hard. The romantic comedy follows the love life of Natalie Bauer, portrayed by Nina Dobrev (The Vampire Diaries), a writer based in Los Angeles, who chronicles her online dating mishaps in a dating column. Events change when she meets Tag online, a guy based on the East Coast, whom she forms an instant connection with. Natalie takes a leap of faith and decides to fly to his quaint hometown to surprise him for the holidays. This leap of faith turns out to be a rough ride to the edge of a cliff. The dreamy man she was falling for turned out to be a nerdy Asian guy named Josh Lin, portrayed by Jimmy O. Yang (Silicon Valley). This takes catfishing to a whole other level. Turns out, the real Tag, portrayed by Darren Barnet (Never Have I Ever), actually does live in the same town. Josh promises to set Natalie up with Tag, as long as she pretends to be his girlfriend for the holidays. Here are five love lessons that can be picked up from the movie:
5. Stable relationships must be built on honesty
Good relationships are rooted on trust and honesty. Commitment is already scary as it is, being with someone who cannot be truthful to you is not worth your time and effort. It only takes a matter of time before skeletons in the closet are revealed. The film shows viewers the consequences of dishonesty. Josh decided to catfish Natalie, because of his insecurities, while Natalie tried to make the most out of her unfortunate situation by also lying about herself to get the real Tag's attention. A lie cannot be solved with another lie, and the characters in the film learned about this the hard way.
4. Connections cannot be forced
You can fluff up your dating profile all you want, but chemistry is the last thing you can fake. Having a connection with somebody is not something that can be learned in books, or in school. It should come effortlessly. Natalie and Josh may not have started off on the right foot, but their connection was undeniable. They had the same humor, shared the same interests, and could talk about anything under the sun. This was made even more obvious when Natalie had to pretend to be someone she's not, in order to make Tag attracted to her. This just goes to show that you really can't choose the person you really get along with.
3. Personality trumps physical appearances
A relationship will not work if it is purely based on physical attraction. One's appearance may be the first thing you'll notice, but it's that person's character and personality that can determine the longevity of your relationship. Looks can fade, but personality lasts a lifetime. Natalie may not have been initially attracted to Josh, especially during their first actual encounter, but he grew on her in time. At the end of the day, you just want to be with someone who can make you laugh, and someone you can just be yourself with.
2. Do not force yourself unto others
Being real is one of the best things you can do for yourself. You don't have to pretend to be someone you're not, in order to fit in. The people who are meant to stay in your life will accept you for who you really are. Natalie became so engrossed in winning Tag over that she pretended to be someone she's not. She even attempted to be an outdoorsy and adventurous person, even though she was terrified deep inside. This is a red flag, and something that will just get more complicated in time. It's a good thing Natalie was able to come to her senses before she got deeper into her lies.
1. The best love stories come in the most unexpected times.
The film screams feel-good rom-com from all angles. It's a light and heartwarming watch that's perfect during in cozy night in. The movie was also unconventional in a way that the lead characters did not have a typical rom-com fairytale romance. The issues tackled were realistic, and the characters relatable. Natalie and Josh found each other in the most random and unexpected of instances. Their love story was a slow burn that just got better in time. As they say, love comes to you when you least expect it. Ideas about a sequel was jokingly brought up by the cast, and honestly, this does not sound entirely like a bad idea.