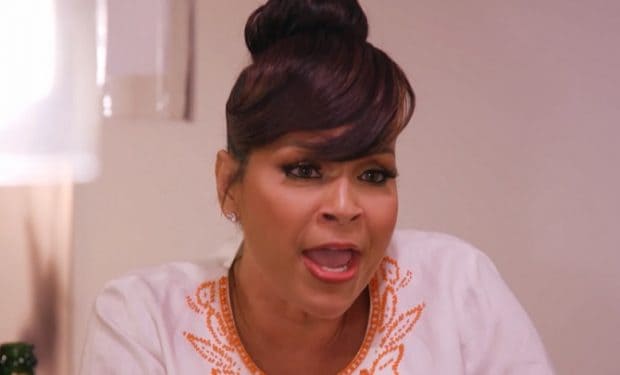 She's may be mostly known for her role as "Diamond" in the 1998 film, The Players Club, but American LisaRaye McCoy is more than just an actress. The 51-year old actress has been active since 1995, but she's also done plenty of other things throughout her career. She's dabbled in modeling, fashion design, and even business. She's also had a bit of experience in politics as well. McCoy has a couple of film projects coming up, and this would be a good time to brush up on her. If you've never read up on LisaRaye McCoy at all, here are 10 things you didn't know about her that you probably ought to.
1. Background
Born and raised in Chicago, Illinois, McCoy grew up in a fast-paced, successful environment. Her father David Ray McCoy was a Chicago businessman, and her mother Katie McCoy was a professional model. Naturally, LisaRaye would get into both industries later on in her career. All throughout her childhood, LisaRaye attended private prep schools, eventually graduating from Thornridge High School in 1985. She started college right after high school at Eastern Illinois University, but she ended up pursuing acting instead of finishing a degree.
2. Hollywood
McCoy's career in Hollywood hasn't entirely been full of blockbusters and hit films, but she's managed to set herself apart and make a name for herself regardless. She's done both films and television shows throughout her career, and some of her most notable shows include All of Us and Single Ladies. And even though she's been around since the mid-90s, she doesn't really have a lot of Hollywood friends. McCoy has learned to appreciate people for what they bring into her life, but she's not the type to make and keep buddies in the industry.
3. Tragedy
When her father died in 1988, McCoy was already 21 years old. Throughout her childhood, teenage years, and until her father died, McCoy maintained a very close relationship with her dad. She'd actually consider herself to be a daddy's girl. Tragically, her father was murdered in 1988. McCoy often reminisces about the time when she would play in her father's Chicago office. She would play secretary and boss when she could. McCoy says that she learned everything she knows about business from her father.
4. Daughter
LisaRaye has one daughter, Kai Morae Pace, who was born in 1989–just a year after LisaRaye's father's death. That makes Kai 30 years old this year. Kai's father is Kenji Pace, who's a motivational speaker and entrepreneur. LisaRaye and Kenji never married, but they remained civil for their daughter.
5. Marriage
McCoy's first marriage was in 1992. She married American football player Tony Derrick Martin. Martin played for a few high profile NFL teams including the New York Jets, the Miami Dolphins, the San Diego Chargers, and the Atlanta Falcons. McCoy and Martin mostly kept their marriage under wraps, but it was all quite short-lived. The marriage only lasted just under two years, since the couple divorced in 1994.
6. Turks and Caicos
LisaRaye wouldn't marry again until 2006 to one Michael Misick. At the time of their marriage, Misick was elected as Premier of the Turks and Caicos Islands. The position is essentially the same as Chief Minister or Prime Minister of the entire country. Because of the wedding, McCoy also took on the role of First Lady of the Turks and Caicos Islands. The ceremony was as lavish as it gets, with 300 guests and a 3-week honeymoon that's the envy of all newlyweds. However lavish the affair, the marriage still didn't survive. The couple divorced in 2008 and in good timing for McCoy as well. Misick was eventually accused of corruption, arrested in Brazil after he fled from the Islands, and extradited for trial in his home nation.
7. Break time
Everyone deserves a break, and LisaRaye knows exactly how to spend her free time. When asked what she likes to do on a Sunday afternoon off, LisaRaye is likely to tell you that she'd be listening to music, going for a drive, or possibly doing both. LisaRaye is a fan of driving, but we can imagine that she probably means driving outside the city. After all, driving around Chicago isn't exactly the most enjoyable thing to do.
8. Fashion
Always thinking about business and making money, LisaRaye decided to go into the world of fashion. In 2005, she started her own lingerie line, and in 2011, she started her own line of jeans. Both ventures stayed like that for a while, and LisaRaye never looked into expanding. She's happy with what she established, and so far she doesn't have any plans to explore the fashion industry any further.
9. Grandmother
You'd never think it just by looking at her 51-year old self, but McCoy is actually a grandmother now. It makes sense considering the numbers. Her daughter is now 30 years old and probably has a family of her own. In fact, LisaRaye has been a grandmother for a few years now. Her granddaughter was born in 2016. LisaRaye is enjoying her time being a grandmother, and it's more than likely keeping her even younger and happier.
10. Grateful
If there were anything that McCoy could change in her life, she claims that she wouldn't change a single thing. It's the ultimate sign of gratefulness. She wouldn't change her divorce or even what happened with her father. She believes deeply that everything happens for a reason, and she's grateful to God for it all. She's always just looking forward to what the future has in store for her–an outlook that's unbeatable in any situation in life.