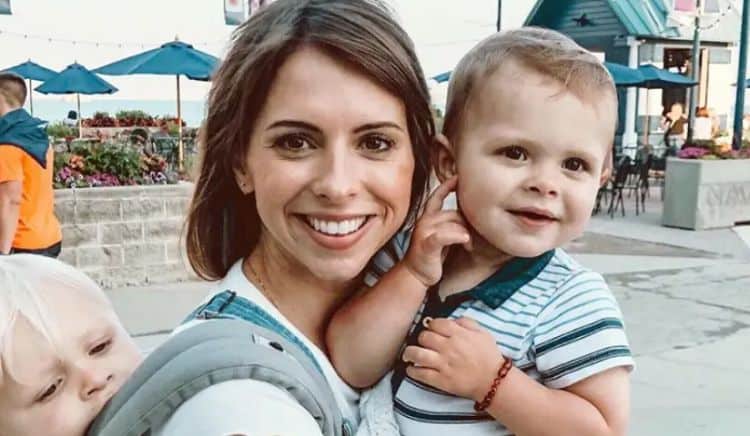 For almost 20 years, The Bachelor has attracted millions of viewers. Everybody loves a good love story, and when you throw a little competition in the mix, things get even more interesting. Over the years, there have been some very memorable contestants, some of whom have remained on people's minds long after their time on the show has past. Lindsay Yenter, who appeared on season 17, is one of those people. During her season, Lindsay was part of one of the franchise's most memorable breakups when she was blindsided by Sean Lowe's decision to propose to Catherine Guidici instead of her. Keep reading for 10 things you didn't know about Lindsay Yenter.
1. She's A Wife And Mother
After her experience on The Bachelor, many viewers wondered if her love life was ever able to recover. The good news is that the answer is yes. In fact, it didn't even take her that long to move on from the whole experience. Lindsay is happily married to Karl Swanson and the couple has two sons together: Kaden and Liam.
2. She Was Really Crushed By The Show
It's hard to watch a show like The Bachelor and believe that everything on the show is 'real'. However, Lindsay says that her break up with Sean was as real as it gets. Not only was she completely caught off guard when she wasn't chosen, but she was genuinely heartbroken. She says, "I remember just walking up to that altar thinking, 'This is the moment. I'm gonna get proposed to. This is it.' And then just hearing his words, I kind of sensed it was coming. And honestly, it was, [I] kind of blacked out a little bit in head." Fortunately, returning to her regular routine after the show helped her heal.
3. She Struggled With Postpartum
Many women experience postpartum depression after giving birth. However, lots of mothers are afraid to share out of fear of being judged. After her first son was born, Lindsay admits that she struggled with postpartum depression. She said that dealing with postpartum often made her feel like she was playing "catch up" after he was born.
4. Her Father Passed Away Right After Her Second Child Was Born
The birth of a child is typically a very happy and exciting moment. However, the birth of Lindsay's second son almost marked one of the greatest tragedies of her life. Shortly after Liam was born, Lindsay's father passed away suddenly. When describing the her father's passing, she said, "I crumbled, I faced my greatest fear and a lot more in between. Then I started to heal, I can even say I find true joy again. The grief has become apart of my life almost comforting at times."
5. She Was Never Asked To Do The Bachelorette
Many viewers felt that Lindsay would make a great bachelorette, but she never made it to the popular spin off. She says that she was never approached about doing The Bachelorette, but she doesn't have any hard feelings about it. She and the producers had an understanding that she didn't really have an interest in continuing to be on reality TV.
6. She Still Watches The Bachelor
Apparently, The Bachelor is so addicting that even former contestants can't get enough. Despite her heartbreaking experience on the show, Lindsay Yenter is still a fan of The Bachelor. In 2019, she hosted a viewing party for The Bachelor which she encouraged her Instagram followers to attend.
7. She Enjoys Living A 'Normal' Life
Being on reality definitely didn't go to Lindsay's head. While she's grateful for the experience she had on the show, she enjoys living a regular life away from the spotlight. Even though she has over 55,000 followers on Instagram, she doesn't consider herself an influencer.
8. She Works In The Skincare Industry
Lindsay is a working woman who is a proud team member of the Tubby Todd brand. According to the business' website, "Tubby Todd is all about good, clean fun for the whole family. We created Tubby Todd with sensitive-skinned babies in mind, and each product works hard to nourish, hydrate, and gently soothe skin from head to toe."
9. Her Iconic 'Shoe' Moment Was The Result Of Some Serious Pain
Anyone who watched season 17 of The Bachelor will likely remember when Lindsay took her shoes off before walking away from Sean. Some people may have assumed this moment was all about creating some drama for the show, but according to Lindsay the reason was much simpler: her feet hurt.
10. She Loves Spending Time Outside
Lindsay is a very adventurous person who loves to spend time in the outdoors. Some of her favorite activities include hiking, swimming, and hanging out on the beach. Lindsay is also a very hands on mom who enjoys taking her kids outside to enjoy nature as well.
Tell us what's wrong with this post? How could we improve it? :)
Let us improve this post!