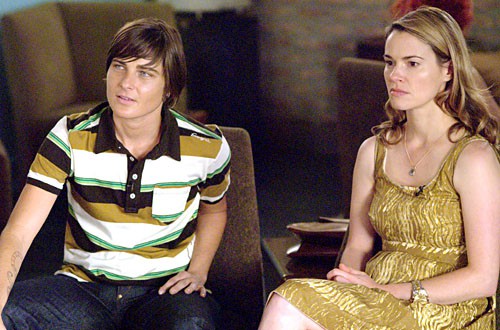 Fans of the cult TV series The L Word have a lot to look forward to this Christmas: after a ten-year absence, the series is back and set to entertain a whole new generation of viewers. Joining newcomers Leo Sheng and Jacqueline Toboni are three of the original cast, Katherine Moennig, Jennifer Beals and, as Alice Pieszecki, Leisha Hailey. Get yourself in the mood for the new series with these 10 key facts about returning cast member Hailey.
1. She made her TV debut on Boy Meets World
In 1996, Hailey made her small-screen debut as a struggling musician named Corinna on an episode of Boy Meets World. From there, she concentrated mainly on film work (with her most notable roles including Lucy on All Over Me (1997), and Marigold on The Snowflake Control (2002)) until landing her breakthrough role in 2004 with the part of Alice Pieszecki on The L Word. Hailey subsequently went on to star in 70 episodes of the cult TV series, making her final appearance in 2009. Since then, she's dropped in and out of TV work, making cameo appearances on the likes of Drop-Dead Diva (2010), The New Normal (2012), Constantine (2014), Supernatural (2015), and Code Black (2016).
2. Her first band were called The Murmurs
Hailey may be known to most of us as an actress, but before anything else, she was a singer. Her first taste of success in the industry came with The Murmurs, an alt-pop duo she formed in 1991 with fellow American Academy of Dramatic Arts graduate, Heather Grody. The band enjoyed a moderate degree of success in the early 1990s, releasing several records and touring on Sarah McLachlan's "Lilith Fair". In 2001, the duo changed their name to Gush but disbanded 3 years later when Hailey got her break on the L Word.
3. She formed Uh Huh Her in 2007
After The Murmurs broke up in 2004, Hailey decided to take a five-year break from music to concentrate on her budding TV career. As it turned out, she didn't make it too long into her self-imposed retirement before realizing she missed music too much to be away from it. After hearing about a singer called Camilla Grey from friends, she decided that Grey would be the perfect person to start a band with. "I heard about Cam through friends, and wondered if she would be willing to do a musical project with me at all," she explained to Brightest Young Things. So, one day we were both at this wedding, Just when everyone was dancing at the end, she was playing tambourine. So, I thought she seemed cool so I called her and asked, "Do you want to start a band?" Grey said yes, and Uh Huh Her was born.
4. She got kicked off a flight for kissing her bandmate
Hailey's relationship with Uh Huh Her bandmate Camilla Grey was initially purely professional, but in 2011, it was revealed the pair were sharing a lot more than sweet music together. The relationship came to light after the pair were kicked off a Southwest Airlines flight after arguing with a flight attendant who'd asked them to stop kissing. They stayed together for a further 5 years after that, but eventually parted ways in 2016.
5. She takes inspiration where she can find it
Hailey is clearly a creative soul, so it probably comes as little surprise to learn she takes inspiration from people who've excelled in any area where an artistic bent and a creative spirit are applauded. According to Hailey's IMDB profile, the people she most admires include Tina Fey, Elizabeth Peyton, Axl Rose, Jim Henson, John Lennon, David Hockney, Sarah Silverman, and Charlotte Gainsbourg.
6. She's a millionaire
Singer, songwriter, actor, record label owner… if there's an avenue of the entertainment industry Hailey hasn't yet explored, it's probably not worth bothering about. Thanks to her prodigious creative output over the last couple of decades, the L Word actress can now count herself both rich and famous… according to Celebrity Net Worth, she's currently sitting on a cool million dollar fortune.
7. She craves solitude
It's easy to think all actors love being in the limelight and crave attention 24/7. Not so Hailey, who actively seeks out pursuits that allow her some much needed alone time. "I've really grown to love any creative endeavor that brings me solitude," she's explained to Alexandra Valenti of By George Austin. "I've worked on transforming my garage into a woodworking and welding shop and I've turned a spare bedroom into a place I can go paint. I'm a novice at all of these, but I absolutely need an artistic outlet."
8. She dated K.D. Lang for 5 years
Hailey's first high profile relationship started in 1996 when she began dating singer-songwriter, K.D. Lang. The couple was together for nearly 5 years but eventually split in 2001. Hailey has always stayed close-lipped about both the relationship and the split but has admitted to occasionally feeling nostalgic when she remembers their time together.
9. She hopes The L Word's legacy will live on
The L World was never just a paid gig for Hailey. When the original series aired, it was one of the first to represent gay people on TV; 15 years later, Hailey still feels that representation is vital in giving young people someone to connect with, something she herself never got the chance to benefit from. "When I was young, I had no representation on television. I had nobody," she told The Hollywood Reporter. "Jo on Facts of Life wasn't even gay, but she rang true to my soul. So, for someone like me, I was always searching to find a connection on television or movies, so I get the impact that a show like this has. So, I hope that it just continues for a long time and I hope this isn't the only show in the end. I hope people take our place when we're done with this, and I think there's a vast landscape to fill."
10. She was the face of Yoplait
At the height of her L Word fame, Hailey made the announcement she'd been appointed the spokesperson for Olivia Cruises, a travel company that specializes in marketing holiday packages to lesbian customers. It wasn't the first (or indeed, the last) time Hailey would put her face to a brand for a paycheck, as anyone who remembers the series of commercials she filmed for Yoplait yogurt will know.