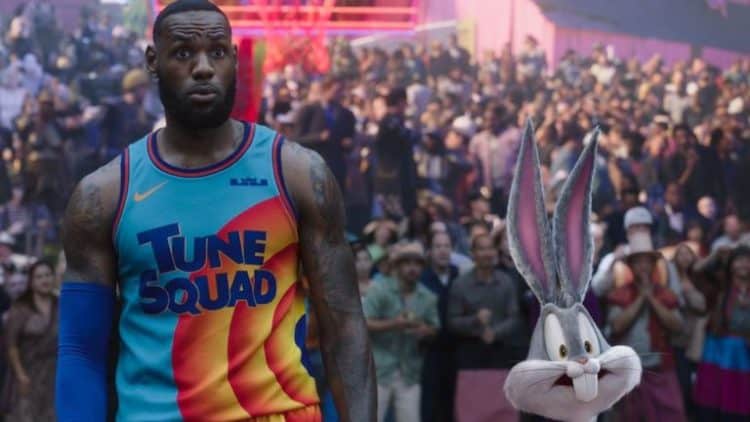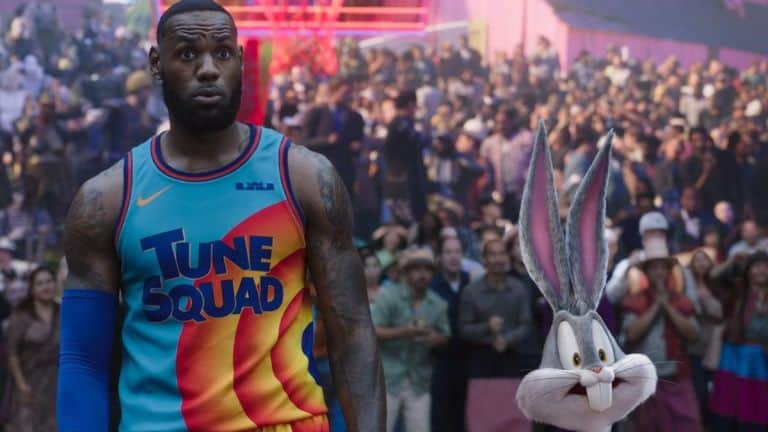 LeBron James has overcome the odds since he was just in high school. Countless athletes fueled the hype train at an early age, but no one met it like LeBron. He's a four-time NBA Champion, four-time MVP, seventeen-time All-Star, and has led every team he's played for to the NBA Finals at least once. Now 36 years old, he faces his greatest odds yet: saving his fictional son from a computer game that threatens not only his freedom but society's as a whole. Much has been made about LeBron James' acting, the cynical product placement, and questionable tributes to Notorious B.I.G., but where LeBron truly failed his team was where he was supposed to thrive — the basketball court.
This isn't your father's Space Jam matchup. Yes, Michael Jordan risked his freedom to save the Looney Tunes from a life of slavery, but LeBron James faced something more sinister, Don Cheadle's cleverly named Al-G. Rhythm. Should he lose, not only will the Trainwreck star lose his family, but Al-G Rhythm will exploit his likeness in cynical cash grabs such as Space Jam: A New Legacy. I've defended the movie as harmless, wholesome children's entertainment, but as a lifelong sports fan who's rooted for LeBron to headline Space Jam 2 since 2003, it pains me to say that he didn't deliver on the court.
The movie acknowledges this to some extent. After a genuinely hilarious misdirect featuring the lowest-of-low hanging fruits, LeBron gains a little bit of self-awareness with his team down a thousand points. After all, chase-down blocks and two-handed dunks and point guard skills with a power forward's body only get you so far in a game that's measured by fun and entertainment.
Why, then, does LeBron fail so miserably there, too?
LeBron James is no stranger to criticism, both fair and out of pocket. Hell, some reporters make a living deriding him on a daily basis, while others still hold a charity special he did a decade ago while switching to Miami against him. When his fictional son needed him most, and society watched in horror as he played nearly as bad as he did in the 2011 NBA Finals, he folded. Michael Jordan came to play in 1996. While the Tune Squad took some time to gain their legging, Jordan remembered that he made a career out of destroying those same players that the Monstars stole their power from. While it took a ridiculous game-winning dunk, Wired notes that Jordan finished with 44 points on 22-22 shotting with only two turnovers in an eighties-style matchup. Debates can linger on about the lack of assists and rebounds, but Jordan saved the Looney Tunes, and, in turn, he saved himself.
For a player who's long compared himself to his Royal Airness for nearly twenty years, LeBron plays more like Magic Johnson than he does MJ or Kobe. Despite this, his jersey number, combined with his business empire and larger-than-life stature on the basketball world at large, make him the closest thing we have to Michael Jordan. When society depends on a reliable presence who wills his teams to victory, LeBron James is, perhaps, the safest bet. At least, you'd hope that this would be the case. h
While he eventually pulled a LeBron and willed the team to victory, many pundits rightfully argue that it was Road Runner's game to lose. After all, despite being a chaparral with talons and no hands, Wile E. Coyote's nemesis scored 524 points on an astounding 175-175 from the field, while Porky Pig scored 153 just by rapping near the end of the game. Bugs Bunny will forever be defined by his Carlton Banks-esque shot near the end of regulation. LeBron may have finished with 49 points thanks to his son's scoring system that values skills and entertainment value as much as it does baskets. However, the basket he made was worth 225 points, nearly 200 points more than the alleged chosen one.
LeBron James has never needed to score to help his team win, but even by his standards, his performance against the Goon Squad left a lot to be desired. The man who once scored 28-straight points against the Detroit Pistons and beat a 73-win Warriors team in a thrilling seven-game series played it safe when the stakes were higher, and the talent around him was nearly as bad as his first stint with the Cleveland Cavaliers. He hit just four shots, grabbed one rebound, and threw one assist before his thrilling final shot – a shot that was made possible by Dom's intuition more than anything his father did.
Numbers never lie, but LeBron's come close. Forty-nine points in a traditional basketball game makes sense for a man of his caliber. However, 49 points in a game where birds are hitting jumpers left and right, and Granny, drunk off halftime martinis, has 30 points on just one shot. It's safe to say that LeBron James was the player folks accused him of being with the Miami Heat.
Wins and losses are all that matters in the world of sports. Still, after yelling at his son for creating a revolutionary video game instead of playing basketball once, LeBron James needed to show why that was important. In the end, it was Dom's basketball knowledge and his coding skills that got the Tune Squad 2.0 the victory that they needed, and he did so after scoring more than 600 points for the other team, as well.
Say what you want about Space Jam's cinematic merits, but what LeBron James did on that basketball court in Space Jam 2 was disrespectful to Dr. James Naismith's ghost, Michael Jordan's arm-stretching heroics, and Wayne Knight's catastrophic bucket from the first go-round. He didn't just lay a Foghorn Leghorn-sized egg, he watched it hatch into a mediocre shell of his former self.
Perhaps, LeBron was showing why his basketball IQ is his greatest asset. Maybe, he knew that Dom's game was a different animal than the one his father helped revolutionize. At the end of the day, LeBron James got to go back to his fake home with his fake wife and fake kids, but if we get a second sequel, perhaps we'll see him grapple with how close he was to letting it all slip away in the name of fundamentals.