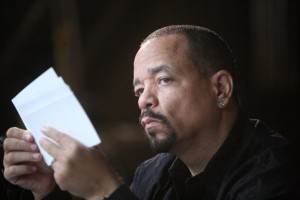 The case on this week's episode of SVU has a few interesting twists when a woman is found dead in a fountain. There's a few classic instances of misdirection, including the police arresting a creepy guy who cuts women's hair (not a real hairdresser) and the guy who had sex with her before she died. But both of those suspects are cleared quickly. That's when we learn that the victim is Lindsay Elding (a former cocaine addict), a PR director for a cola company. I think I haven't been paying much attention to the news lately, because according to this show, cola companies are up there with tobacco companies as purveyors of evil.
The hatred of cola companies led to Lindsay acquiring a lot of enemies, but she managed to get around most of them by investing the company's funds in charities. That's when the case takes a twist – Lindsay was actually killed by poisonous mushrooms. Well, inadvertently. The mushrooms made her delirious and affected her respiratory functions, causing her to drown in the fountain. Early in the episode we're also introduced to the new ADA, Mikka Von, who helps the detectives with the case.
The night of her death, Lindsay was at a charitable dinner where she ate the mushrooms that were put on her salad. Also present were Mrs. Brooks, a wealthy philanthropist, and her granddaughter, Emma. Photos of the event led Benson and Stabler to Professor Vincent Prochik (played by David Krumholtz), who confronted Lindsay at the dinner over the issue of water rights. It just so happens the professor has a lot of knowledge of the poisonous mushrooms.
Prochik is happy to be on trial for Lindsay's murder, and uses the opportunity to publicly speak about his cause for water rights. In court, however, Stabler realizes Prochik couldn't have been the killer, because he was wrong about the number of mushrooms used. They realize he must be covering for someone and that eventually leads them back to Emma Brooks. Emma had originally met Lindsay in rehab, but became insanely jealous of her and the fact that her grandmother liked Lindsay more than Emma. She knew Prochik and stole his mushrooms while he covered for her by trying to take the murder rap. Emma is eventually arrested and is even reunited with Prochik, who loves her despite the fact that she was going to let him take the fall for her. Case closed.
Paula Patton appeared this week as the new ADA, Mikka Von. By the end of the episode, Cragen appears to tell her she's been called back to Chicago because of some tricks she pulled in court. I don't think she'll be returning for another appearance, but I could be wrong about that. In any event, I've been complaining for a while that this show lacked a strong ADA. Here's the thing…I love Paula Patton. I thought she was fantastic in the movie Precious. I think she's gorgeous and wonderful. But she's so nice. And her character was so nice. It's like they put a ray of sunshine in the middle of this serious and often depressing show, with serious and often depressing characters. It didn't click for me. Don't mistake me, it's nothing against Ms. Patton personally. She seems so nice I actually wish we were friends in real life. Despite the fact that her ADA was clever and tried to be a hard-liner, I just don't know if she would have been the right fit for the role going forward.
At the end of the episode we learn, however, that the SVU has a new ADA coming in from Brooklyn. I've been lamenting about the lack of courtroom scenes in this show lately. Despite my mixed feelings about ADA Von, I did appreciate the addition of the courtroom scenes this week and look forward to more with the new ADA. Grade: B+
clarissa @ tvovermind.com
twitter.com/clarissa373