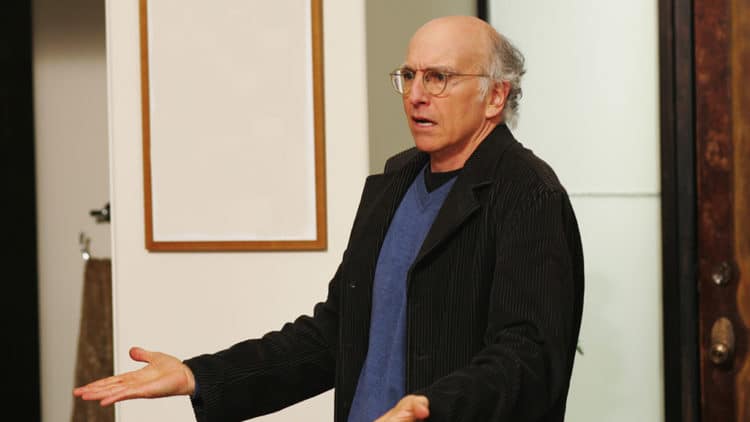 We all probably see some part of ourselves in Larry David's send-up of himself on Curb Your Enthusiasm, whether we want to or not. The way in which he voices his opinion, particularly when it's not welcome, to protest the absurd expectations of social conduct, can be refreshing and honest. But having too much in common with the man determined to never let anything go can be troubling, since Larry is someone who doesn't have any concept of where the line is and certainly no qualms about crossing it if he does. While much of his behavior is indeed funny – and sometimes even admirable – he has a tendency to go overboard and double down on lamentable, off-putting topics, making it hard to stand by him even if the beginning of his point actually made sense. The more than one hundred episodes of Curb Your Enthusiasm have offered up ample opportunities for Larry not to be all that offensive, or at least to back off when he realizes that someone isn't happy with what he's saying or doing. Yet he so rarely reads the room and takes the cue, and it's when he's challenged that he likes to dig in and refuse to back down. Here are five times Larry definitely went too far:
1. Pretending to have Asperger's to excuse his behavior
Larry often digs his own grave, and he's the only one who can get himself out of it. That has led over the years to numerous unbelievable excuses, like not being able to come to a dinner party because he has to save room for a hot dog eating contest, and most of them come back to haunt him when he's forced to deliver on the lie he has concocted. Leave it to Larry to figure out the best way not to be held accountable. When he sees how the son of a woman (Lauren Graham) he goes on a date with interacts due to his Asperger's, he decides it's a good idea to pretend that he too has Asperger's so that he can escape uncomfortable situations. It's far from sensitive, and a low point for the man with a big mouth.
2. Racing to beat a man with a walker to the bathroom
There are many moments on this show where Larry looks at something that's about to play out in horror, and realizes that he only has one way out. Such an instance of drama stems from his discovery that Wally (Fred Armisen) is heading towards the bathroom with a walker, and if Larry doesn't get there before him, he's going to have to wait for him to finish before he's able to go in. Ever the self-serving snob concerned with his own wellbeing above all others, Larry cuts him off so that he can go in and use the bathroom ahead of Wally, precipitating a friendship that shows plenty of other ways that Larry takes advantage of someone less fortunate.
3. Storing phone numbers of girlfriends in his phone by their disabilities
There's certainly a theme here, and that's Larry's eagerness to distinguish people based on their physical characteristics. That tendency does get him into trouble, particularly when it's the only way he can find to describe anyone. When he becomes obsessed by the apparent accommodations offered to wheelchair-bound women, he begins dating two of them. As if the things he says aren't cringe-worthy enough, it's his ill-advised decision to input their numbers in his phone as "Wendy Wheelchair" and "Denise Handicapped" that truly does him in.
4. Refusing to fly coach to see an injured girlfriend
Starting a relationship with Becky (Kaitlin Olson), the sister of his ex-wife Cheryl (Cheryl Hines), was never a good idea. Considering all they've been through, Cheryl and Larry actually do get along pretty well, but she's come to accept him for who he is and not count on him to be a thoughtful and caring romantic partner. Becky wasn't as aware of how much Larry thinks about himself when someone else is in far worse shape, but she found out when she got hurt in Colorado during a ski trip. Expecting him to come out there to take care of her was reasonable, but not in his mind, since it was only worth getting on the next flight with an available seat in first class. Predictably, that relationship didn't last long.
5. Pushing his ideas of gender roles on others
Larry believes that he knows best in every situation, especially when he's not the expert. He's also much more likely to speak up and insist that he should be heard when he feels as if no one's listening to him, and when no one wants to hear what he has to say. One thing Larry certainly knows very little about is lesbians, but that didn't stop him from stepping in to convince Betty (Julie Goldman), the lesbian he saw as more masculine, to be the groom to the more feminine-presenting bride Numa (Nasim Pedrad), who was determined to be the groom. At least Larry got appropriately accosted by an irate Numa for his unwelcome meddling, a form of justice that somehow doesn't always seem to find him.