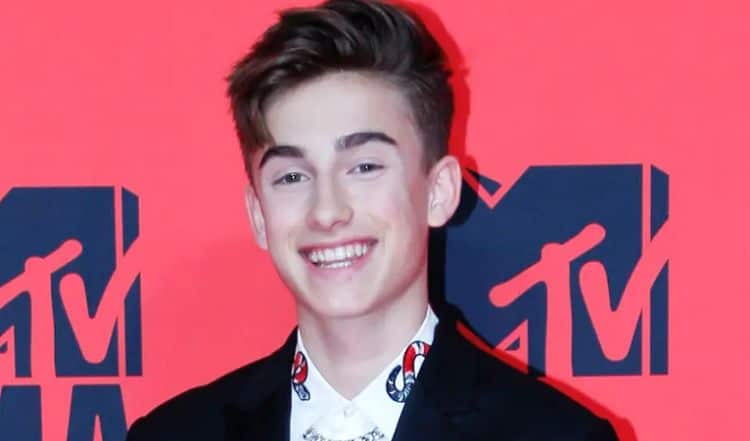 Johnny Orlando is only 17-years-old, but he's already reached heights that seem almost unimaginable. As a talented actor and singer, he has found success in both industries. As an actor, he is best-known for his role as Sam on the series Total Eclipse. As a singer, he has released more than a dozen singles. Although he has yet to release an entire album, he has millions of fans who are anxiously waiting. With so many years ahead of him, the possibilities are endless for Johnny's career and he is working hard to establish himself as a strong presence on both sides of the entertainment world. Keep reading for 10 things you didn't know about Johnny Orlando.
1. He Likes To Look At Food Accounts On Instagram
Johnny is very active on social media and has been for the last several years. However, posting his own content on social media isn't the only thing he likes to do. He also enjoys looking at other people's posts and one of his favorite things to look at are Instagram food pages.
2. He Already Knows Who He Wants To Play Him In A Biopic
Even though he's still very early on in his career, Johnny is already thinking about the future, and he's hoping at some point, the future includes a movie about his life. When that time comes, he already knows that he'd like Ryan Gosling to play him. Unfortunately though, Ryan Gosling may be a bit too old at that point.
3. He Loves Touring
There are lots of things Johnny likes about being a musician, but his favorite thing is going on tour and performing. He told Asia Live 365, "I love getting to travel to new places all around the world…Performing is one of my favourite things in the world so I feel pretty lucky to be in my position."
4. He Grew Up Listening To The Counting Crows
Johnny has had a lot of musical influences over the years, but one of the earliest is The Counting Crows. Ironically, Johnny wasn't even born when the Crows were at the height of their popularity during the 90s. However, the band is his parents' favorite and they played a lot of Counting Crows music in the house.
5. He Got His Start On YouTube
Like several other young entertainers, Johnny was discovered after becoming popular on YouTube. He started a YouTube channel in 2011 and uploaded his first video when he was around 10-years-old. His early videos consisted of him singing covers of popular songs by artists like Justin Bieber and Rihanna. His channel has grown tremendously over the years and he currently has more than 4.2 million followers.
6. He Loves Connecting With His Fans
Johnny is truly a people person at heart. He loves getting the chance to meet and interact with new people; especially when those people are his fans. One of the things he enjoys the most about is getting the chance to connect with his supporters whether on social media or in person while he's out on tour.
7. He Started Writing Songs Before He Started Singing
The songwriting process is something Johnny thoroughly enjoys. He actually started writing songs before he even started singing, but he admits that his early songs weren't very good. He began taking his writing skills to another level when he started writing songs for his EP.
8. He Would Love To Collaborate With Justin Bieber
As a young artist and a native of Canada, it's no surprise that Justin Bieber is someone that Johnny looks up to. Like Johnny, Bieber was also discovered after posting covers on YouTube. At some point in his career, Johnny hopes he gets a chance to collaborate with the Biebs. Shawn Mendes is another artist Johnny would like to collaborate with.
9. He Has A Crush On Kylie Jenner
Even celebrities aren't immune to having celebrity crushes. Sadly for Johnny, his crush probably isn't looking for a bae. For years, he has stated that he has a crush on Kylie Jenner. In 2018, he jokingly shared a photo on Instagram expressing his sadness that any chance he ever had with Kylie had gone out the window now that she would be busy focusing on being a mom.
10. He Loves To Go On Adventures
In a lot of ways, Johnny's life is nothing like other kids his age — or other people in general for that matter. However, he likes to do 'normal' things as much as he can. When Johnny isn't busy working, he likes to tap into his adventurous side. He enjoys doing things like hiking and swimming.