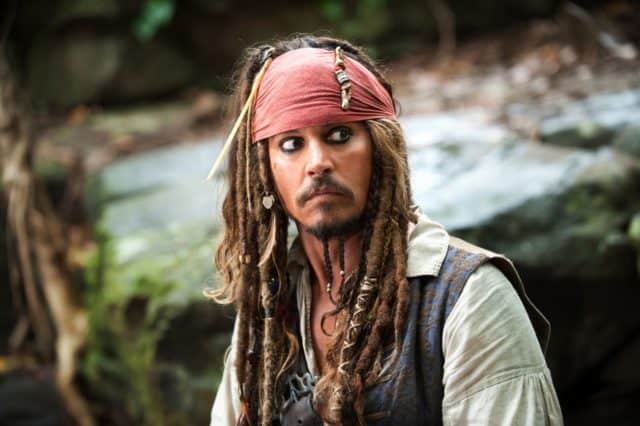 At this point in Johnny Depp's public life, I'm not even sure that another Pirates of the Caribbean release will change the perception that's begun to stick about the actor. First he had a very public and very nasty divorce with Amber Heard that included allegations of abuse. After that Depp's been in an extremely public battle with his former management group. In the beginning we were hearing stories of excessive spending and that his financial managers were worried about him. It's gone from that to flat out contentious remarks about Depp's sense of entitlement and disregard for anything but himself. The latest nugget was found out yesterday and it's being reported that Depp doesn't even memorize his own lines. According to Vulture:
Of the many revelations to come from Johnny Depp's public sparring with his former business managers, this is the greatest: The Management Group claims the actor's sense of entitlement is so "clear and epic" that he doesn't even memorize his lines. "Depp insisted that this sound engineer be kept on yearly retainer so that he no longer had to memorize his lines," attorney Michael Kump wrote in an amended complaint, according to The Hollywood Reporter. The price for paying a sound engineer for this plush gig, according to Depp's ex-managers? Hundreds of thousands of dollars. Back in 2008, Vulture got a tip about Depp's earbud habit from an unlikely source: Kirsten Dunst. "Johnny Depp has music playing in his ear when he acts," she said at the time. "He has an earbud. That's why he's so great." Now, he's graduated to from listening to the Stones on set to hearing Jack Sparrow's one-liners.
To be honest this doesn't bother me at all. If you're a great actor and can improvise by this technology it's a humongous time saver. While The Management Group is trying to smear Depp's reputation the reality is that we're in a new technological age. I'm not sure who they're trying to impress. The last remaining few people in Hollywood that think memorizing lines are necessary? Half the movies you see are improvised at least 25% of the time anyway.
Look, Depp is a weird spender and probably a weird dude in general. However, having your lines fed to you isn't bad at all as long as you perform them well.