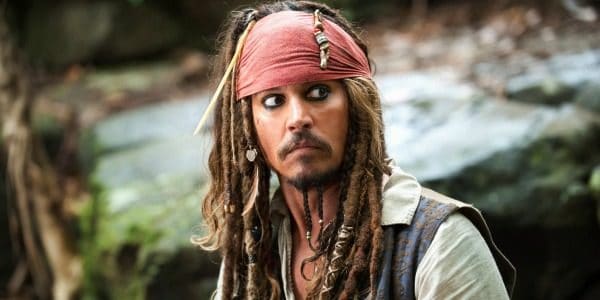 Who doesn't love Jack Sparrow? In my opinion, that is the best Johnny Depp character ever and arguably his best performance. I know, there are many to choose from, but I have to go with his famous pirate character. If you grew up in the early 2000s, you must have seen the Pirates of the Caribbean movies. And without a doubt, the main highlight of each movie was its main character, Captain Jack Sparrow. Even in the worst Pirates movies, especially the last two, the only thing that kept fans coming back was seeing Johnny Depp play Jack again. Now his last performance seemed like he was just phoning it in, which kind of hurts the legacy of the character. I really do mean kind of, because we still had four other movies where he was the highlight.
Needless to say, Johnny Depp as Captain Jack Sparrow was lighting in a bottle and he is the Pirates of the Caribbean franchise. By now, everyone and their mother knows about the nauseating and ongoing trial between him and his ex-wife, Amber Heard. If you've been watching the progress of the trial, you know things have only gotten more exhausting for both parties.
In a recent part of the trial, Johnny Depp was asked about his role in the Pirates of the Caribbean movies. Apparently, he's never even seen them. That's not too surprising, considering he's one of those actors who doesn't like watching himself in his own movies. However, fans are still wondering if he'll ever return to reprise his most famous role, despite being let go from Disney several years ago. Was it really because of the accusations from Amber Heard? It was definitely a factor, but the reports of him always getting drunk on set probably didn't help either.
But either way, it really doesn't matter, because he confirmed during the trial that he will never return for those movies. Yes, that is still disappointing, because Jack Sparrow is still his most famous role. Some might disagree and say that's not even his best role, but I'll stand by that sentiment. Now let's be honest here, Johnny Depp basically confirmed what we had suspected all along. He will never return to play Captain Jack Sparrow again, even if Disney were to offer him truck loads of money. Let's say about $30 million. Nope. That's not good enough for Johnny Depp apparently. Maybe he's still a little salty about Disney letting him go, but I actually think he believes he's done enough.
Who can blame him? He's done more than to prove that Jack Sparrow is his best role. Brining him back now, despite the bit let-down that was Dead Men Tell Now Tales, would just seem forced. As much as I would love to see him as Captain Jack again, it's clear that he wants to move on from the franchise. That's probably why Disney announced that they were going to reboot it all about a year ago. Wait, a Pirates of the Caribbean reboot without Johnny Depp playing Jack Sparrow? And who will be taking the lead from him? That would be Margot Robbie.
So I'll just say, Margot Robbie playing a pirate does sound exciting. I mean, she's Harley Quinn for Pete's sake. If she can kill it as that character, she can certainly play a good pirate character. Who knows if she'll be playing a character based on a real pirate, but the bottom line is there is no Jack Sparrow for this reboot. And yes, that is bad. Honestly, who is going to get excited for this reboot if Johnny Depp isn't involved? Probably not too many. Will this reboot even still happen? I think it will, but a part of me can't help but wonder why Disney should even bother.
Best case scenario, Johnny Depp changes his mind and he and Disney make amends. That scenario seems rather unlikely, but it's something we've all accepted a while ago. Yes, it is bad Johnny Depp won't return to reprise that role. But again, he's done his time as that character and he wants to be done with it. Speaking of which, there was never any slam dunk confirmation that he would return for a sixth movie. We've heard the rumors, but even without the Amber Heard drama, his rocky relationship with Disney still would have probably prevented it. After seeing his lackluster performance in the last Pirates movie, I'd be surprised if he would even consider it.
As disappointing as his confirmation is, we shouldn't be surprised. The fans in us were hoping he would say otherwise, but at least we don't have to question it further. Johnny Depp has no interest in returning and he's passing the torch to Margot Robbie. I still think it will be an interesting new take on the franchise, but I can't fathom it without Jack Sparrow. The youngster in me is just so upset over it. But hey, Johnny Depp can always change his mind, assuming his case works out for him in the end. The ship has sailed, but you never know. No pun intended.
Tell us what's wrong with this post? How could we improve it? :)
Let us improve this post!