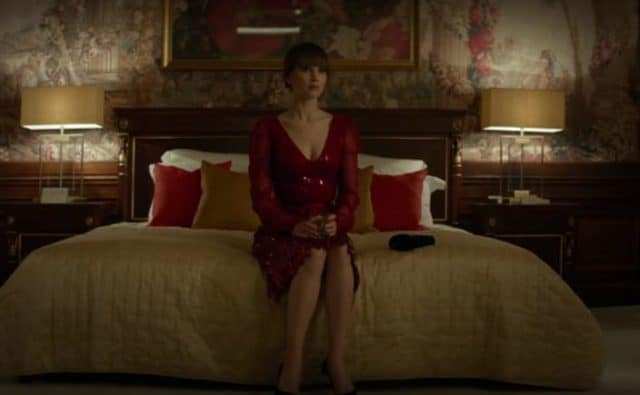 It's getting harder and harder to say this with each new film that Jennifer Lawrence stars in, but she's going downhill and it doesn't seem to be stopping. When she was with the X-Men and even in the Hunger Games things were just popping left and right and her career was on a high note. But then something strange happened. Somehow I get the idea that this part in Red Sparrow isn't really going to save what's left of her career. If you can believe her as a Russian spy then I guess you're one of the loyal fans that won't leave her side no matter what she says or how low her career goes.
Why am I spitting criticism of Lawrence? Well to be honest I'm not much of a critic and I don't try to be, but the fact is that J-Law's career hasn't been the same really since she started taking on films like American Hustle and Passengers. She's still got the looks and her acting is solid, but according to what's been said about her latest movie, Mother!, its not looking good so far for her career. Maybe she's in a lull, maybe she's taking on jobs that are more important to her than the mainstream, but whatever it is she's not quite as high profile as she used to be. I imagine that many people would argue this up and down and you'd be right to do so, but the truth is that she's not having the same run right now as she's been known to have in her earlier years.
You think she might have topped out? I don't happen to think so since she still has a lot of potential and still has time on her side. J-Law is still a talented actress and can make a role convincing, but dipping into the spy game doesn't seem to suit her quite as well. I guess we'll see when it comes out but my first thought is that if not for the overt sex appeal she might bomb out rather quickly.
Like it or not that is a big part of J-Law's acting arsenal is her look. If not for that then she would be better off doing more comedy or something dramatic but equally powerful. It might sound sexist to say it but her looks tend to secure her roles in which the character she's playing is particularly attractive. Mystique is a great example since it was one of the role she became so well known for. Katniss is another since her looks were a part of that role as well.
And now we're about to see her in a film that showcases her looks as an art of seduction. She is one of many spies that uses sex appeal and seduction as weapons, and as a result she is allowed to get intimate and up close with her target. From that point it's just a matter of time until the target's guard is down completely and the sparrow can get to work.
Sex and seduction can be every bit as deadly as anything else.
Save