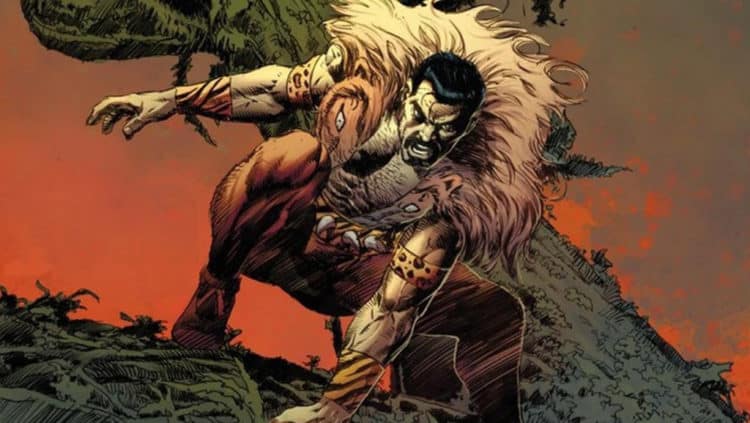 If you're a Spider-Man fan, you probably love Kraven the Hunter. Well, guess what? Sony has cast Aaron Taylor-Johnson for their Kraven solo film. Boy, it does seem like this Sony Marvel universe is growing, at least for the Spider-Man villains. So where exactly does that leave Spidey? Well, I guess these villains will meet Tom Holland's Spider-Man one day. I mean, I'm assuming they will meet Tom Holland's Spider-Man specifically, given that Amy Pascal said that their Sony universe is adjacent to the Marvel Cinematic Universe. Is that even true? It is seriously hard to tell at this point, but I guess we'll get our answers in the future.
Now, as for our beloved Kraven the Hunter, the rumors about Sony giving him is own solo movie have been brewing for years. I've always been rather split about the idea, especially since Kraven has never had his official live-action debut. In fact, what can you possibly do with a Kraven the Hunter movie? Will he hunt Spider-man? How about an adaptation for Kraven's Last Hunt? It has got to be one of the best Spider-Man stories ever, so it would make sense for Sony to take advantage of that. There's honestly several routes they can take for a Kraven the Hunter movie, but before yesterday, we were all wondering the same thing: who should play him?
Honestly, did anyone have Aaron Taylor-Johnson in their top five choices to play Kraven the Hunter? I certainly didn't have him in mine, so the news of his casting sure did surprise me. Okay, to steer in another direction here, I feel like I have to bring this up. What about Keanu Reeves? He was probably the most popular fan choice to play Kraven the Hunter, and I was starting to warm up to the idea of him taking on the role. Because of John Wick, we know he can pull off the Russian accent. Yes, Kraven must be Russian in the movie. If you're not a comic reader, just watch him in the Spider-Man cartoons and you'll understand.
So Keanu Reeves isn't really buff, but that's no problem because he can put some serious time into working out. Go on YouTube and you'll see how dedicated he was to training for John Wick. I'm convinced the man will put that amount of work into any role he takes on. Can we say the same for Aaron Taylor-Johnson? Well, I do like his movies, but he's nowhere near the same stardom level as Keanu Reeves.
Now that doesn't mean he can't be a good Kraven. It's just that when I look at Aaron Taylor-Johnson, I don't even remotely see Kraven the Hunter. All I see when I look at Aaron Taylor-Johnson is the Quicksilver who died too soon. It's unfortunate, because his Quicksilver died before he even got the chance to be developed. All we got from him was Aaron Taylor-Johnson with white hair, a blue shirt, and an Eastern-European accent. And remember when we all expected him to reappear in WandaVision? Yeah, so much for that.
It looks like Aaron Taylor-Johnson being cast as Kraven the Hunter further diminishes the possibility of him coming back as Quicksilver. That's okay, but I think after this news, we just want to wonder if he'll get better treatment as Kraven the Hunter. I really hope he does, but you know what? No matter how many ways I see Aaron Taylor-Johnson, I just don't see him even slightly resembling Kraven.
Okay, so it's important to remember that Quicksilver isn't the first time Aaron Taylor-Johnson has taken on a comic book role. Five years before he played Quicksilver, he took on the role of Kick-Ass. Needless to say, that's the exact opposite of Kraven the Hunter. That's also the kind of comic book role that suits Aaron Taylor-Johnson, because Kick-Ass isn't meant to be an intimidating character. He was a geeky teenager with naive hopes of becoming a real-life superhero. Of course, he's not the toughest hero around, but he's got heart. And in a comic book universe that has a black comedy vibe to it, you can expect some less serious moments. Just watch the movie and you'll get it.
Aaron Taylor-Johnson was a pretty underwhelming Quicksilver, but he was a good Kick-Ass. So again, Kick-Ass is a totally different character from Kraven the Hunter. Does that mean he can't play a more serious, violent character like Kraven? I would very much like to think so, but there are some other actors I would've picked before him. For instance, other sites suggest that Sony considered Brad Pitt and Adam Driver before Aaron Taylor-Johnson. Wait, Brad Pitt? How long has he been rumored to be taking on a comic book role? I'm getting memories of Deadpool 2.
But you know what? I would've taken Brad Pitt as Kraven the Hunter. Kraven appears to be a man in his thirties, but that's only because of the magical herb he ingests. He's actually a very old man who is still kicking it by hunting dangerous animals with his primal weapons and his own two hands. I picture Brad Pitt playing a more middle-aged Kraven the Hunter who is reaching his last hunt. That would've been an interesting story, but what about Adam Driver? Now that's a man I can see play a more comic-accurate Kraven the Hunter. He's got the look, but all he needs to do is bulk up. You know, in a way that doesn't make him look unusually wide like Kylo Ren. Seriously, that was weird.
Now I can accept that Aaron Taylor-Johnson is playing the role, but he'll have to step it up. In other words, he's got to work out and do better with the foreign accent. Maybe the Russian accent will be easier for him, but that's something he's got to nail. Perhaps this role can be his opportunity to grow as an actor and play a believable tough guy. He actually did a fine job of that in Savages, but he wasn't the leading man. All I can say is that if Aaron Taylor-Johnson is going to play one of the best Spider-Man villains, he better not let us down. For real, please don't.
Tell us what's wrong with this post? How could we improve it? :)
Let us improve this post!