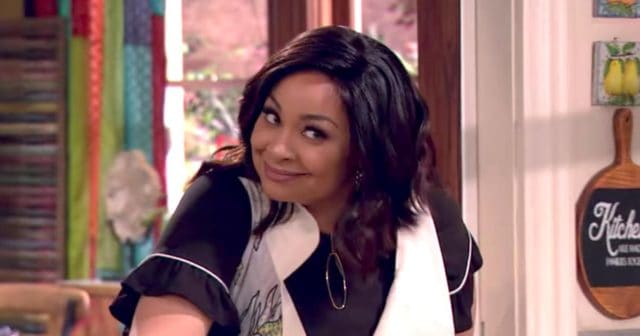 In 2003 we all fell in love with Raven Baxter, played by Raven Simone in "That's So Raven" The show lasted four years and fans were disappointed to see it go off the air. So ten years later Raven is back in a new show on the Disney Channel called "Raven's Home" and it premiered Friday, July 21st at 10 pm Eastern Time. For anyone who used to get up and dance to the "That's So Raven" theme song, the show brings back lots of memories.The show stars the wacky pal duo of Raven (Raven Symone) and Chelsea (Annelise van der Pol) as well as four very talented child actors. Raven's kids are twins, Booker and Nia played by Issac Brown and Navia Robinson and the two tween actors look and act so much alike they are believable as twins. Chelsea has one son Levi, played by Jason Maybaum who is the quintessential quirky "wise little man" kid.
The first three minutes after the opening theme of "Raven's Home" gives us exposition as Raven and Chelsea tell us with a "whoo whoo" dance that Chelsea and son had to move in with Raven and the twins for financial reasons. Apparently, Chelsea's former husband is doing time for tax evasion and Chelsea seems none too concerned about it as he had an affair. Raven is also divorced and we hear that her ex-husband picks up the kids for school but we don't see him…yet. Rumor has it that Raven's ex will be a familiar face from "That's So Raven". Why Raven is divorced is not mentioned but the character seems none the worse for wear because of it.
Raven and Chelsea are still as adorable as they were ten years ago. Their chemistry is still awesome. The child actors are also spot on Disney perfect in their roles. There is even a part time orphan next door neighbor girl Tess whose mom lost her license for plowing down three mailboxes. She and her mom live in one of the apartments in this huge Chicago castle type home with a turret. Tess (played by Sky Katz) is supposed to be sort of a Kimmy Gibbler smart alek type but is not as entertaining as Kimmy. This is mainly because all the kids on "Raven's Home" are experts of the snappy one liners so Tess despite her dysfunctional mom and street wise manner doesn't really stand out, but it's just the first episode. The hook is that one of Raven's twins has "inherited' mom's psychic abilities so now there are dueling visions instead of just singular glimpses of the future to be comically subverted.
The visuals and action are pure Disney. The furniture, decor, and clothing are all psychedelic bright and everyone dances a bit as they move, during the scenes where they are not actually dancing. The physical comedy is a bit heavy handed, like Raven knocks down her son Booker twice to show her daughter Nia how much she cares about her. There is a funny scene at the kid's school where Raven fields tennis balls with her butt and gets "suspended" for assaulting the gym teacher but it's all handled in light hearted fashion, as is everything concerning the adults on the show. Everything can be handled with an "Oh, Snap!" and some hugs, just like the old show.
"Raven's Home" is chock full of Disney cuteness thanks to the stars and may well appeal to kids who can stay up past ten o clock and parents who may fondly remember the old show and give this ten years later spin off a whirl.