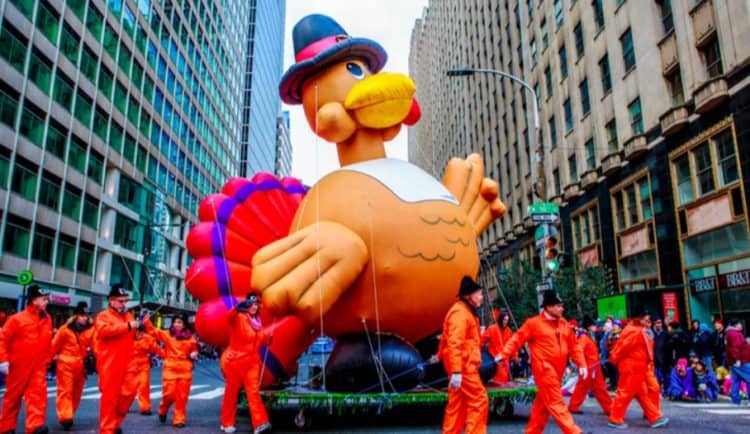 In terms of holiday traditions, The Macy's Thanksgiving Day Parade is right up there with turkey and pumpkin pie. A staple since the parade was first broadcast in 1948, it's a guaranteed way to fill your home with holiday cheer. Originally used as a way to promote the Macy's department store in New York, the parade has grown to represent so much more. It now incorporates Broadway, paintings, dancing, and more. It's also the premiere showcase for marching bands from around the country. It's also the perfect way to kick-off the Christmas season. In addition to many Christmas-themed floats, the parade always ends with Santa's arrival. If you want to watch the parade this year, there are plenty of methods, including free options. Here's how you can stream the Macy's Thanksgiving Day Parade:
Where to watch the Macy's Thanksgiving Day Parade
The Thanksgiving Day Parade is currently broadcast on two networks: NBC and CBS. Through them, you'll be able to turn into your local stations and watch the parade. Since these are major networks, you should be able to watch the broadcast even with basic cable. This means you'll also be able to watch it for free with a digital tuner or antenna. Essentially, as long as you have a tv and some way of accessing local channels, you'll be able to watch the parade coverage.
Live TV Services
For anyone without cable, there are a ton of options for watching live television. With these streaming services, you can access live TV without having to go through a cable service provider. A lot of them also have the benefit of letting you cherry pick which channels you want.
Here are some popular options worth checking out:
Fubo TV
Sling
Hulu + Live TV
Youtube TV
Again, these are just the main options. There are plenty of other live television streaming services that you can look into. For an option that's specific to the parade, check out CBS All Access. With All Access, you can watch any CBS programming, including live TV and shows that are exclusive to the service. Unfortunately, regardless of which service you choose from the ones listed above, you will have to pay. If you want to stream the parade for free, keep reading for some additional options.
How to Stream Live TV
When using any of the previously mentioned streaming services, you'll need a way to put the broadcast on your television. That's where a streaming device comes in. A streaming device allows you to take whatever you're watching on an app or website, and watch it on your TV instead. All you need is wi-fi, a television, and a streaming device.
Here are some common streaming devices you can use:
Roku: with this device, you can access any streaming services, as well as free local channels. You can also watch shows on The Roku Channel, which has even more free content. This device also comes with a universal voice remote.
Fire TV Stick: this device is similar to the Roku in that it comes with free content and a voice remote. The main difference is that the device is designed for Amazon specifically. It runs through Alexa, and make streaming any Amazon Prime content easy.
Chromecast: this option isn't quite as functional as the other devices on the list. Its main benefit lies in just how easy it is to use. It comes with a remarkable simply set-up process. Plus, when you have it, you can cast whatever you're watching, on any device.
Apple TV: this device is essentially the same as the Fire TV stick, but made for apple products instead. It acts as a hub for your media, allowing you to stream any media you have, on any Apple device. It also comes with a Siri voice remote.
Keep in mind, that with devices like Roku and Fire TV Stick, you can access local channels for free. This means that you can watch the parade for free, as long as you have one of these devices.
Macy's Thanksgiving Day Parade 360 Livestream For a unique way to watch, check out the Verizon 360 livestream on Youtube. This option offers views that you wouldn't be able to get even if you were a member of the crowd. In addition to street level close-ups, there are aerial shots, and even shots from right on the floats. Another great aspect of this option is that it's completely free. Because it's on youtube, you can also watch it on any device or on your tv through streaming. In order to access the broadcast, head over to Verizon's Youtube channel. Because it's a livestream, you won't be able to access the video until the parade starts. If you visit the channel ahead of the parade, you can check out teasers that include shots from previous years. This will give you an idea of what to look forward to with the coverage.
What to Expect During the Parade
There are three main draws to the parade each year, the balloons, the floats, and the performances. The balloons are what most people look forward to, since they're a spectacle that's unique the Macy's Thanksgiving Day Parade. Barring bad weather, the balloons appear each year, and include things ranging from cartoon characters, to holiday items. Of course, these aren't regular balloons. These giant inflatables can require as much as ninety people to maneuver down the street. The floats in the parade often take a back seat to the balloons, but they're still enjoyable. A lot of them include moving parts, and plenty of specials guests and performers.
Of course, the performances at the parade are also show-stopping. Typical performers include popular musical artists, broadway casts, dancing troupes, and marching bands. You can also look forward to the occasional fun addition of groups like acrobats or circus troupes. And that's just a small fraction of what's going to be shown on the parade route on any given year. With an entertaining line-up and plenty of ways to watch, make sure you tune in to the Macy's Thanksgiving Day Parade.