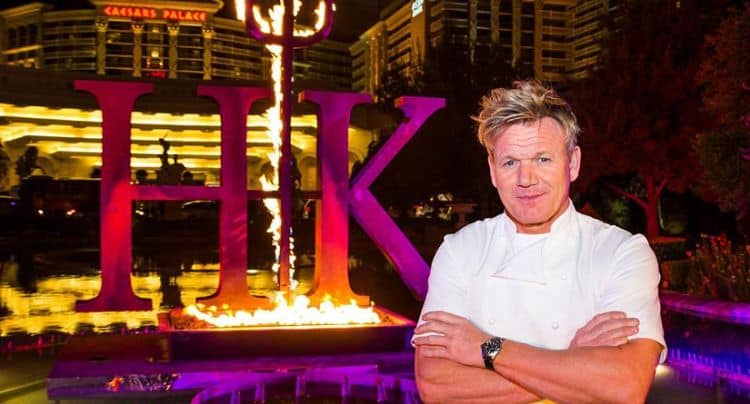 Celebrity restaurants are always a fun experience, though no two are created equal. Some are better than others, and some don't live up to the hype as much as others because they're too inundated with people trying to make reservations that the kitchen just sends out as many meals as they can as quickly as they can. What most people fail to realize is that the celebrity who owns the restaurant is rarely the person the back making the food. Of course, it's hard to remember that when you're dining in a restaurant owned by a celebrity chef. Many mistakenly believe they are there to dine on a meal prepared by a famous chef. How about the Hell's Kitchen restaurant in Las Vegas? Is it worthwhile? Is it really a good time, and how will you feel about your meal? We can tell you from firsthand knowledge.
Is it a Tourist Trap?
Like so many of the restaurants in tourist cities owned by celebrities, the simple answer is yes. It's a tourist trap. You're not eating Gordon Ramsay's food. You're eating food from his menu, but he's not the chef making your food. However, his restaurant is one of the few celebrity-owned establishments that are worth a visit.
The wine list is better than many, and the food is actually quite good. We'd expect nothing less, though, from the man who makes people cry in the kitchen because it's just not good enough. Imagine being in the kitchen owned by Ramsay himself. Imagine what would happen if the restaurant didn't get good reviews? We have no doubt he'd fire everyone and start over completely – which is why we were not disappointed with the food here. They do well with their menu items, and they have mastered the simplicity of some very well-known dishes. It's a great start.
Is it Worth the Money?
While many celebrity-owned restaurants want to charge top dollar for mediocre menu items, the Hell's Kitchen restaurant menu prices are pretty average compared to your everyday upscale restaurant. As in most restaurants, the wine lists boasts bottles between $75 and $240 with glasses between $16 and $50. You can choose from three different prix fixe menu items, and each one is between $75 and $95 – but you can add a wine pairing for an additional $50. The prix fixe lunch menu comes in at $65 but goes to $115 if you choose to have cocktails with it. The prix fixe menu is not available all day.
Regular menu prices are comparable to eating at your local Ruth's Chris…only a little more expensive depending on what you order. For a standard dinner with a half dozen oysters on the half shell, two Caesar salads, two 8-ounce filet mignon entrees (medium rare, of course), and two shareable sides (we are fans of the baked mac and cheese and the brussels sprouts) paired with a bottle of Sangiovese, we'd eat for approximately $313 before leaving gratuity. That's only $30 more than what we paid last week at Ruth's Chris before gratuity.
All in all, the food is good, the prices are not bad, and making a reservation is a great idea. Because it is a tourist trap – and all celebrity-owned restaurants really are – you're going to find that walking it on a weekend night is virtually impossible unless you want to wait hours, find a seat at the bar – and we aren't even sure anyone other than our Florida restaurants has open bars yet – or dine at 5 pm on the dot. Reservations are easy to make right on the restaurant's website or by downloading the OpenTable app and creating an account. It's our go-to for most restaurant reservations.
Need to Know
Before you head to dinner, you should know that the dress code is smart casual. Traditionally speaking, this means you can dress in a casual manner, but keep it well-dressed. If you wear jeans, be sure they are dark-wash, free of holes and rips, and they are paired with an oxford shirt and a blazer, good shoes, and no sneakers. For women, a dress or jumpsuit is always welcome, though trousers paired with a top that doesn't fall into the casual category can work. Heels are always a good way to dress up anything you're wearing. No hats, no profane clothing or offensive words or symbols, no shorts, no swimwear, and no tank tops are all traditional rules in the smart casual category. When in doubt, call and ask.