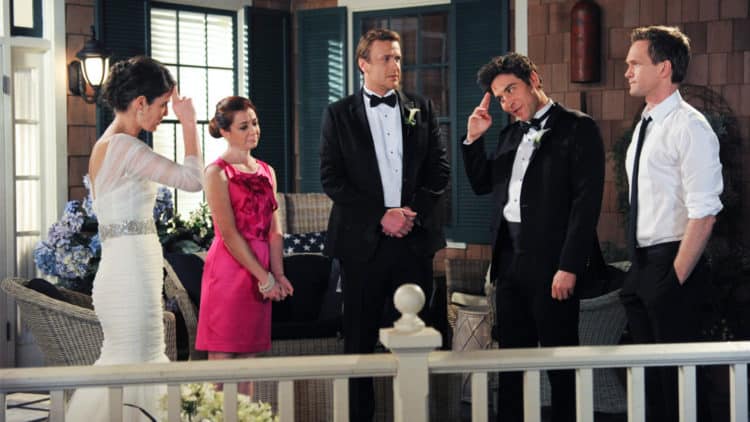 How I Met Your Mother, created by Craig Thomas and Carter Bays for CBS, ran from 2005 to 2014. The show starred Josh Radnor, Jason Segel, Cobie Smulders, Neil Patrick Harris, and Alyson Hannigan, and follows the story of Ted Mosby, in the year 2030, who narrates to his uninterested children the story of how he met their mother as he recounts memories about his and his friends' lives in Manhattan, New York, from the year 2005 to 2013. The show was nominated for 30 Emmy Awards and won 10. With its successful run, the show catapulted the careers of most of its cast members. Here are the three richest cast members of HIMYM.
Alyson Hannigan ($40 million)
Alyson Hannigan played wide-eyed, gossip-loving Lily Aldrin in the sitcom How I Met Your Mother. According to Celebrity Net Worth, Hannigan has a net worth of around $40 million. At the height of How I Met Your Mother's popularity, Alyson and her co-stars reportedly earned $225,000 per episode, roughly $5.4 million per season. When the sitcom ended in 2014, Hannigan shared her thoughts about the possibility of a reunion in an interview with E! Online. "Honestly, when I read the last episode script, I was sort of sad because I felt like there was no chance of a reunion because they kind of gave away all the cards," she shared. "They sort of showed everything. I was like, 'Wait, you guys, now we won't get to do a reunion because you're telling the future and telling the stories of what we're all gonna do.'" The majority of Hannigan's fortune comes from her role as Lily in HIMYM, but before joining the sitcom, she was already playing major roles on TV and in movies. She played the role of Willow Rosenberg in the television series Buffy the Vampire Slayer, which ran from 1997-2003, and starred in the sex comedy film American Pie. As described by Daily Mail UK. "Hannigan has quite the real estate portfolio." In 2002, she bought a home in Santa Monica, California, for $1.96 million and listed the home for $5.1 million in 2018. In 2017, Los Angeles Times reported that Hannigan and her husband Alexis Denisof sold their Brentwood property for $8.156 million. At that same time, they paid $8 million for a mansion on the hills of Encino. The said property was rented to the NBC drama series This Is Us for its final season. She was reportedly seen last September relocating her family's belongings and furniture to a smaller property in Los Angeles, according to Daily Mail UK, to give way for the hit drama series.
Jason Segel ($50 million)
According to Celebrity Net Worth, Jason Segel has an estimated net worth of $50 million. Jason Segel played the role of gentle giant Marshall Eriksen in the HIMYM series. Before joining the show, Segel played the role of drummer and stoner Nick Andopolis in the 2000s cult classic dramedy Freaks and Geeks. In an interview with EW, the actor shared, "Freaks and Geeks is where a lot of us got our start, myself, Seth Rogen, James Franco, Linda Cardellini, Busy Philipps, Martin Starr. It was this really amazing cast before we really knew anything. I mean, a few of us had done some little jobs here and there but this is where we really cut our teeth." Segel also appeared in several films such as Knocked Up, Slackers, and I Love You, Man. He also played the lead role in the romantic comedy Forgetting Sarah Marshall which he also wrote. Segel also lent his voice to the hit animated movie Despicable Me as Vector, Gru's arch-rival. His most recent project is the 10-episode anthology series Dispatches from Elsewhere. The series features an ensemble cast including Sally Field, Richard E. Grant, André Benjamin, and Eve Lindley. Aside from TV and film, Segel is an author and has co-written several novels with Kristen Miller, such as the young-adult adventure series Nightmares. In 2016, Segel reportedly bought a $2.25 million Las Vegas home in the Los Feliz neighborhood, which he later listed for sale in 2020 for $2.75 million. And in 2019, Segel bought a $4.3 million home in Pasadena, California, which, according to Architectural Digest, has been around for 100 years.
Neil Patrick Harris ($50 million)
Neil Patrick Harris played the role of suit-obsessed ladies' man Barney Stinson in HIMYM, even winning an award for Favorite TV Comedy Actor for his role in the sitcom. According to Celebrity Net Worth, Harris has an estimated net worth of $50 million dollars, earning around $225,000 per episode. The actor's biggest breakthrough was when he landed the lead role in Doogie Houser, M.D. as the titular prodigy physician. The role led him to a Golden Globe nomination. The actor also played Dr. Carl Jenkins in the sci-fi cult classic Starship Troopers. Harris has performed in several Broadway musicals. He played Mark in James Larson's Broadway musical Rent (1996) and also directed the 2010 production of the musical at the Hollywood Bowl, which starred Vanessa Hudgens. In 2003, Harris received critical acclaim for his performance as Emcee in a stage production of Cabaret. In 2014, he starred in the Broadway musical Hedwig and the Angry Inch which earned him a Tony Award for best actor in a musical for the title role.
Neil Patrick Harris appeared in the Harold and Kumar movies. In 2014, he shifted to a serious role in the movie Gone Girl. In 2016, he landed the role of Count Olaf, the villain in Netflix's A Series of Unfortunate Events, which ended in 2019. The actor is set to appear in Matrix Resurrections, which will be released on December 22. Neil Patrick Harris is also a frequent host of award shows. He hosted the Tony Awards four times, the Emmy Awards in 2009 and in 2013, and the Academy Awards in 2015.
In 2013, Harris and husband David Burtka reportedly paid $3.6 million for an 8,000 square-foot townhome in Harlem. They have since listed the house this year for $7.325 million, according to Forbes. The couple also previously owned a home in Sherman Oaks, California, which was sold in 2014 for $3 million. In 2017 they paid $5.5 million for a 13.5-acre property in East Hampton, New York, as reported by Architectural Digest.
Tell us what's wrong with this post? How could we improve it? :)
Let us improve this post!