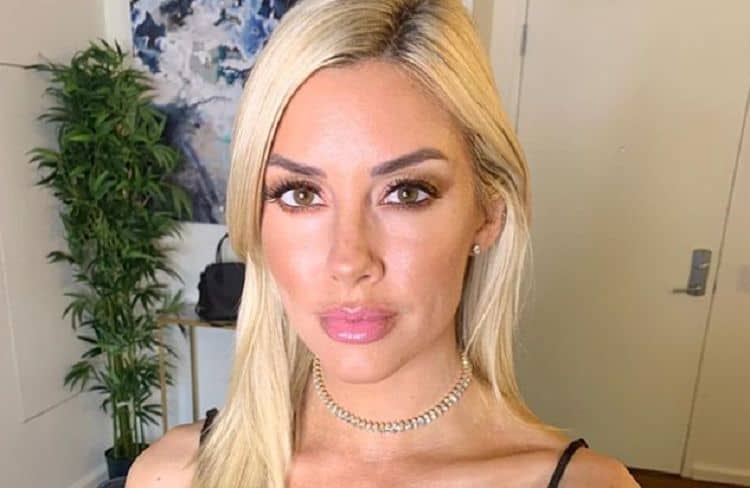 Los Angeles is full of beautiful multi-million dollar homes, so it's only right that they be sold by people who are equally as beautiful. Real estate agent, Heather Rae Young is a prime example of what happen when beauty and home listings meet. However, unlike the other agents on Selling Sunset, selling homes isn't Heather's full-time job. As a result, she can sometimes be a little all over the place, but that's one of the reasons why viewers love her so much. After all, every workplace needs a person to lighten the mood, and Heather definitely does that for her co-workers. Continue reading for 10 things you didn't know about Heather Rae Young.
1. She Was A Playboy Playmate
Young, blonde, and beautiful are the key ingredients for being a Playboy Playmate, and Heather's got them all. She was named Playboy of the month in February 2010. Even though her Playboy days are behind her, Heather is still a model and she is currently signed with EMG.
2. She's In A Relationship
Heather's relationship status was a big part of her storyline during season one, and it looks like that will remain constant during the second season. Heather is still in a relationship with Tarek El Moussa, who hosts HGTV's Flip or Flop. Although the couple has been together for less than a year, Heather told House Beautiful that she can't wait to marry El Moussa. The couple definitely seems to be headed in that direction. Heather has a great relationship with Tarek's children and with his ex wife, Christina Anstead.
3. She's Passionate About Animal Rights
It's easy to look at Heather and write her off because of how she looks, but there's a lot more to her than just being beautiful. Heather has a lot of passions and interests, and one of them is animal rights. She supports a non-profit organization called Bunny's Buddies that rescues dogs from slaughterhouses in Asia and is dedicated to helping animals find forever homes. She is also a vegan.
4. She Loves To Stay In Shape
Living a healthy lifestyle is important to Heather, and for her, that goes beyond making healthy eating choices. She also enjoys exercising and staying fit. After all, looking good definitely requires putting some time and effort in.
5. She's An Actress
Like a couple of other cast members on Selling Sunset, Heather had some previous on screen experience. She made her acting debut in 2010 and has earned a handful of credits since then. Most recently, she appeared in the film The Malibu Tapes in 2019. Now that she's becoming a reality TV star, she may just put her official acting days behind her.
6. She's Into Yachts
When Heather and Tarek first met, one of the things they initially had in common was their love for yachts. In fact, their initial meeting happened after Tarek saw Heather from his boat and honked the horn at her. She was in a relationship at the time so she turned down his advance.
7. She Loves To Travel
Between modeling and working in real estate, Heather's schedule is usually pretty jam packed. However, when she has the time, she definitely loves to travel. Some of the places she's visited include Amsterdam, Sweden, and Barcelona. Luckily, she probably gets to do a fair bit of traveling with her jobs.
8. She's A Dog Mom
Heather doesn't have any biological children yet, but she's a proud mom to her adorable little fur baby. She has a cute little dog Harley that she rescued from Bunny's Buddies. In an Instagram post, she shared that Harley was rescued from a meat market in Korea. It doesn't look like she's created an Instagram account for him, but he'd definitely get a lot of followers of he had one.
9. She's A Brand Ambassador
Speaking of followers, Heather certainly has plenty. On Instagram, she currently has more than 530,000 followers. Heather's large number of followers isn't just for vanity, it's also given her a chance to do business with brands. She is currently a brand ambassador for Fab Fit Fun and often posts her discount code to give her followers $10 off their first box.
10. She's A California Native
The cast of Selling Sunset is made up from people from different parts of the world. However, Heather Rae Young is right at home in southern California. She was born and raised in Anaheim and still lives in Orange County.