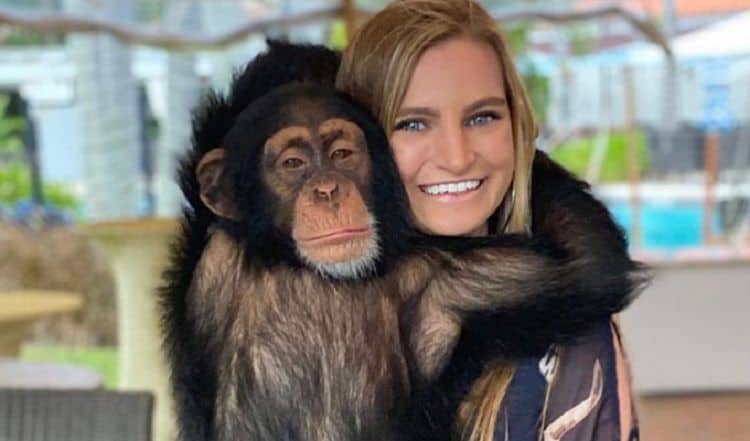 St. Louis, Missouri, home of the Budweiser Brewery. It's also one city where many of residents who are also fans of the reality show, Real Housewives had hoped that a version of the show would be filmed, but when it never happened, they were at least happy to get one reality show start up there and that is, The Busch Family Brewed, airing on MTV, and it features the Busch family that include William, "Billy" Busch and his wife Christi, along with their children, all seven of them. Abbey is one of the Busch's family brood. She is educated and an heir to the family business. So what do you know about this beautiful, young heiress? If you've watched any of the new reality TV series, you may recognize her, but here are 10 things you didn't know about Abbey Busch.
1. She's the third oldest child
Abbey is the third in the line-up of kids, and the second oldest daughter. Ahead of her, are, first-born brother, Billy Busch, Jr. and sister, Haley Busch, who is an actress living in LA with her serious boyfriend. Then comes brother, Gussie, sister Grace, sister Maddie and little brother Peter, the youngest of the clan.
2. She's a college graduate
Despite being part of a wealthy family and in line to inherit more, it's still important to get your education, which is just what Abbey Busch did. Busch attended Lynn University, according to information on the Reality TV site, and completed her degree in 2017.
3. She's considered the wild child
Abbey flew the coop. She's admitted to not being a fan of St. Louis. She left the St. Louis area and moved down south, but not without good reason. She has a serious boyfriend and decided to uproot herself to be with him, however, since most family of the Busch line tend to stick close to home and the business, she is dubbed the wild child for uprooting herself.
4. Since living in warmer weather, she became a beach fan
St. Louis is not known for it's balmy temps year round. It can get pretty chilly in the winter and even if you were born and raised there, it doesn't mean you prefer the cold. Abbey Busch adapted to the warmer temps of Florida really well, and so much, that she's admitted to being a huge beach fan, whether it's right there in her Florida home, or travelling abroad.
5. Her dad is the great-great grandson of the founder of the Anheuser-Busch company
It started in 1857 when a man, Adolphus Busch came to St. Louis from Germany and with his little bit of money, he purchased a brewery supply company, according to NPR. Adolphus knew how to make beer, and good beer, while another guy, Anheuser, was clueless. The two came together and Busch came up with a recipe that was a winner, they grew their brewery, and Anheuser-Busch was born. It's known as The King of Beers, and for 150 years, the business has been handed down from generation to generation, which is now where it lies in William, Billy" Busch's hands. It was a $19 billion dollar Fortune 500 company in 2008, and continues to grow. made it through the
6. Her dad was charged with a simple assault
Dad, Billy Busch, was involved in a simple assault charge that involved an 11 year old boy from his son's school. It took place at a basketball game in the gym of the boys' private Catholic school and claims are that Billy got rough with the the young boy by grabbing him by his shirt, dragging him across the gym floor, hitting him in the nose and throwing him up against a wall. The boy's father had to step in, and despite Abbey's father claiming he did it out of defense for his son, he was charged and convicted of simple assault.
7. She's a dog lover
If yo follow Abbey Busch on her social sites, like Instagram, then you probably can tell she's a fan of animals, and especially dogs. She has several pictures posted of her and her best friend, Dixie, who she often takes on outdoor excursions, like hiking in Colorado and other travels. They are inseparable and it's easy to see why – what a cutie!
8. The family loves Polo
Most people associate the game of Polo as being a wealthy-man's game, and it pretty much is. If you've ever attended a Polo match then you probably can tell that most people attending the game as spectators are all wealthy. The Busch's are fans of the game too, and Abbey and her sisters are all Polo fans too. You'll often see Abbey, and her sisters Haley and little sister Maddie at a match or two during Polo season.
9. The family home is loaded with a variety of animals – remember the Clydesdales?
The Busch family are all animal lovers and their home is home to several pets. You'll find cats and dogs at the Busch home, along with horses. Most everyone has seen the famous Budweiser Clydesdale commercials, and yes, they are owned by the Buschs'. They're used for their beer promotions and commercials, and Christmastime is one of the most popular time to look for them.
10. The family parties together
The Busch family is known for being a little flashy with their money and with all that beer at hand, making time to party together is part of who they are. In one of the trailers, the family is shown partying together and getting a little crazy, some might say, when husband and wife, Billy and Christi frivolously toss money off of their home's balcony, and one mom, Christy, shows off her dancing skill by dancing on the bar, according to STLmag.com. A family that parties together, I guess, stays together. Although, some fans were a bit offended with money tossing scene, which came across as a bit braggy and conceited.