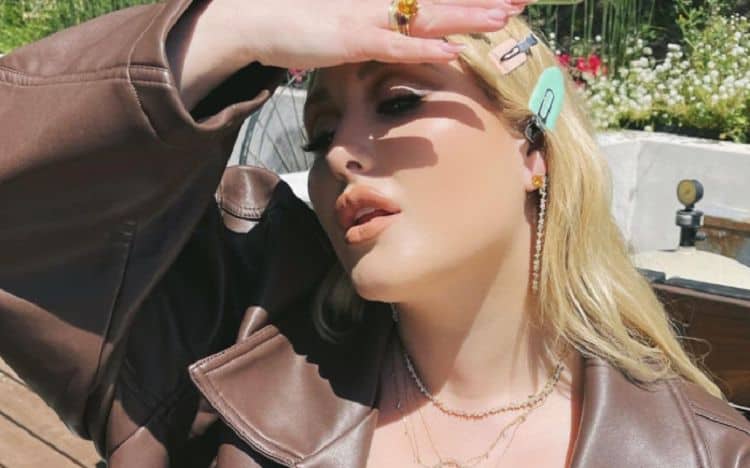 If you don't already know her by name, just saying her name will bring an instant moment of recognition to all. Hayley Hasselhoff needs no introduction with a last name like that. She's a model, an actress, and she is a young woman making history in 2021 with her very first Playboy cover. She has been taking the world by storm for some time now, and it's not just because she has one of the most famous last names in the world. She's talented without her dad's name, but we imagine she is still proud to share a name with her family. Here is everything you need to know about David's daughter.
1. She is A California Girl
Hayley Hasselhoff is a California girl, but we don't know what you expected from the daughter of a lifeguard, right? We kid, but she really is a girl from Los Angeles. She was born and raised there while her dad worked. Her date of birth is August 26, 1992.
2. She is Not An Only Child
You already know her dad is the exceptionally famous David Hasselhoff, and her mother is Pamela Bach. Bach is also an actress, and the couple met on the set of "Knight Rider," back in 1985. They wed in 1989, and they divorced in 2006. They had another daughter prior to having Hayley, which makes her the youngest daughter and the baby of the family.
3. She Worked with Her Dad
Her very first job acting was on "Baywatch," with her famous father. She was only seven when she appeared on the show. The year was 1999, and she probably thought it was the coolest thing in the world to get to go to work and work with her father.
4. She Started Modeling at 14
It would be another seven years after her acting career began that Hayley Hasselhoff would begin modeling. She was always considered a plus-size model because she is a 14. She initially signed with Wilhelmina, but she eventually signed with Ford Model Management in 2014.
5. She Made History in 2021
If 2021 has taught us anything, it has taught us already that this is the year a lot of history is being made. Hasselhoff made history when she dared to remove her clothes and pose nude in the European Playboy magazine. Her posing is nothing new, but she is the first-ever plus-size model featured on the cover of this magazine.
6. Her Parents Support Her
Their marriage did not work out, but their love of their kids did. They have always put their kids first, and they both support their daughter and her career. She said that they are both proud of her, that they both support her decisions, and that they both make sure that they always believe in their kids and the things that they choose to do in their own lives.
7. She Wore her Own Lingerie in the Shoot
When she was in Paris shooting for her Playboy cover, she didn't have anything to wear. Literally, she could not find anything in her size due to the pandemic. She ended up going home, finding her own lingerie and making it work. She is awesome.
8. She Was Separated from Her Boyfriend
Hayley Hasselhoff has been dating a name by the name of Dominic Charles Farrell for an unknown length of time now, but the pandemic caused them to separate. Let's be clear that they didn't separate as in need some time apart to figure things out. They were literally separated because of lockdowns. She was in Los Angeles and could not get to him in the United Kingdom, and he could not get to her. They spent five months apart, and it was very hard on them to be away from one another for so long.
9. She Felt Empowered Posing for Playboy
When she took on this job, she knew that she was making a stance for women across the world. She believes wholeheartedly in being as accepting of a woman's body as possible, and she does not care what size you are. She wants all women to see beauty when they look at their own bodies, and posing like this made her feel so empowered both for herself and for other women in the world.
10. She Values Privacy
Growing up as a child during the height of her famous father's career was not always easy. Her family was constantly in the spotlight, and she didn't have nearly as much privacy as other kids in non-famous households. It taught her a lot, if we had to guess, and it may be why she's so private and so good at keeping her life as close to herself as possible.