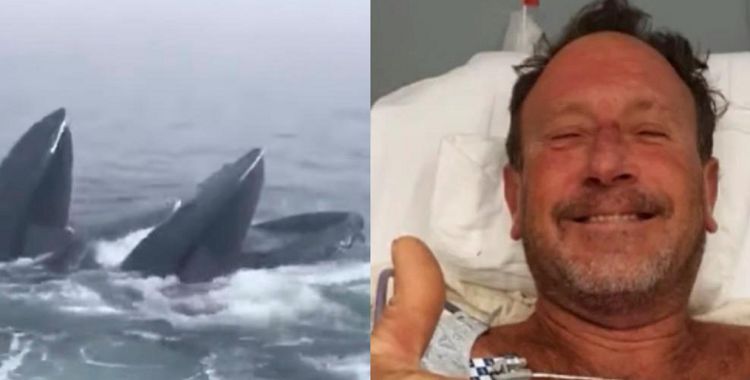 Stories about humans getting swallowed alive by whales may sound like something that only exists in the Bible, but apparently, that isn't the case. Michael Packard, a commercial lobster fisherman, almost found himself literally in the belly of a humpback whale after he was almost swallowed off the coast of Cape Cod. The encounter between Michael and the whale seemed to have caught them both by surprise. Although the story could've easily resulted in a tragic ending, Michael is thankful that he lived to tell about it. In addition to surviving the ordeal, Michael has also become somewhat of a celebrity. Read more to learn about how Michael was almost swallowed by a whale.
How Michael Packard Almost Wound Up In A Whale
As a commercial lobster fisherman, Michael spends a lot of time at sea and he's probably seen some very interesting things over the years. After all, Michael isn't the kind of lobster fisherman who sends nets or cages into the ocean. Instead, he actually dives into the water to catch lobsters by hand. That being said, he never imagined that one of those dives would end with him hanging out of a whale's mouth.
On June 11, 2021, Michael says he was in about 45 feet of water when he suddenly felt like he'd been hit by a truck. Initially, Michael thought he'd been bitten by a shark. Within a few seconds, he realized that he was actually inside the mouth of a humpback whale.
Even though Michael didn't know exactly what was going on, he had a feeling that he wasn't going to survive the ordeal. According to NBC Boston, Michael said, "I just was struggling but I knew this was this massive creature, there was no way I was going to bust myself out of there". Luckily for Michael, after about 30 seconds of being stuck in the whale's mouth, the large animal managed to spit him out. Michael told NBC Boston, "I was just laying on the surface floating and saw his tail, and he went back down, and I was like, 'Oh my god, I got out of that, I survived."
After being rescued from the water, Michael was taken to the hospital. The Cape Cod Times reported that Michael had "a lot of soft tissue damage" but he was lucky not to have any broken bones. Needless to say, Michael is going to be back out on the water in no time.
What Witnesses Saw
Let's be honest, if most of us heard about a person almost being swallowed by a whale, we'd assume that the whole thing had been made up. Michael may have been the only person to have gotten caught in the whale's mouth, but he isn't the only person who was out on the water that day. In fact, several of his crewmates witnessed the entire ordeal and they almost couldn't believe their eyes. Josiah Mayo, one of Michael's crewmates, said, "It was just a huge splash and kind of thrashing around. I saw Michael kind of pop up within the mess and the whale disappeared." Unfortunately, there wasn't anything anyone could do other than watch helplessly and hope for the best.
This Isn't Michael's First Freak Accident
There are a lot of people who will go through their entire lives without ever being involved in any strange accidents. Michael, however, has already been in two. Before he found himself fighting for his life inside of a whale's mouth, Michael also survived a plane crash. 10 years ago, Michael was a passenger in a small aircraft that crashed in Costa Rica. The pilot, co-pilot, and a passenger were all killed. Miraculously, Michael survived and was rescued two days later along with the remaining surviving passengers. Michael was fortunate not to have sustained any permanent injuries.
Michael On Jimmy Kimmel
Since surviving his run-in with the whale, Michael has become the talk of the internet. He was even invited to appear on an episode of Jimmy Kimmel Live. While on the show, he sat in a seat that was designed to look like a whale's open mouth. He and Josiah went into the details of the day and it was clear that they were both still in shock. Still, they recognize how lucky Michael was to make it out of the water safely.
For someone who has been through a lot of ups and downs, Michael has managed to maintain a positive attitude and he doesn't plan on letting anything get in the way of him enjoying life.
Tell us what's wrong with this post? How could we improve it? :)
Let us improve this post!