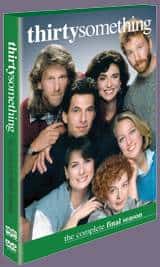 On November 9, Shout! Factory is releasing the fourth and final season of the late 80's drama Thirtysomething, created by Edward Zwick and Marshall Herskovitz (Once & Again) and starring the likes of Tim Busfield (The West Wing), Peter Horton, and the much-missed David Clennon (The Agency). I have a sneak peek inside that release for you now.
The Show
On paper, Thirtysomething is like any other show we have on TV about a group of friends, their significant others and their messed-up relationships…however, unlike most of those series currently on the air, it focuses on people who are older than college-age. The 1987-1991 series was not one of the classic shows I watched in my youth, so this was the first time that I've ever really been exposed to it. Maybe it's because I'm still out of its age range, but it didn't really appeal to me on the level that it obviously did to so many.
That said, the show did win 13 Emmys and remains a hallmark of people's careers for a reason. While some things about it are cliche (stay-at-home moms unhappy with being homemakers, really?) it also explores other issues I can't recall being all that talked about on TV (the main couple is an interfaith couple, for example). Season four also tackles some heavy material, whether it's the conclusion of one character's cancer arc or the death of another. If you're a fan of shows like Brothers & Sisters, I think you'd probably also enjoy Thirtysomething as well.
The DVDs
Like most of Shout! Factory's releases, you get the cardboard slipcover over individual plastic cases – three to be exact, each of which contains two discs. The episodes on each disc are listed with their airdates on the back of each case. I found it kind of amusing that they listed running times as "plus or minus," rather than the usual exact if obtuse number of minutes.
Once you crack the cases, it's simple: basic disc art and no interior box art. The set does come with an accompanying booklet that gives you a cast list, then episode titles, airdates and one-sentence summaries. Another amusing fact is that they include the production credits (like you'd find at the bottom of a movie poster) with every episode entry, which is not only kind of annoying but also fairly useless since to fit, the text has to be crammed to almost unreadable status. At least it has episode stills.
Disc menus here are simple. You get "play all" and episode selection; that's it. No scene selection, no audio setup menu. The set does indicate closed captioning exists, but there's not an option to activate it from the menus, so I presume it has to be activated with your remote.
Thirtysomething is, like most shows from the 80's-early 90's being released on DVD, limited in audio and video quality simply because of the age of the source material. There's a decent transfer here; it's called hi-def but I didn't see anything particularly outstanding about it. It's on par with the release of The Larry Sanders Show, where the picture resembles how it might look if you were watching it recorded on VHS. There's a considerable amount of grain involved, but that's not something that Shout! Factory can help.
If there's one thing I'd quibble with, it's that the back of the box says "not rated: for all audiences." I wouldn't exactly say the show is for all audiences, given its adult subject matter and mild sexual content. "Not rated" doesn't mean that it doesn't need a rating; it just means that for whatever reason, the program doesn't have one.
The Special Features
The only special feature on this release is an introduction from show creators Zwick and Herskovitz. This is kind of a shame, as they have an interesting cast here; Tim Busfield alone would probably have a ton of interesting things to say, considering that he's now not only a successful actor but a well-known TV director. However, at least we have the episodes.
The Bottom Line
This one's for fans only. You'll no doubt want the fourth season to complete your set, but casual viewers won't find enough in the way of special features to justify the purchase, and those interested in starting the show are obviously best advised to begin with season one. Personally, I can't say I was that impressed by the show, but I'm sure that people who identify more with the characters and the era will enjoy it more than I did.
Thirtysomething: The Complete Fourth Season releases as an Amazon exclusive on November 7, but will go into wide retail release just two days later on November 9.