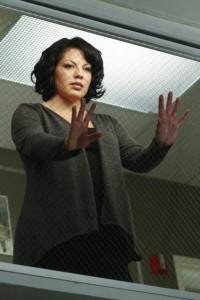 So Grey's fans, that was the big Grey's Anatomy musical event that we've all been waiting for! I'm anxious to hear what you all think!
Let me first say that Sara Ramirez's voice is spectacular! It's no surprise given she is a Tony award winner, but having not heard her sing before (with the exception of our previews of this episode) her pipes were pretty phenomenal. Kevin McKidd (Owen) and Chandra Wilson (Bailey) also did some nice vocal gymnastics last night. The rest of the cast left a little to be desired but ah well not everyone can be an actor and a singer. I guess, that's what auto tune is for.
That being said…I should tell you that I didn't particularly enjoy the music in tonight's episode. I found it was rather distracting and felt out of place with the intensity of the storyline.
If this was a regular episode of Grey's, I would be singing it's praises and my Kleenex box would have been empty by the episode's end. These types of stories are what Grey's does best. As Alex said in the episode, Seattle Grace Mercy West is more like 'Seattle Grace Mercy Death.'It's this reason why the audience is so wrapped up in these characters, especially in this 7th season which has been stronger than most.
However, with all the out of place singing, I found I couldn't be as invested as I would have liked in the story. It often seemed the cast was just singing to sing. There was no purpose or reason.
The gist of the episode is supposed to be that Callie's soul is processing what's going on around her through music. Though if this is the case why did Chyler Leigh's character (Lexie) sing 'Breathe'to Mark?
Of course there were some scenes, with dialogue, that were quite heartbreaking and powerful, particularly those with Mark and Arizona. When their baby was born and Arizona was attempting to get a heartbeat, I was glued to the TV.
As for the performances, it was very much hit or miss. Though it didn't fit in with the rest of the episode 'Running on Sunshine'was an adorably great time AND Alex sang a whole verse! It was hard not to laugh and smile as many of the show's couples danced around. I also enjoyed Henry (guest star Scott Foley) getting in on the musical action.
'Chasing cars'also seemed appropriate as the opener when Callie was rushed to the OR as did 'How to Save a Life" when all the doctors were in fact, saving Callie's life. I could have done without the rest.
Callie looks to be in for a long recovery from her injuries, as does her baby so it seems this will be the focus of the last four episodes of the season. Per the preview for new episodes, it seems she will be on her way to recovery… I hope we can say the same for her baby.
Some additional thoughts:
It was nice to see Addison back at Seattle Grace! I miss her!
Teddy telling Cristina she can't teach her anymore was a bit dramatic especially since the procedure she did saved Callie's life.
Lexie taking Jackson's hand at the end of the episode was sweet.
Now it's your turn! What did you think about the musical event? Was it distracting? Did you think it tied in well with the story? Where there any performances you just loved? Let us know in the comments below!
Tell us what's wrong with this post? How could we improve it? :)
Let us improve this post!