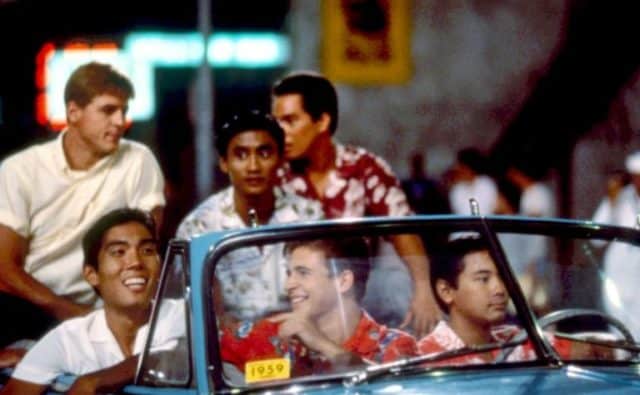 I think it's time to dip back into my childhood and make a movie recommendation. If you haven't seen the 1988 movie Aloha Summer then I highly recommend it. It's the movie that introduced Tia Carrere to the world but more importantly just one of those movies you smile at nearly the entire time you watch it. It's horribly acted, the plot couldn't be any more obvious, but the fact that it's based in Hawaii in the late 50s and that it was made in the 80s rocks. Plus the villain from Karate Kid II is in it and there's a scene where he gets really drunk. See the guy on the left in the photo up top? Yup, that's him. Know what's even better about the movie? Here's the official description.
Aloha Summer is a 1988 American comedy-drama film about a group of teenagers and their experiences one summer in Hawaii. The film was directed by Tommy Lee Wallace and stars Chris Makepeace, Yuji Okumoto, Tia Carrere, and Don Michael Paul. An American teenager travels from the mainland to Hawaii with his parents for a vacation and meets five other teenagers. The film follows the teenagers as they learn about surfing, drinking, sex, and friendship.
Seriously does it get more 80s than that? No chance. This is why you must watch it. For all you newer generation people out there. Stick around. I'm going to start making plenty more recommendations in the near future. Here's the trailer for Aloha Summer.