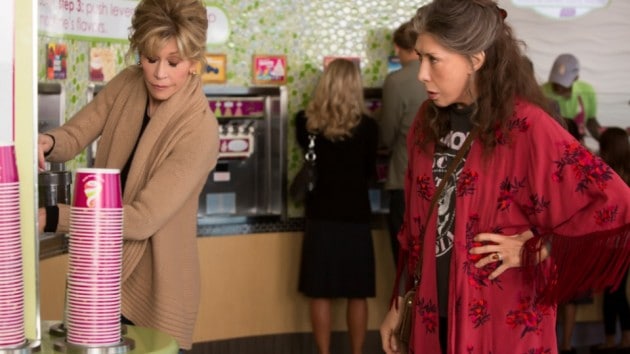 After a very uneven start, Grace and Frankie has been on a roll with the past few episodes. Fortunately for all of us, this streak continues in "The Fall."
"The Fall" begins with Brianna stopping by the house unexpectedly with wine, which Grace rightly suspects is due to guilt over not giving her mother a job. Brianna wants her mother to find a man so that she can reconnect with the world, but Grace seems to be more interested in being alone. Her solution is to set Grace up with an online dating profile, and she reluctantly agrees, if only to make sure she isn't with Frankie for the rest of her life.
While Grace is setting up her profile, Brianna ends up getting high with Frankie. Brianna asks her how the funeral went, and Frankie admits that things weren't great. Brianna realizes that, despite what the older women may think, Frankie is probably the best friend that her mother has ever had. Brianna helps Grace finish her profile, and Grace drives the three of them to get frozen yogurt. Frankie and Brianna struggle to get their yogurt, and Grace ends up slipping and breaking her hip in a fall.
Her doctor at the hospital ends up being the man that Brianna used in order to get her mother to sign up for the dating website. While going over her chart before surgery, Grace realizes that Frankie knows more about her than even she does about herself. After the surgery, Grace is unpleasantly surprised by Robert showing up to visit her. Frankie helps her begin to recuperate, but they end up getting into an argument after Grace refuses to accept any help. The doctor worries that Grace has had some brain trauma after she begins to have memory problems, and she panics about an MRI due to her intense claustrophobia. Frankie shows back up at the last minute to be with her…
…and it turns out that the entire fall and the aftermath had been a dream. In reality, Frankie caught Grace as she fell, and nothing bad happened. Grace and Frankie finally have a real conversation with each other about their feelings, and they realize that they really are friends and that they like each other more than they had realized. When they get back to the house, Grace finally submits her profile, accepting that it's time for her to move on. Grace proposes having a girls' night with the woman and her daughters, but Frankie makes a joke and goes to bed.
As I've mentioned in reviews before, Grace and Frankie's strongest aspect is the perfect chemistry between the four leads. The thing that sets "The Fall" out from what came before is that this is the point in which their chemistry translates to their characters in the show, as Grace and Frankie the characters finally realize what they mean to each other and that it's actually a good thing that they have each other through this incredibly odd and difficult time.
[Photo via Netflix]