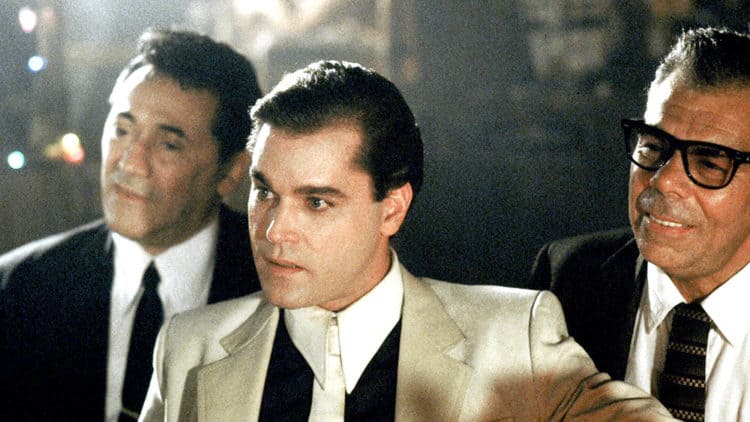 Since 1963, director Martin Scorsese has entertained audiences with a collection of instant classics, from character-driven pieces such as Taxi Driver to Raging Bull; however, the legendary director is known for making fantastic gangster films, though believe it or not, Scorsese has only made five in his illustrious career. Two of those films are considered some of the best gangster films ever made, Goodfellas and The Departed.
The 1990s classic starring Robert De Niro, Ray Liotta, and Joe Pesci is based on the book Wiseguys by Nicholas Pileggi, which follows the life of Henry Hill, a young man who rises through the ranks as a gangster in an Italian-American crime syndicate. Hill works extremely hard and enjoys the labors of his success; however, drug addiction and a few mistakes unravel once he reaches the top. Nominated for six Academy Awards and winner of one, Goodfellas would go on to be recognized as one of the greatest films ever made in the 1990s and was entered into the Library of Congress in 2000.
Surprisingly, that wasn't the film that got Scorsese an Academy Award for best director. That would end up being 2006's The Departed, which is a 2002 remake of Internal Affairs that follows South Boston cop, Billy Costigan, and Colin Sullivan, one is a mole who infiltrates a gang organization led by Frank Costello and the other infiltrates the police department and informs Costello of their activities. When both organizations realize that they have a mole, Billy and Colin must figure out each other's identities to save their own lives. Nominated for five Academy Awards and winner of four, this remake is also considered one of Scorsese's best in terms of gangster's films; however, is it better than Goodfellas? Let's examine both films:
Goodfellas
Just when The Godfather set a benchmark for gangster films, Goodfellas comes along and achieves a rare feat in storytelling, which is a nuanced, layered, film featuring a cast of compelling characters. Henry Hill, James Conway, Tommy Devito, and the rest of the crew aren't likable people; however, we as the audience are so invested in their lives because they're fun characters to watch and to see the rise and fall of this Italian-American gang is sheer entertainment.
Sure, these guys murder, but they have families, friends, just like normal human beings thus the layers behind these men are well rounded out, though there's no denying that the comeuppance that these gangsters get is well deserved. The environment around these "Goodfellas" is well crafted, with Lorraine Bracco's emotional turmoil dealing with her husband's lying and cheating another highlight in the midst of an all-star film. Goodfellas doesn't just examine the lives of these men and women, it tackles the consequences and repercussions of their actions in a crime-riddled world. For some, their fates end in death or Henry Hill's case, being under witness protection having to watch your back for the rest of your life. Scorsese never holds back on the nasty details of these wiseguys and smartly doesn't soften their characters to fit them into roles as anti-heroes and the film is all the better for it. Goodfellas isn't just about violence, it examines love, loyalty, and honor and blends these themes together perfectly without ever feeling fake or forced.
The Departed
This time, we're getting the best of both worlds by diving into the land of gangs and cops, and Scorsese successfully pulls off another character-driven piece. Despite an all-star cast, The Departed never feels over-crowded as the focus remains solely on the lives of both Billy Costigan, and Colin Sullivan, and the impact their choices make on everyone around them. Not surprisingly, Leonardo DiCaprio was great in his role as Costigan, an undercover cop who's struggling to keep his sanity working for both sides of the organization.
Costigan is rightfully terrified, angry, and a complete mess and DiCaprio delivers each emotion without ever going over the top. Matt Damon as a slimy and two-faced mole is perfect casting as well, with Scorsese never fully leaning into the evil traits of Sullivan that will clearly paint the picture of him being one of the antagonists. Don't get me wrong, Sullivan is an asshole who got what he deserved in the end; however, his character is fully treated as a human, a squirmy man who can love, lie, and hurt at a moment's notice. Sullivan is another form of Henry Hill, he's a man who clearly loves the gangster lifestyle as his issues never involve an internal struggle over his loyalty to Frank. Speaking of Frank Costello, do I really need to say how amazing Jack Nicholson is? Of course, he's Jack Nicholson. Like Goodfellas, The Departed examines love, loyalty, and honor, and the repercussions behind these actions, though Scorsese takes a fresh approach to the gangster drama that makes The Departed stand on its own.
So gangster film is better? Goodfellas. The Departed is an excellent film in Scorsese's filmography, but Goodfellas elevated the gangster drama thanks to the complex story and a cast of colorful characters.