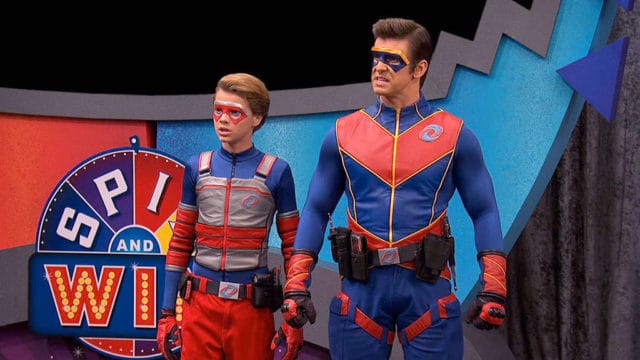 Henry Danger is a Nickelodeon sitcom that was created by Dana Olsen and Dan Schneider. It premiered on July 26, 2014, and is about a teenage boy called Henry Hart who lands a job as a sidekick to a superhero. He lives in Swellview where Captain Man is a well-known superhero in the area and Henry becomes Kid Danger. He has to keep his work secret from his parents, his sister Piper, and his best friends Jasper and Charlotte. Captain Man does all his secret work in the Nam Cave which is hidden below a shop called' Junk 'n' Stuff'. Captain Man won't be around forever, so he is training up Kid Danger to take his place. Here is an overview of the main five cast members in Henry Danger.
Jace Norman
Jace Norman plays the lead roles of Henry Hart and Kid Danger. Norman is a young actor who was born in New Mexico on March 21, 2000. Although he is best-known for his role in Henry Danger, he made his acting career debut in 2012 in a Disney series called 'Jessie'. Jace Norman has also starred in 'Rufus' and 'Splitting Adam'; both of which are Nickelodeon original movies. He won a Kids' Choice Award in 2017 in the category of Favorite Male TV Star.
Cooper Barnes
Cooper Barnes is a British born actor, writer, producer, and director who plays the roles of Ray Manchester and Captain Man. He has previously appeared in an episode of 'Terror on Cupcake Street' which is another television series by Dan Schneider.
Riele Downs
Riele Downs is a young actress who plays the role of Charlotte Bolton. This character is a smart and independent girl who is also realistic and down-to-earth. In addition to being a student, she is an information assistant for both Captain Man and Kid Danger. Riele has played this role since season one when she was 13 years of age. This Canadian-American actress has also appeared in movies including 'The Gabby Douglas Story', 'The Best Man Holiday', 'Ruby Skye P.I.', and 'The Maltese Puppy'. In 2011, she had a role in 'A Russell Peters Christmas Special'. She is also a fashion designer.
Sean Ryan Fox
Sean Ryan Fox plays the role of Jasper Dunlop who is best friends with Henry and Charlotte. The character is a student and a cashier at 'Junk 'n' Stuff'. Fox has acted since the age of 8 when an agent booked him for two national commercials. He then appeared in several television shows, including 'Criminal Minds', 'Kickin' It', and 'First Family'. He has also acted in two feature films; 'David's Dinosaur' and 'Field of Lost Shoes'.
Ella Anderson
Ella Anderson plays the role of Piper Hart who is Henry's sister. Piper is a temperamental character who likes to break the rules. She is both a student and president of the Man Fans. Other than her role in 'Henry Danger', Ella Anderson is best-known for playing Young Jeanette Walls in 'The Glass Castle'. Other films in which she has appeared include 'A Fairly Odd Summer', The Giant Mechanical Man', 'Touchback', and 'The Possession of Michael King'.
Save