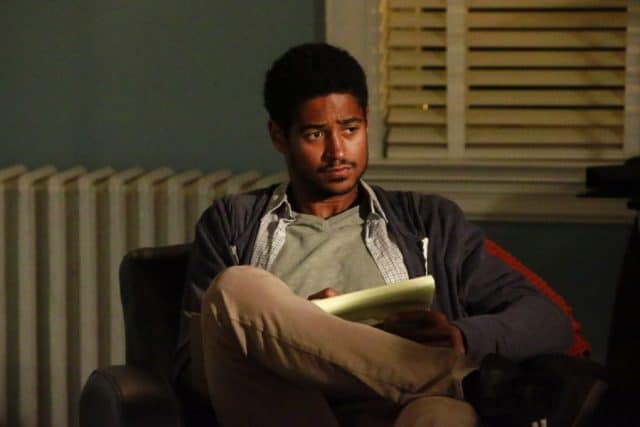 For the past two years, one of the best shows on television has been Shonda Rhymes' acclaimed soapy drama How to Get Away with Murder. With the new television season in full-swing, the series is back for its sure to be intriguing third season. Let's take a look at what happened in the season premiere of How to Get Away with Murder, "We're Good People Now."
The episode opens directly after the final moments of last season, and we find Wes recounting a version (aka "lie") of the events from when he introduced himself to his father. He meets up with Annalise immediately after, and it turns out that now-missing Frank was the one that led him to that spot. Annalise is, typically, much more interested in Frank's whereabouts than what Wes was up to, but they still manage to "bond" (if anyone on this show has ever been able to do so) over their shared history. Already, it's obvious that the relationship between Wes and Annalise is going to be an important plot point once again, but Viola Davis and Alfred Enoch are so perfect together that it isn't at all a bad thing.
Jumping ahead four months, the entire group is in a different place than they were before the summer (so who is Wes' new beau?), but they still manage to reunite in class at law school. This year, Annalise will be taking her students in for actual cases in a pro bono setting (she's been booted from her usual class by the university), and the format for the season is quickly established. Cases-of-the-week will clearly be coming through this class, and it's a nice (small) change of pace that I'm interested in seeing explored. It's pretty cool getting to see the (former?) interns take such an active role in all of the cases beyond their usual research mode, and adding more interaction with the rest of the class gives new people for everyone to play off of (something that can only be a good thing).
"We're Good People Now" spends a lot of time flashing back to the four months between Frank's disappearance and the present-day, filling in the gaps of what all of our characters have been up to. Among the reveals that we get is that Oliver (who is FINALLY a series regular) has been trying to get a job with Annalise. While the lawyer initially turned him down, it eventually gets to the point that she doesn't have a choice but to hire him. This obviously has a negative effect on his relationship with Conner (who knows full well what working with Annalise Keating can do to a person), but it has a positive effect for the audience because it moves him more into the forefront. Oliver has been one of my favorite characters on the series since its premiere, and I'm so glad to have him in a larger role from now on.
The final moments of the episode flash-forward two months to introduce the season's big mystery, and it's an extremely intriguing story that will easily drive the plot of season 3. Overall, "We're Good People Now" is a very solid episode of How to Get Away with Murder that does its job by perfectly setting up a new year of the show. It wasn't quite as engrossing as previous premiere (for the most part), but there's enough interest here that I'm looking forward to watching everything play out.
What did you think of How to Get Away with Murder's return? Let us know your thoughts in the comments down below!
[Photo Credit: ABC]
Tell us what's wrong with this post? How could we improve it? :)
Let us improve this post!