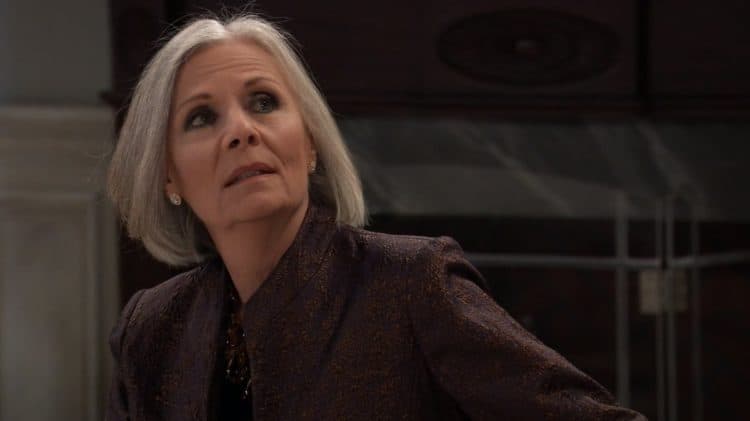 General Hospital fans are not shocked to hear or see or know that there is so much going on with Tracy. It is a bit shocking that she is so adamant that she will blame Michael for everything that she feels has gone wrong in her world, but we also kind of get it. We kind of get that she's got all this anger and this hatred and this animosity in her life. She has, after all, made it quite clear to those around her that this is not working for her, and she is not happy with it. Her life is making some big moves in some big places, and we cannot wait to see more from her and hear more from her in the meantime. We are not sure this is over yet. Julian has decided to visit Brad, and he's not feeling good about anything. So much of what happened is his own doing.
Gladys has to support Sonny's decision, but we cannot figure out why. Does she honestly think that what he is up to is the right thing, or is she looking for some answers that might take her along a different path for now? She's making some big changes in her life, after all, but how many of those changes are positive and happy? She's got so much working for her, but she's also working hard to get her own situation in order. Sonny is probably making a mistake, as he usually does, but he's got work issues on top of everything else. We know that there was some question that perhaps Jason knew something about the missing items from Sonny's coffee business, but we know that Jason is not behind what is happening to his friend. For now, though, things will play as they play.
What's Happening on General Hospital
The fur flies at Shiloh's Memorial! @GeneralHospital #GH

— Frank Valentini (@valentinifrank) January 15, 2020
But, like, who even cares to pay their respects to him?
What's Next on General Hospital
"If you want to be a Quartermaine, you have to start thinking like one." #GH pic.twitter.com/F2Oz4i3bbA

— General Hospital (@GeneralHospital) January 13, 2020
Things are taking a very ugly turn for Brad today. He's about to get what you might refer to as a rude awakening, and we cannot imagine that will go well for him. He's had a rough time, and things have not been going his way for a while now. Things are turning out so much like nothing he ever thought would happen to him in his life, and we cannot help but wonder how he will focus on this and how much chance he can implement in this time frame. He's got so many things to worry about and wonder about, and we cannot help but wonder if there is anything he can do to salvage what little bit of his life is worth salvaging. It's all too much for us, and we cannot handle a bit of it. For now, though, this is his life and all that this means for him.
Sonny is on edge, and he has every right to be. Nothing in this man's life has gone his way in any capacity in years, and he's not sure how to fix any of that. He is not sure how to change things, how to make them better, or how to get anything to change. Chase is going to ask Jordan to listen while he tries to share an update on what is going on with the Corinthos case, but she might not be that willing to listen. She knows this family, and she doesn't believe any of what is being said at the moment. Is she going rogue?
Stay tuned for more General Hospital and be sure to check out TVOvermind daily for the latest General Hospital spoilers, news, and updates.