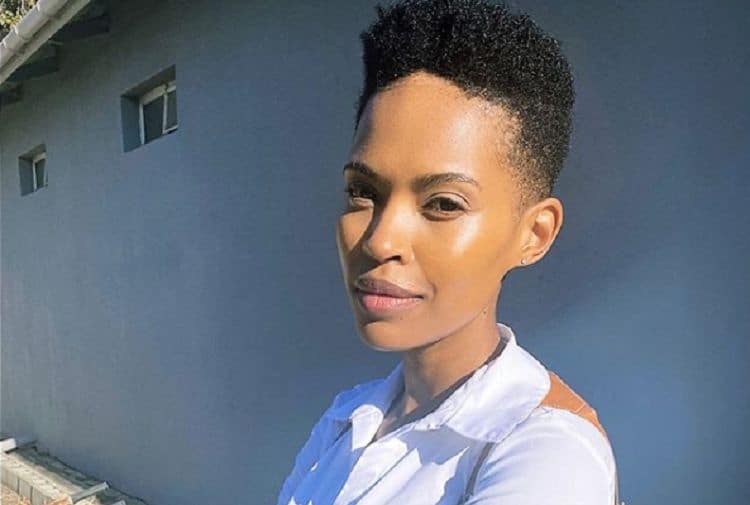 Gail Mabalane wears many hats; not only is she an actress, but she also is a singer, entrepreneur, and model. The mother of two may look like she has always had the world in the palm of her hand, but she suffered from insecurities, wondering if she had what it takes to achieve her dreams. Luckily, with her unwavering faith in God, experience, and maturity, she has achieved more than she ever thought she could. Some of her accomplishments include being made the face of "Inecto Plus," a major hair dye brand in South Africa. There is so much more to this 35-year-old beauty, and here is a sneak peek into what you may not know about her.
1. She had to postpone her dreams to comfort her father
When Gail talked to Jet Club, she disclosed that she lost both her brother and mother in 2006. At the time, Gail was thinking about pursuing a singing career, but she had to put it on hold to be with her father since her younger sister was in Johannesburg. She remained in Kimberly for four years until the chance to join "Idol South Africa" came, and she seized it; hence she had to move to Johannesburg.
2. She had no acting experience when she became an actress
Nothing can stop destiny from serving you with what it has in store for you, and Gail is among the many celebrities who landed roles without having any acting experience. Her time at the singing competition opened up a world of opportunities because the connections she made led to her auditioning for "The Wild." She was cast as Lelo Sedibe, and although she was intimidated by having other major actors like Connie Ferguson alongside her, they supported her, helping her gain the confidence to be the renowned actress she is today.
3. She once lost a role because she was pregnant
Even in Hollywood, being fired for being pregnant is not something new; Hillary Duff and Jamie Lynn Spears are among the many who can attest to this fact. In South Africa, that unfair treatment is also practiced in the film industry, and Gail was once a victim because when she was five months pregnant with Khumo, she was fired. However, unlike actresses like Kari Wuhrer and Hunter Tylo, who sued production companies for suffering the same fate as Gail, the South African took her firing with grace, saying she lost the role because it was not meant for her.
4. Why she decided to brand her products, "Body Language."
Although the phrase "make a good first impression" has become cliché, Gail did not think much about it until it was time to launch her range of body care products. She remembered how first impressions have a lasting impact on someone, and since we introduce ourselves through our body language before we speak, Gail thought it best to name her products "Body Language." Therefore as the name suggests, the entrepreneur hoped that her brand would encourage buyers to always have a positive body image.
5. How she made sure her daughter would not feel jealous of her baby brother
Child experts have different tricks of ensuring older siblings are not jealous of the newborns. Some will advise that the mother should not enter the house holding the baby while others say that you should have the newborn present a gift to them. Gail seems to have taken the latter piece of advice because when her son Khumo was born, she ensured that Zoe, her daughter received a gift from Khumo in the form of a teddy bear and lots of smarties. That way, as they prepared to go home, Zoe was the one asking if they could take Khumo along.
6. What attracted her most to her husband?
Women will talk of how they would like to marry a tall, dark, and handsome guy, but Gail was more interested in the character of her future husband than the physical attributes. Therefore although she says her husband jokes that she was home delivered to him, the actress would not have given him a chance to win her heart if he was not a churchgoer. As reported on 702, going to church is a big issue for Gail, and the fact that she did not have to drag Kabelo to church was among the biggest things that attracted her to him.
7. Her secret to a happy marriage
No marriage is perfect, and Gail's husband said that even if they have their challenging days, they made a commitment to each other, and the union exists to improve themselves. The couple, therefore, shares their love for each other on social media on every anniversary despite maintaining a low-key life. The actress disclosed that they try to keep the fire burning by having day dates when their daughter is at school. They also go to movies or plays and have lunch together whenever they can.
8. Her tips for traveling with young children
Traveling with children can be a nightmare, especially if you are not prepared, but Gail had flown with her first child, so she had a bit of experience when she had to fly with both her children. She advises women not to carry all the baby equipment with them because there are companies that rent out all essentials, thus enabling you to travel lighter. She also encourages mothers to sit next to their children because being surrounded by strangers can make then uncomfortable. Having their favorite toys and bottles at hand will also ensure the baby does not make a fuss throughout the journey.
9. She became Huggies' brand ambassador in 2018
According to Sabio Communications, Gail was chosen as the brand ambassador for Huggies in 2018 thanks to her parenting approach. The Senior Brand Manager added that the actress was the best pick because she is passionate about motherhood. Gail could not hide her joy about the endorsement, taking to Twitter to announce the good news.
10. She did not know what career path to take
Unlike most celebrities who will talk about having known since childhood, they would be singers or actors Gail had no idea about her future aspirations. Therefore she attempted to become an accountant, but it was not the right fit. She consequently tried her hand in human resources before moving on to public relations and finally landing in modeling, singing, and acting.