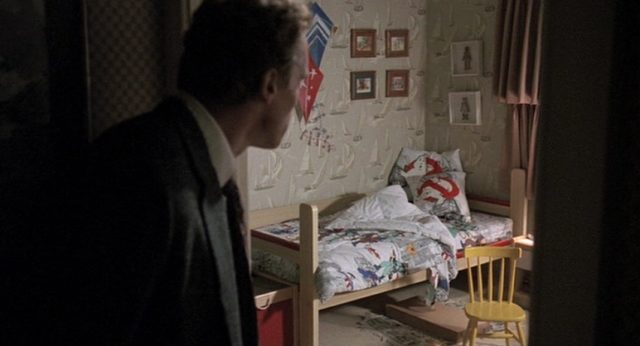 When Arnold Schwarenegger first teamed up with Ivan Reitman to make Twins with Danny DeVito, no one knew what to expect. This was Conan the Barbarian and The Terminator trying out comedy for God's sake. How in the world could he pull this off? Turns out he did and he did it extremely well. In fact he did so well that he teamed up with Reitman again to make the movie Kindergarten Cop. While it wasn't as good as Twins it was pretty awesome in its own right. I'm pretty sure everyone in the world knows the line "It's not a tumor!"
If not, here you go:
In any event, I had no idea that Kindergarten Cop reference Ghostbusters in the film. As you can see in the frame above, there's Arnold checking out little Dominic's room and low and behold the bedding is none other than Ghostbusters themed. Why is this relevant? Because Ivan Reitman directed Ghostbusters. This is one of those "makes you say hmmmm" moments. Alright, I got nothing else. I think I just wanted an excuse to post the "It's not a toomah!" video.
How'd I do?