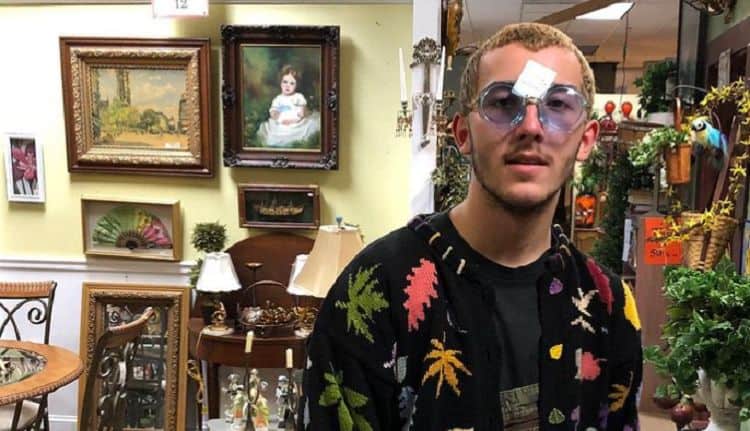 From the mid 2000s to the early 2010s The Jonas Brothers were one of the biggest names in the music industry. Kevin, Joe, and Nick aren't the only Jonas brothers though. They also have a younger brother named Frankie who has been making a name for himself on social media. People who aren't super familiar with the band may wonder why Frankie wasn't included. The reason is simple: he's significantly younger than the rest of his brothers. Despite never getting to enjoy the fame that came along with being in the group, OG Jonas Brother fans have always had a special place in their heart for the 'bonus Jonas'. Keep reading for 10 things you didn't know about Frankie Jonas.
1. He Was The Jonas Brothers Biggest Fan
The only thing cooler than being a music super star is having three older brothers who are. Frankie has always been a fan of his brothers' music and even considered himself their biggest fan. He used to proudly boast that he knew all of the lyrics to their songs.
2. He Had An Acting Career
Becoming a musician may not have been his thing, but Frankie still loves to entertain. He began his acting career when he was just a kid when he was cast to voice Ponyo in 2008. He continued to act throughout the mid 2010s with roles in shows like Jonas and R.L. Stine's The Haunting Hour. His last on screen appearance was in 2013. We couldn't find any information to suggest that he plans to get back into acting.
3. He Is Been In Some Jonas Brothers Videos
Being in a music video is a cool experience for everyone, but especially a little kid. That was one of the many awesome things Frankie got to be a part of during his younger years. He appeared in three of The Jonas Brothers' videos: "When You Look Me in the Eyes", "Love Is on Its Way", and "Fly with Me".
4. He Is An Audio Engineer
Frankie has never released any music, but he's still managed to make his way into the music industry. Apparently, a love for music really does run in the Jonas family. He attended Blackbird Academy in Nashville where he graduated with a degree in audio engineering in 2019. He then went on to become a studio engineer in Los Angeles.
5. He Has A Massive Following On TikTok
Lately, Frankie has been getting a lot of attention on TikTok. His hilariously entertaining content has attracted people from all over the world and he currently has over 1 million followers on the platform. He has also officially become verified on the platform.
6. He Will Attend Columbia
Although he has his degree in audio engineering, Frankie isn't done with his education yet. In November 2020, Frankie shared a post on Instagram that revealed he would be going back to school at Columbia University. He didn't go into detail about what he plans to study.
7. He Is An Award Winner
Kevin, Joe, and Nick aren't the only people in the Jonas family who have been recognized for their talents. In 2009, he won a Teen Choice Award for Choice TV Breakout Star Male for his role as Frankie Lucas on Jonas. He has also been nominated for several other awards.
8. He Had Some Trouble With The Law
Any time you're closely connected to a celebrity, anything you do (especially if it's negative) will likely end up in the spotlight as well. Frankie experienced this back in 2016 when he found himself in some legal trouble for marijuana possession while in Nashville. He wasn't actually arrested for the incident.
9. He Is a Pretty Low Key Person
Even though he comes from an incredibly famous family, Frankie has never been the type to want to spend a lot of time in the spotlight. In fact, it looks like he spent most of his time doing things on his own and not using his last name to get attention. Although he has recently earned celebrity status on social media, his content never gets too personal.
10. He Has A Girlfriend
Frankie may not share lots of details about his personal life, but one thing he has shared is that he has a girlfriend. She was featured in one of his early TikTok videos although her face couldn't be seen. It's unclear how long the couple has been together and there doesn't seen to be any information floating around about her. Over time, however, there's a good chance she'll become a more prominent presence on his social media profiles.
Tell us what's wrong with this post? How could we improve it? :)
Let us improve this post!