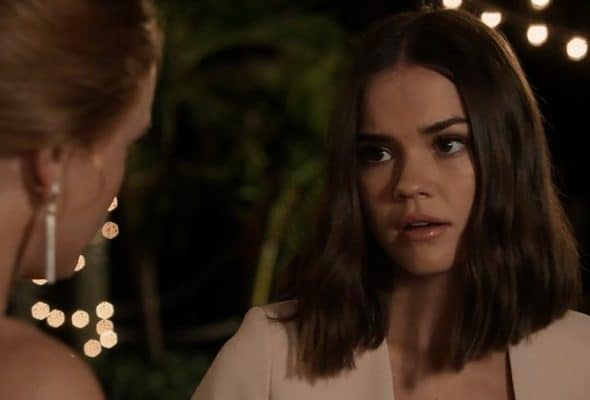 It's reality that The Fosters dramatizes. The Season 5 Premier, "Resist" included three storylines filled with variations of resistance. The Anchor Beach students protested, Jesus took a baseball bat and destroyed Brandon's room, and Stef frantically tried to find Callie, who was stuck in Room 119 at the All Star Motel with meth dealers planning to pimp her out. Fans of the series have applauded the episode for its drama; perhaps the most ever. Part of the cheering has to do with Callie's nearly dying in the motel and then being able to rush into Stef's embrace. Though Callie has made plenty of bad decisions in past seasons, this season began with hopefully resolving her abuse and craziness issues.
It's not that The Fosters has lacked dramatic interchange among its characters since its beginning. Far from that, as the cast of regular characters have earned a well-deserved reputation for living through the meaningful moments of life with particular sensitivity, as believable individuals. The Fosters are a blended family, but unlike any that have been part of a television series so far. They are not The Brady Bunch, and it doesn't matter. They believe that their love for each other makes them family, and for them, it has taken a lot of unconditional love to make things work.
The 735 thousand Instagram Followers of The Fosters seem to understand the show's explorations of life's issues. The show is a bit sentimental. It depicts LGBTQ parenting issues and the complexities and emotions of foster care with openness and acceptance. The characters themselves are complex, as are the relationships among them. They encounter the events of life in complex ways, as well.
For those new to the show, there's a lot of catching up to do. Binge watching the previous four is one recommendation. The TV series tells the story of policewoman Stef and school vice principal Lena, who are a lesbian couple raising a multi-ethnic family. Brandon is the biological son of Stef. Mariana and Jesus are twins, and adopted. Judy and Callie were taken in as foster children during the first series episode and later adopted. The show is centered in suburban San Diego and the Anchor Beach Community Charter School, where the children are students.
Here's a primer of sorts, with the Season 5 basics:
Episode 1: Resist
Callie helps Diamond, but this gets the two into trouble and Stef must track Callie using her cell phone signal. Jesus discovers that Brandon helps Emma with her abortion and Jesus destroys Brandon's room. Mariana leads the protest over the privatization of Anchor Beach Charter.
Episode 2: Exterminate Her
Callie applies to audit classes at college. Jesus wants to build a tree house with Gabe, and creates emotional distance from Brandon and Mariana. A new neighbor arrives.
Episode 3: Contact
Callie goes on a first date with Aaron. Mariana discovers roller-derby. Jude and Mariana start a school newspaper-underground style.
Episode 4: Too Fast, Too Furious
Callie and Aaron talk about their relationship level. Mariana trains with the Latina roller-derby team. Brandon gets caught between his old and new girlfriends.
Episode 5: Telling
This newest episode will air on August 8, and promises more family drama when Stef becomes engrossed in detective work about a child molester. Lena must cope with her absence. The kids attend a party, but the cops show up.
Episode 6: Welcome to the Jungler
Stef is making progress with her case. Jude and Taylor experience some unwanted fame. Callie must choose between supporting a meaningful cause or changing her life for the better.
Episode 7: Chasing Waterfalls
Logan's girlfriend discovers that Mariana has been trying to get close to Logan. Brandon questions his feelings toward Grace when he becomes jealous of Courtney and Gabe's new relationship.
Episode 8: Engaged
Brandon gives Ana and Mike a party for their engagement, but secrets emerge. Jude and Mariana try to encourage the students to vote against the privatization of the school.
The series has won a Teen Choice Award and two GLAAD Media Awards. It creators, Peter Paige and Bradley Bredeweg hoped to write a drama about modern American families raising adopted, fostered and biological children and the struggles facing youth in the foster care system. The openly gay writers met Jennifer Lopez, who took on the project through her Nuyorican Productions. Lopez was inspired by the basic themes of love and family, complicated by real life. Her Aunt Marisa was a lesbian who never had her own family and faced discrimination. The production team has created a groundbreaking television series which speaks to many Americans because of its frank dealings with a myriad of social issues.
Tell us what's wrong with this post? How could we improve it? :)
Let us improve this post!