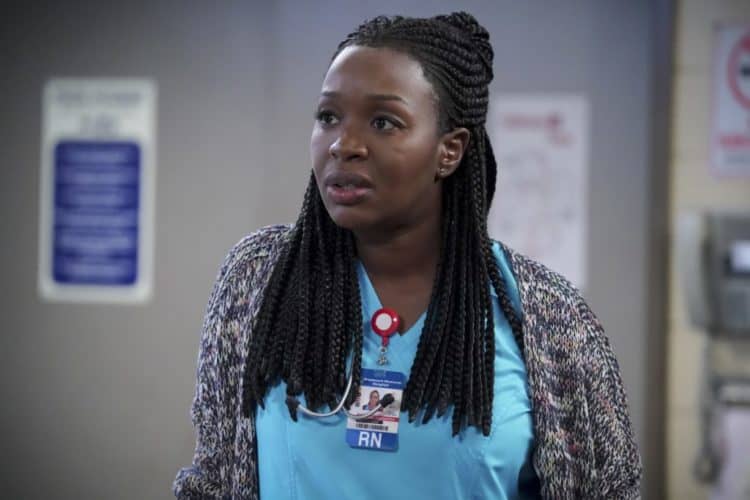 Hollywood has become home to many actors and actresses coming from as far as Nigeria. Folake Olowofoyeku is among the few faces that have been appreciated for their Nigerian roots and is, therefore, taking the lead in "Bob Hearts Abishola." The series is not her first, but it has made such an impact in her career and people are more curious about the actress. Here are a few facts to know about Folake:
1. She is starring in a show that is allegedly political
President Donald Trump has not minced his words about his stand on immigrants. If he had his way, America would be an island enclosed in an electric fence to keep immigrants away. His views have however not been welcome and "Bob Hearts Abishola" comes at a time when there is a hot debate on immigrants in the United States. The series has a Nigerian female lead and co-writer. Chuck Lorre insists it is not a political show and told CBS News that if we look deep, then every show is political. Nevertheless, he still wore a hat with the initials "IMAG" meaning "Immigrants Make America Great."
2. She wanted to be a musician
Parents have this notion that for their children to be successful, they must pursue specific careers, usually law or medicine. Therefore when Folake told her parents that she wanted to be a musician, they would hear none of it. All they wanted was for their daughter to study law and politics. Folake, therefore, decided to choose a more lenient line of study by enrolling in drama school, hoping to transition to music. Although she majored in theater, she still loves music. Consequently, besides acting, Folake uses music as her alternative creative outlet.
3. She comes from a large family
Unlike nowadays, when women are putting off having children so that nothing holds them back from getting into that corner office, in the past, the situation was quite different. In Africa, especially family planning has only been recently taken seriously since the vast plots of land were enough to cater to large families. Folake's parents were, therefore, ready to have as many children as possible. She is the youngest in a family of about 20 children; the number is so large that she is not sure how many siblings she has. Her father had many wives and had Folake when he was 60. Unfortunately, Folake will never see him again because he passed away. Her mother is also deceased, having passed on in 2009.
4. Whom she is named after
So much did Folake's parents want her to be a lawyer that they named their baby girl after Nigeria's first female senior advocate. Folake Solanke went down in history as Nigeria's first female lawyer to put on a silk gown as Senior Counsel. The woman who is now 87 years old excelled in everything she did. With such exemplary performance, it is no wonder that Folake's parents deemed the name worthy of their daughter.
5. Her agent wanted her to stop using her name
Most ask "What is in a name?" To some, it is more than just what they answer to; it is their heritage, and they would not give it up for anything. In many African countries, a person's name carries a lot of weight, and there is a specific order of naming children. Therefore when an agent requested Folake to change her name so that the acting industry would be more receptive of her, she declined. Besides,, who said a name could stop anyone from making it big in Hollywood? Lupita Nyong'o said that every dream is valid. We have Adewale Akinnuoye-Agbaje, Sam Adegoke, David Oyetokunbo Oyelowo and Hakeem Kae-Kazim as living testimonies.
6. She loves traveling
It has been said that traveling is among the many signs that you are living, not existing. We, therefore, go to different places to prevent life from escaping us. With that in mind, it is safe to say that Folake rarely misses the opportunity to make the most of what life grants her through travel. Folake has been to Thailand, which is so far her favorite holiday destination. She is also lucky to have had the chance to go to the Dominican Republic with a group of friends and described the trip as epic. Another of her destinations has been Dubai, and she would like to add Madagascar and Ireland to the list.
7. She is philanthropic
When asked about any charities she is involved in, Folake is quick to say that she would love to partner with Black Jaguar White Tiger Foundation. Unfortunately, although the foundation has quite a massive social media following with over 3 million fans on Facebook, it has come under fire. The foundation has been accused of being a zoo and the owner, Mr Eduardo Serio, has been labeled a socialite on 911 Animal Abuse. According to this website, Eduardo claims to rescue the nursing cubs from mothers who have abandoned them yet once they reach a certain age, they disappear from the mansion. Perhaps Folake should rethink her decision about partnering with the foundation and take her money to a more deserving organization.
8. Music is in her blood
Folake has a music streak in her genes. Although her parents did not want her to be a musician, her father played the classical piano and organ while her brothers taught themselves to play the guitar. As if to follow in what she was destined to be, Folake also taught herself to play the electric guitar, piano and is a sound engineer. She even has taken music seriously and produced a few singles under the name "TheFolake" Folake worked with her Nigerian producer to create Afro-beat and Afro-pop music.
9. She has a sweet tooth
As she revealed to Naluda Magazine, among the many traits she inherited from her father, one is his sweet tooth. Folake, therefore, has a guilty pleasure of European chocolate.
Folake is a multi-faceted individual with so many creative abilities, among which is also film production. She launched a production company, Fo Foyeh Films, which produced a comedy series titled "Inappropriate Sh!t." Her work is yet to gain any recognition, but everything takes time, and maybe in a few years, the firm will become a household name.
Tell us what's wrong with this post? How could we improve it? :)
Let us improve this post!