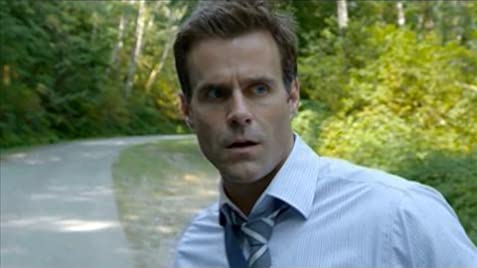 Michael Karl Richards is an actor who appears regularly in Hallmark movies. He is known for his "perfect" characters which are larger than real life. Most recently, he has become involved with the idyllic series "Chesapeake Shores." He plays Wes in the show and much to our relief, there is a hint that there may be a little more intense conflict coming to this season. So far, writers have included just enough to keep the stories alive, but a little more could go a long way in making them much more interesting and closer to real life. While Michael has earned his reputation as a great guy with limited flaws, we looked a little deeper into the actor's real life and found five interesting things that you didn't know about him.
1. His favorite role was on "SG1"
He didn't have many lines in the show and he was extremely nervous. When it came his turn, he recited the two lines that he was assigned. While it wasn't a big part, it was his first real paying job as an actor. This had to be a very big and memorable event. He didn't take the world by storm with his first attempt, but he did keep going until he developed a genre character. Hallmark Channel fans are very familiar with him.
2. He likes working for Hallmark
In an interview, Michael shared why he enjoys working for Hallmark so much. The environment of the set is a lot like the shows that are produced. They're not filled with drama and the cast and crew come to work fully prepared. Perhaps there is something to the stretch for perfection. He believes that fans appreciate the content because the family values which are promoted are what most people really desire to have in their own personal lives. He also believes that Hallmark has kept up with the times while maintaining the same values that they started out with. This helps to keep the stories relevant to the viewers.
3. The actor he would most like to work with
Richards himself is a fan of Meryl Streep. If he could choose one person to work with, it would be her. This gives us a little peek into Michael as a person, but there are still elements of his career involved. It is as if the person and the actor are closely intertwined and perhaps at times inseparable. He had previously been asked why he chose acting as a career. His answer was direct and to the point. Michael had always felt that he was an actor, even before he received his training and began pursuing a career in the field. In other words, it is something that he was born with andd it just naturally developed throughout the course of his life. He just made sure to get the training to knock off the rough edges.
4. He accepted the role of Wes for something different
Viewers know that Wes ("Chesapeake Shores") is a jerk. He is a villainous type and this is a good role for Michael to play because it helps to move him a little further from being typecast as Mr.
Perfect. Of course, Michael the person and professional actor, doesn't really see Wes as a bad guy at all. He found a way to see him as a hero, because that is a part of his job as an actor. While the audience doesn't share his optimistic view of the character, he is good with that too.
5. Michael has a unique way of seeing the world
Richards was born into a family that supports introspection and analyzing situations. His mother is a writer and he has the same talents, although he's chosen to be an actor above a writer. He has the innate ability to see every aspect of a character, whether they are on their best behaviors or at their worst. He is able to mentally negotiate the best in that character so he doesn't feel bad playing them when they're not so nice.